Florida State Football: How the Seminoles Plan to Get Revenge on Clemson Tigers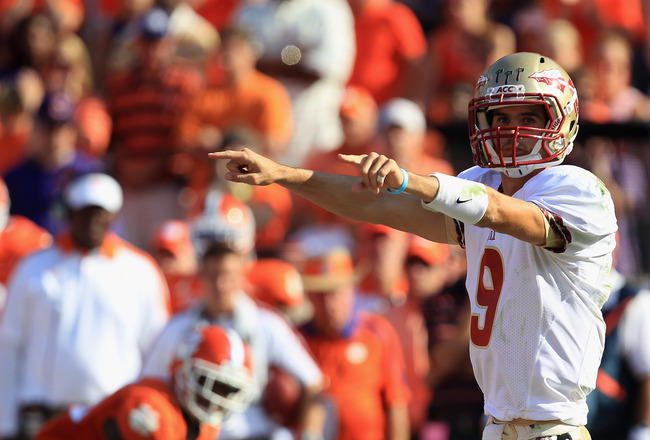 Clint Trickett was efficient against Clemson last year, but the 'Noles still lost 35-30.
Streeter Lecka/Getty Images
2011 was supposed to be the year of the resurrection. Instead, Florida State fans got a year of repetition.
A mediocre finish undercut the momentum from Jimbo Fisher's successful first season. But it wasn't the loss to Bob Stoops and the Oklahoma Sooners that downed the season.
The 2011 squad didn't get off the tracks until the Clemson game. The Clemson loss cost FSU the lead in the ACC Atlantic, making it tough to meet preseason expectations. Combine that anticipation and injuries to key players like FSU quarterback E.J. Manuel, and all of sudden, their season was in panic mode.
Clemson, on the other hand, won their first ACC championship since today's college freshmen were in diapers. Dabo Swinney saved his job and had explosive players in quarterback Tajh Boyd and receiver Sammy Watkins live up to their potential.
There are a couple ways one can gain rub salt in the wound in a revenge game. Yes, running up the score is an obvious one. But don't be stunned if the Seminoles pull these other stunts next September.
1. Play Man Blitz on the Offense

Sammy Watkins is a threat the Seminoles must contain this year.

FSU needs to keep the pressure on Tajh Boyd and Sammy Watkins. The offense thrives on these two underclassmen. Both are true sophomores and are prone to mistakes.
For example, Watkins was arrested earlier this offseason on marijuana charges, and Dabo Swinney has yet to decide his punishment. Tajh Boyd, besides his 33 touchdowns last year, had 12 picks last year—including an embarrassing turnover against the Seminoles.
The point is simple—Mark Stoops' defense just needs to blitz until it makes a turnover. That and double coverage on Sammy Watkins may cause the Seminoles to give up more passing yards than usual.
Thank goodness that the rushing defense is so dependable, as it will contain the running game. Eventually Fisher's team will get turnovers due to a) a Clemson turnover and b) the impregnability of the FSU rushing defense. With these teams almost equals, this game will come down to turnovers.
2. Start Backup Quarterback Clint Trickett

Though he had a pick, Clint Trickett proved his mettle against Clemson's defense.

Everybody at Florida State reveres E.J. Manuel, but he has yet to become a star player.
During the spring game, E.J. frequently overthrew his receivers. He hasn't controlled his rocket of an arm yet, making the Seminoles a team that can't threaten others deep downfield.
Clemson's staff and players have prepared for a Manuel-led offense, so mix things up. Let Clint Trickett play (again) against the Tigers. Trickett did great with the deep ball and would stretch the Clemson defense out, opening up lanes for a safety valve.
Want to make things very interesting? Have Manuel as the safety valve.
3. Use Some of Spurrier's Tricks

For the FSU fan, it is important to know that FSU contributed to Clemson's first losing season since 1998.

Every Seminole remembers "The Greatest Game Ever Played in the Swamp."
A heavily favored Florida State squad came to Gainesville ranked first nationally, but UF coach Steve Spurrier constantly kept Mickey Andrews' legendary defense on its toes.
Since the Gators did not have a reliable quarterback, they resorted to a two-quarterback system. Noah Brindise and Doug Johnson both started throughout the game, substituting them for each other constantly. As a result, a typically unimpressive Florida offense came to life. The Seminoles lost 32-29 and never had the chance to play for the 1997 national championship.
What I say is use Spurrier's method. No one would expect Jimbo Fisher to have a revolving door of quarterbacks, tutored in the Pro Offense by Les Miles and Nick Saban. Also, it's a strategy the Gators used. No one at Clemson would dream that FSU would use steal such an idea that worked so well against them it humiliated them and cost them a national title.
There is one key difference, though: Brindise and Johnson were almost identical in their strengths and weaknesses. Manuel and Trickett have significantly different skill sets. Trickett throws far and accurately, while Manuel dinks and doinks the football when he's not running it.
Fortunately, Trickett's weight gain will make him more of a rushing threat. And not having Manuel on the field for every play gives him more time between throwing passes; those breaks from the field will cause Manuel to not cave into pressure and complete longer passes.
Clemson's defense allowed nearly 30 points last year to finish in the bottom fourth of scoring defense nationally. With FSU flipping the script, the Tigers would be completely thrown off. Maybe the Seminoles can score on Clemson like West Virginia did in the Orange Bowl.
Keep Reading

Florida State Football: Like this team?