London 2012: Natalie Coughlin and 10 Storylines at the Santa Clara Grand Prix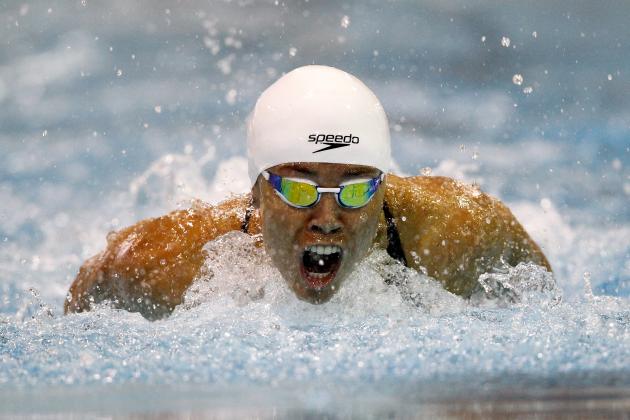 Streeter Lecka/Getty Images

As the 2012 Olympics draw ever closer, competitors will be looking to tune up in a few remaining meets, races and other events.
For swimmers, the marquee event before the Olympics has to be the Santa Clara Grand Prix. Despite the absences of Michael Phelps and Ryan Lochte, the field is still stacked with Olympic talent.
The headliner is probably U.S. swimming star Natalie Coughlin, but there are numerous other headlines that bear attention.
Begin Slideshow

»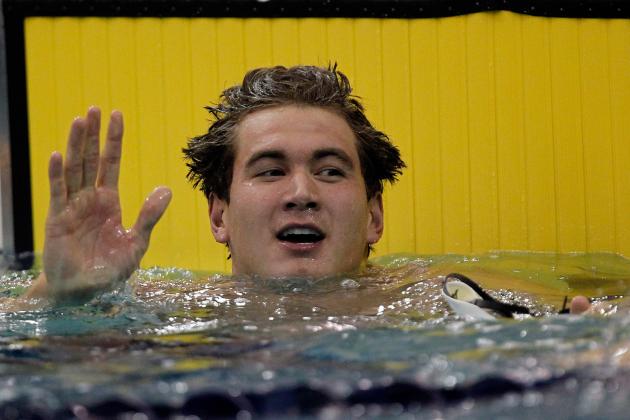 Streeter Lecka/Getty Images

Nathan Adrian is a budding star for the United States.
He already has an Olympic gold medal on his resume, being a part of the U.S. 4x100 freestyle team. While he didn't participate in the final, he earned a gold medal by being a part of the team. Adrian also finished sixth in the 50 meter freestyle.
Adrian will be looking to improve on that performance in 2012, and if his performance in the past few years is any indication, he should be able to do so.
With a fantastic performance in the 2010 Pan Pacific Swimming Championships and several other solid performances, Adrian continues to show that he is a budding talent for the United States swim team.
Adrian will bear watching at the Santa Clara Grand Prix. His performance will give an indication of what we can expect from him in the Olympics.
Kiyoshi Ota/Getty Images

One of the most decorated swimmers at the meet is certainly Japanese swimmer Kosuke Kitajima, who has won gold in the 100-meter and 200-meter breaststroke at both the 2004 and the 2008 Olympics.
Kitajima leads a host of Japanese swimmers at the meet, and he is by far their brightest star.
At 29 years old, though, Kitajima is on the backside of his career. This meet will be one of his final tuneups before the Olympics, and the question remains whether this will be his last Olympics.
Further, Kitajima must fend off significant competition from Japan's own Ryo Tateishi, who has been threatening Kitajima's supremacy in the breaststroke.
While Tateishi won't be at the meet, Kitajima will still be looking to show that he still has what it takes to win Olympic gold.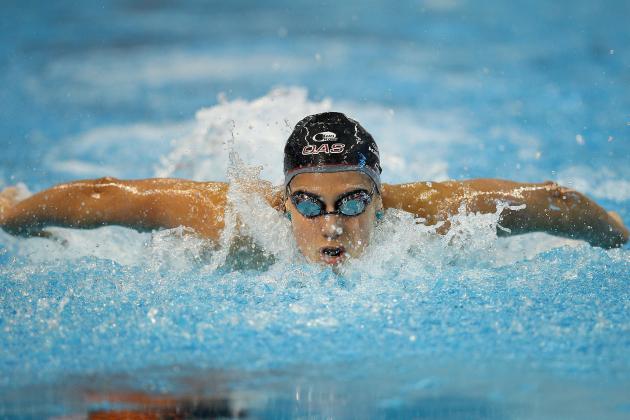 Quinn Rooney/Getty Images

Another of the brightest stars at the Santa Clara Grand Prix will be Australian superstar Stephanie Rice.
Rice has three Olympic gold medals to her name already, and she is also currently the world record holder in the 400-meter individual medley.
There is little doubt that Rice will have a strong showing at both the Grand Prix and the Olympics, but she is so good at the individual medley that she still bears watching in her final tuneup meet.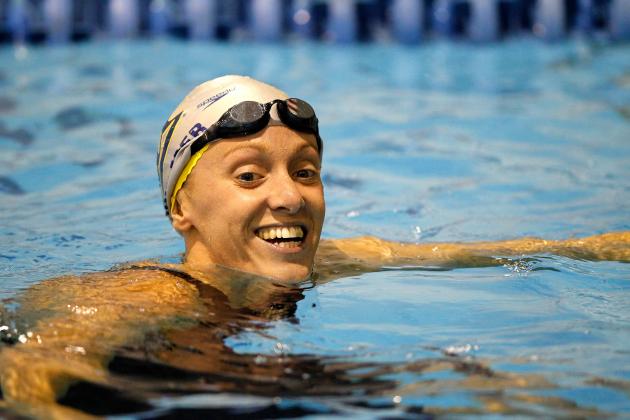 Streeter Lecka/Getty Images

Dana Vollmer is an unsung American swimmer, but she is among the most interesting stories at the Santa Clara Grand Prix.
What makes Vollmer so interesting is her history of heart trouble. In 2003, she received surgery to deal with a syndrome that causes high pulse rates, and she still needs a defibrillator poolside just in case.
She hasn't let that hold her back, however, as she is an Olympic gold medalist, winning gold in 2004 as part of the 4x200 freestyle relay.
Vollmer also excels at the butterfly stroke, as she won gold at World Championships in 2011.
Swimming fans can look forward to a strong performance from Vollmer as she prepares for the Olympics.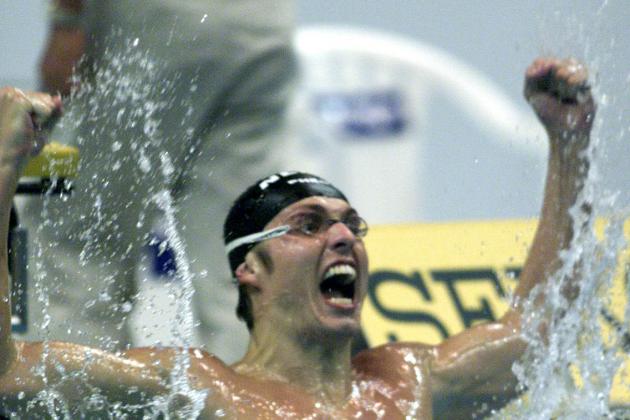 Nick Wilson/Getty Images

Among the biggest and most surprising stories in American swimming this year is the comeback of Anthony Ervin, a former Olympic medalist who retired at age 22.
Now 31 years old, Ervin is looking to make a comeback in the London Games, and he's been tuning up in these Grand Prix meets.
Ervin is also significant due to his status as the first person of African-American descent to qualify for the U.S. swim team.
If Ervin has a solid showing at the Santa Clara Grand Prix, he could be a name to watch in London.
Morne de Klerk/Getty Images

Another decorated swimmer attending the Santa Clara Grand Prix is Australian swimmer Leisel Jones.
Jones is one of the best in the world at the breaststroke, winning gold in the 100-meter in Athens.
Already confirmed for the 2012 Olympics, Jones will be using this meet as a chance to scope out the competition and a chance to get ready for bigger meets.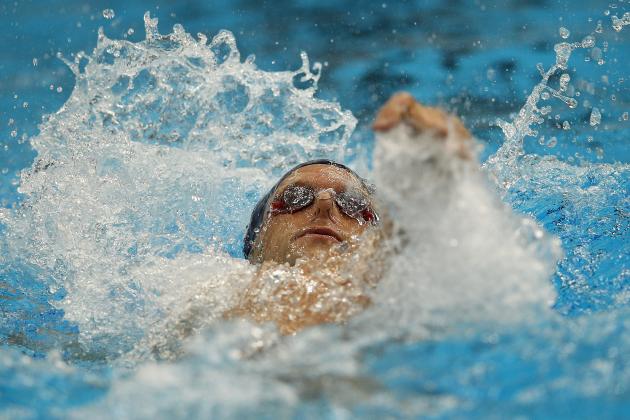 Quinn Rooney/Getty Images

Outside of Stephanie Rice and Leisel Jones, many other Australian Olympic swimmers will be competing at the Santa Clara Grand Prix.
Hayden Stoeckel, Libby Trickett and Jessicah Schipper headline the remaining Australian swimmers, with 25 attending in total.
Stoeckel, Trickett and Schipper are all Olympic medalists, so they will bear watching at this meet.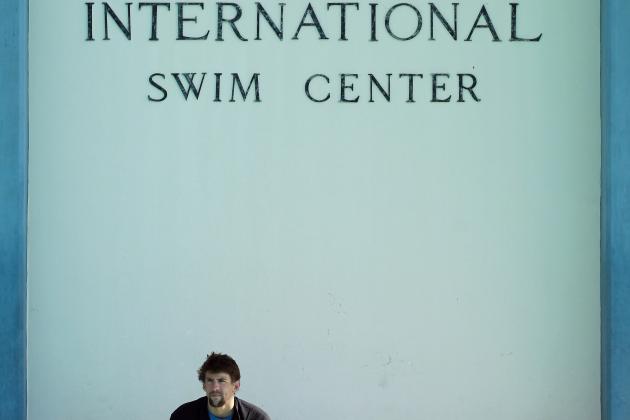 Ezra Shaw/Getty Images

One unsung story that will likely go unreported at the Santa Clara Grand Prix is the donation of over $70,000 to help the center fund new projects.
Among the projects funded by the Santa Clara Swim Club's donation are an Endless Pool, a floor resurfacing and new showerheads.
This news came just before the meet, and it will likely be a bigger story next year when the new facilities are in use, but it's a nice story to keep an eye on outside the pool.
Quinn Rooney/Getty Images

Nick D'Arcy will be swimming at the Santa Clara Grand Prix as he trains for the Olympics in pursuit of a medal, but the main story will be during his interviews.
D'Arcy was blunt, to put it mildly, when reporters asked about his selection for the Olympic team in light of his assault of former swimmer Simon Cowley. D'Arcy eventually walked off without answering the question.
If D'Arcy is grilled on this issue again, he will need to maintain his composure, as he will be representing his country at the highest level, and the spotlight will firmly be on him if he slips up.
All in all, though, D'Arcy is looking forward to the meet as a chance to improve before the Olympics. Hopefully, his performance is the only news he produces at this meet.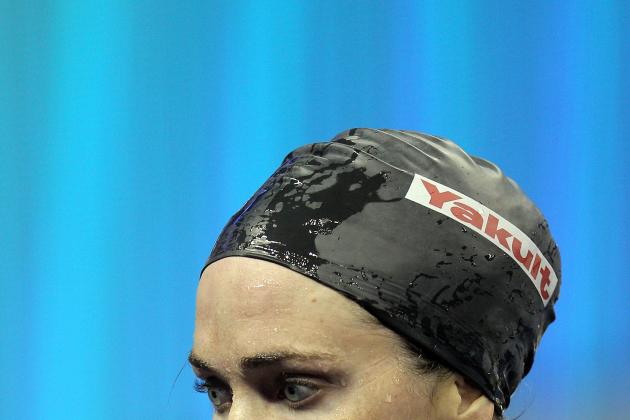 Feng Li/Getty Images

The headliner at this meet is without question Natalie Coughlin, who is perhaps the brightest female star in American swimming.
The competition on the women's side is fierce, and Coughlin's performance will likely foreshadow how she's doing in preparation for the Olympics.
Coughlin will also be looking to avenge her disqualification in last year's 100-meter freestyle at last year's Santa Clara Grand Prix.
All eyes will be on Coughlin at this meet, and hopefully she responds with a strong performance.