Texas Football: 5 Recruits the Longhorns Must Land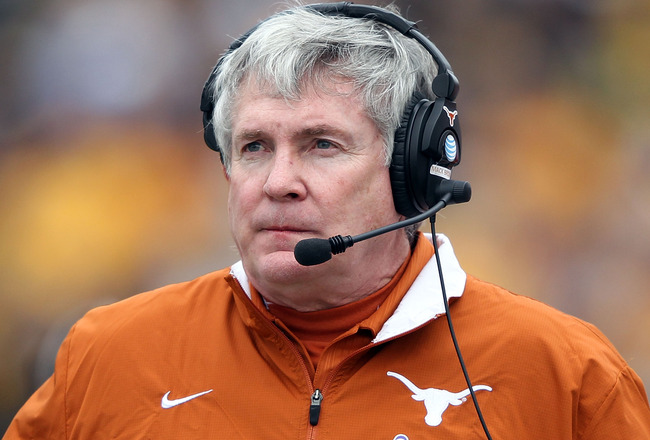 Jamie Squire/Getty Images
With the season less than three months away, the Longhorns enter the summer with high expectations and the talent to back them up. With 16 returning starters to go along with yet another top-five recruiting class, this year's edition of Longhorn football should be the best fans have enjoyed since the departure of Colt McCoy.
Still, it all starts with recruiting, and it's never too early to be on the lookout for the next Vince Young or Derrick Johnson. Yet to play a down in 2012, Mack Brown and the coaching staff have already secured another top-five recruiting class for 2013 with more still to come. With that said, every year there are special recruits that coaches and fans alike look at and see stars.
Let's have a look at five such recruits, both commits and undecideds alike, that the Longhorns need to do whatever they can to acquire in 2013.
QB Tyrone Swoopes
Height: 6'5"
Weight: 220 lbs
40 time: 4.59 seconds
ESPN Ranking (national, position): 9, 1
Commitment: Yes (2/17/2012)
Swoopes was Bryan Harsin's belated Valentine's Day present to Mack Brown, pulling in the nation's best quarterback and the team's No. 1 priority for 2013. And it's easy to see why they are so high on the dual-threat QB from Whitewright.
At 6'5" and 220 lbs, Swoopes bears a striking resemblance to Texas legend Vince Young in both size and playing style.
Swoopes used his 4.59 speed and effortless Young-like long strides to torch defenses last season for 2,267 yards and 29 TDs. But Swoopes is more than just a runner, as he also threw for 15 TDs against seven interceptions to go along with his very impressive rushing numbers. The coaches and fans alike would like to see an improvement in last year's middling 52.7 completion percentage, but on the whole there is a lot to be excited about.
Though fans will likely get a vastly improved version of sophomore David Ash this season, Swoopes is too good to pass up. He is faster, more athletic (three-sport athlete in high school) and bigger. And Vince Young comparisons are not tossed around lightly in this part of the country. Though his accuracy and throwing motion could use some work, Texas cannot afford to let this absolute stud out of their grasp.
DE Torrodney Prevot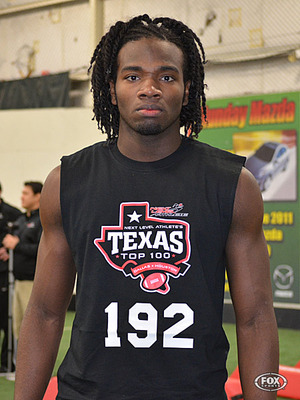 Height: 6'4"
Weight: 215 lbs
40 time: 4.58 seconds
ESPN Ranking (national, position): N/A, 21
Commitment: No
Considering: Texas, Texas A&M, LSU, Oklahoma, Oregon, USC and more (14 total)
With Alex Okafor graduating and junior Jackson Jeffcoat a likely first-round draft pick, defensive end will be a position of need for the Longhorns in 2013, especially with the fondness coordinator Manny Diaz has for depth. Torrodney Prevot would certainly help alleviate this need.
Prevot, who could also play outside linebacker, burst onto the scene in his junior season after recording 12 sacks for Alief Taylor in Houston. Weighing in at only 215 lbs, Prevot needs to add some weight to his 6'4" frame before he takes the field for the Horns. What Prevot does possess is undeniable athleticism in pursuit of the quarterback and length that will undoubtedly lead to many a pass deflection wherever he decides to play next year.
He may not be in the national spotlight quite yet, but some of the best programs in the country have taken a special interest in Prevot, and he will only get more attractive as time wears on. Unfortunately, Prevot is in no hurry to decide for which among his plethora of suitors he wants to chase quarterbacks. If his February visit is any indication, the Longhorns sound like they are at least among the leaders to sign Prevot.
WR Ricky Seals-Jones
Height: 6'5"
Weight: 220 lbs
40 time: 4.65 seconds (self-reported)
ESPN Ranking (national, position): 1, 1
Commitment: Yes (2/22/2012)
Undoubtedly with thoughts of a McCoy-Shipley type relationship in mind, Texas was able to rake in a commitment from Seals-Jones, 2013's top receiver, just five days after the commitment of No. 1 QB Tyrone Swoopes. Coincidence? I think not.
Measuring 6'5" and 220 lbs, Seals-Jones possesses prototypical size and strength for a big possession receiver. Though his 40 time seems slow, he looks much faster on tape, and scouts do not seem concerned about his speed. Whatever he may lack in speed, RSJ makes up for in his ability to simply out-man defenders for the ball and is surprisingly elusive in the open field for someone of his stature.
Though Seals-Jones has been recruited as a wideout, he can and has played pretty much every position, including quarterback, other than defensive tackle and on the offensive line. Though he may end up playing tight end given his size, Seals-Jones is an unbelievable prospect and will be a nightmare no matter what position he plays. This guy is must-have, especially if the coaches see Tyrone Swoopes starting as a freshman.
WR Jacorey Warrick
Height: 5'10"
Weight: 170 lbs
40 time: 4.49 seconds
ESPN Ranking (national, position): 111, 14
Commitment: Yes (2/26/2012)
With Marquise Goodwin and D.J. Monroe graduating after the 2012 season, the Texas offense loses two of its fastest game-breakers. With speed to burn and the ability to juke a defender out of his socks, Houston-area product Jacorey Warrick could fill the void nicely.
Warrick measures a lot like the track star Goodwin, and he figures to get a shot to play in the slot for the Longhorns. Given his speed and quickness, Warrick also has the potential to fill in as a change-of-pace back much like we see from Monroe, and he could play a factor in the return game as well. Warrick also impressed defensive backs coach Duane Akina with his ability to play corner, which is just another testament to his unique athletic ability.
Given Warrick's hands and route-running ability, it seems he is best served playing on offense in the slot, not to mention the success enjoyed by similar players similar in size and ability (Kendall Wright comes to mind). With a player like Warrick, it boils down to speed and potential, which he has coming out of his ears. Get this guy signed and find a spot for him.
S Vonn Bell
Height: 6'0"
Weight: 190 lbs
40 time: unavailable
ESPN Ranking (national, position): 60, 5
Commitment: No
Considering: Texas, Alabama, Arkansas, Ohio State, Oklahoma State, Georgia, Auburn (13 total)
Defensive leader and bringer of the wood Kenny Vaccaro graduates this year with the NFL on his mind, leaving a hole at safety. Vonn Bell and his ability to play either safety spot would be nice to have around when this happens.
Bell is extraordinarily talented and excels against the run and the pass with a nose for the ball. Coming in at 6'0" and 190 lbs, Bell is a rare combination of size, speed, and athleticism at the safety position, evidenced by his time logged at receiver. Combine all this with Bell's love for delivering the big hit, and you are left with a prototypical safety to roam the secondary.
Bell has all the tangibles and intangibles you want in a safety and could find himself starting for the Longhorns very early in his career. The only problem is that Bell publicly stated that while he enjoyed his Austin visit this spring, Ohio State was his favorite. Fans can only hope that Bell will be drawn to the tutelage and track record of defensive backs coach Duane Akina, who should be able to put a player of his caliber in the NFL.
Keep Reading

Texas Longhorns Football: Like this team?