Los Angeles Kings: 5 Most Underrated Kings Who Have Stepped Up During Playoffs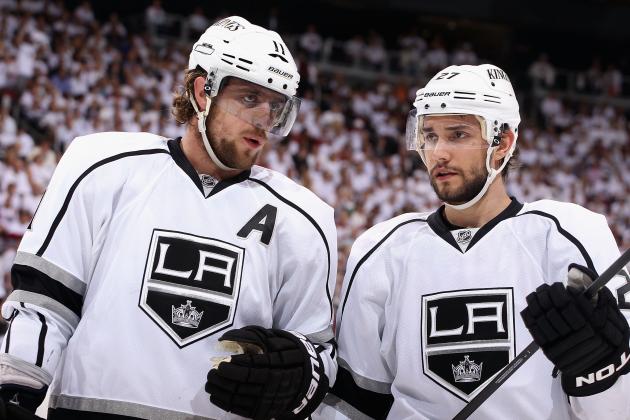 Christian Petersen/Getty Images

In the playoffs, for any sport, depth is key. No team ever makes a deep run relying on just two or three big guns and nothing else.
This postseason the Los Angeles Kings have found themselves firing on all cylinders from the top of the lineup to the bottom. They have no shortage of players exceeding expectations and making a name for themselves amongst fans and media alike.
And as the No. 8 seed, there were plenty of non-household names on the team that are now making waves.
Here are just a few of those underrated players who have been big pieces to a very successful Kings puzzle.
Begin Slideshow

»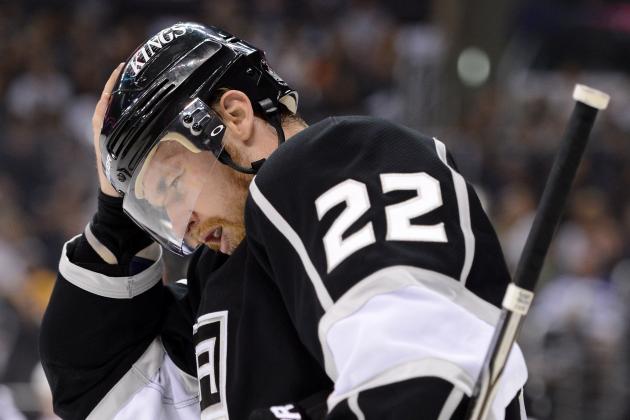 Harry How/Getty Images

Trevor Lewis has quietly been one of the Kings most effective forwards this postseason.
He isn't a flashy player or an offensive juggernaut. But if it's defensive responsibility you want, Lewis is the man.
He has been a staple on the Kings effective penalty kill all season long, and a regular amongst the bottom six forwards. He has brought an element of speed to the lineup and about 12 or 13 minutes of reliable and responsible ice time.
He has six points in these playoffs and is a plus-four, but where Lewis has really been surprising is physicality. He is second on the team in hits behind Dustin Brown.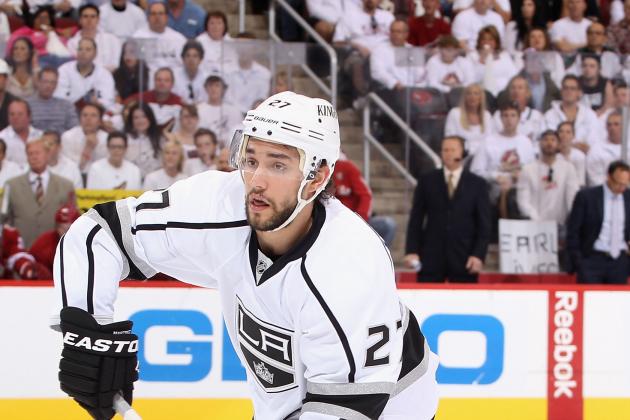 Christian Petersen/Getty Images

It's easy to forget about the 24-year-old Alec Martinez. After all he is playing behind the well-known Drew Doughty and the impressive rookie Slava Voynov.
But Martinez has really found his niche as a No. 6 defenseman you can rely on for responsible play. Along with his even-strength role, he's been a part of the Kings second power-play unit.
The Rochester native may only have one point so far in these playoffs, but he has put on his work boots on the defensive end of the ice.
Martinez and his longtime partner Matt Greene are a plus-two and plus-five, respectively. When a team can get plus play from their No. 5 and No. 6 defensemen, it goes a long way in relieving the stress for the guys ahead of them on the depth chart.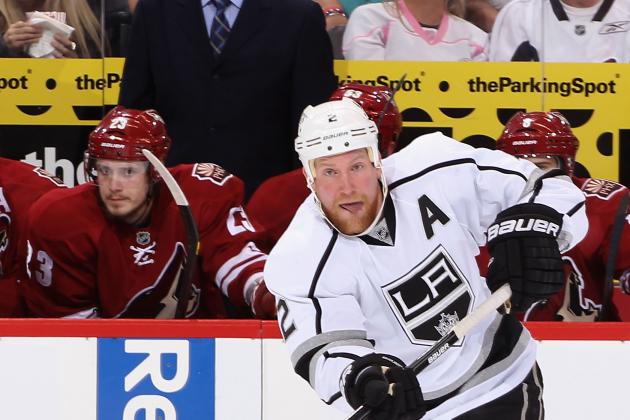 Christian Petersen/Getty Images

I just mentioned Alec Martinez, and now let's recognize his veteran partner Matt Greene.
Greene has had an excellent postseason. It's probably the best postseason he's had in his seven-year NHL career.
The University of North Dakota alum, who is primarily known for his defensive-minded play, has put up a goal and three assists so far. He is also a plus-five and leads all Kings defensemen with 49 hits.
But let's really give Greene some credit off the ice. He is a vocal leader, maybe the most vocal leader in the Kings locker room. He is a captain for the team along with Anze Kopitar and Dustin Brown, and this leadership crew has kept the team motivated and focused this entire Stanley Cup Playoffs.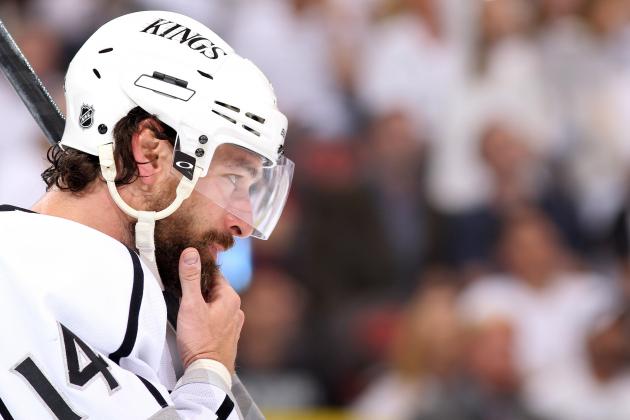 Christian Petersen/Getty Images

So who's the last player you normally think of when it comes to the Kings top-six forwards?
Well it's not Richards, Carter, Kopitar, Penner or Brown is it? Admit it, it's Justin Williams.
But let's not kid ourselves, Williams is having a heck of a postseason. He isn't just the third wheel on the Anze Kopitar-Dustin Brown show. The 30-year-old has been an integral part to the Kings first line being successful.
Williams has been relentless in his puck pursuit, and it shows up on the stat sheet with a team-high nine assists. The Cobourg, Ontario native has had the responsibility of feeding the hot hands, and he's done a brilliant job.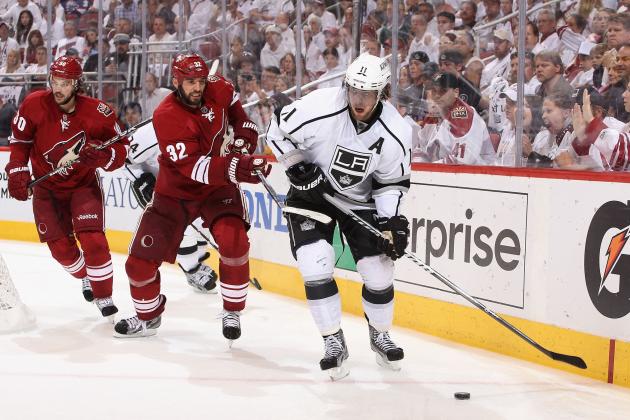 Christian Petersen/Getty Images

People knew Anze Kopitar was good before the playoffs, but did they know he was this good?
I think you could make a case that Kopitar is one of, if not the most underrated center in the NHL. Kopitar does everything well. He has great hands, great vision, he backchecks well, he kills penalties, he quarterbacks the power play and he has the size to go along with the game.
He is the complete player, and a lot of people forget about that.
He's had a postseason to remember, tallying 15 points with a plus-13 in just 14 games. At the end of these playoffs it wouldn't be surprising if his hat is tossed into the ring for the Conn Smythe Trophy. He has been invaluable to the team in every way possible.
Let me repeat myself, everyone knew Kopitar was good, but did they know he was this good?