Indy 500 Results: Dan Wheldon Inspires Dario Franchitti in Unforgettable Moment
May 27, 2012

Chris Trotman/Getty Images
Emotions mold history.
In the record books, the 2012 Indy 500 will go down exactly like the previous 95 runnings of the race. For those that attended Indianapolis Motor Speedway on that Sunday afternoon, though, it'll be a day they remember forever.
Dario Franchitti crossed the finish line ahead of the field to claim victory to the sport's most prestigious competition. It was the third time the Scotland driver won the race. He could've pounded his chest, held pumped his fists and preached his superiority—it was his moment.
But Franchitti made his moment Dan Wheldon's moment.
Jenna Fryer of the Atlanta Journal-Constitution reported that Franchitti dedicated the victory to his fallen brother after the race and said:
"Everybody up there was a friend of Dan's, and that about sums it up. Everybody loved him. What a race! What a race! I think D-dub would be proud of that one."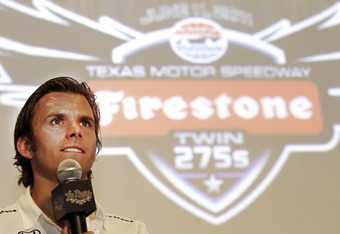 Brandon Wade/Getty Images
Just one year ago, Wheldon was drinking a celebratory glass bottle of milk after triumphing in the 95th running of the Indianapolis 500. Only months later, the 33-year-old driver tragically passed away after sustaining injuries in a devastating collision at the IZOD IndyCar World Championship. Wheldon left the sport and the world in tears.
When Franchitti said "up there," he was referring to the podium where Scott Dixon and Tony Kanaan—two of Wheldon's closet friends—stood.
And like Franchitti, Kanaan wasn't fazed by the race's outcome. He cared more about his fallen friend than the fact that he lost the race. Kanaan said (via Atlanta Journal-Constitution):
"Actually it was good for Dan, his three best friends fighting for the win. Danny, wherever he is right now, I think he's extremely happy. His three best friends in the top three."
In sports, winning itself isn't memorable. It's the emotions in reaction to an event's outcome that creates a memory. And the memory of Sunday's dedication to Wheldon will never be forgotten.
David Daniels is a featured columnist at Bleacher Report and a syndicated writer.