Indy 500 2012: Analyzing Takuma Sato's Controversial Last-Lap Move
May 27, 2012

Nick Laham/Getty Images
Takuma Sato almost had it.
After finishing last in the 2011 Indianapolis 500, Sato returned to the track this year with Rahal Letterman Lanigan Racing looking for a shot at redemption. They nearly won last year, running out of fuel with four laps to go with Bertrand Baguette, and took Sato to a third-place finish in Brazil last month.
Team owner and 1986 Indianapolis 500 champion Bobby Rahal was a steadying force in Sato's ear all day, keeping the often impatient driver honest throughout the event. Running a different fuel strategy from Chip Ganassi Racing teammates Dario Franchitti and Scott Dixon, Sato managed to lead lengthy segments of the event as the Hondas established dominance.
A pair of late cautions set up Sato with a prime opportunity to pass the Ganassi drivers towards the end of the race. With two laps to go, having already passed ex-teammate Tony Kanaan for third place, Sato reeled in Franchitti, and followed him by the lead car of Dixon on the frontstretch.
From there, things got dicey.
Sato had a major tow off of Franchitti's car, providing him with enough momentum to make a pass coming into turn one. Franchitti moved to block at first, but Sato's nose was low enough on the track to force the issue heading into turn one.
The No. 15 Mi-Jack Honda pulled up alongside Franchitti's No. 50 Target Honda, but suddenly Sato's blue and white Dallara DW12 began to break loose. His wheels had hit the white paint just short of the edge of the pavement, causing him to lose traction in the same way that Ed Carpenter and Marco Andretti had to cause the previous two cautions.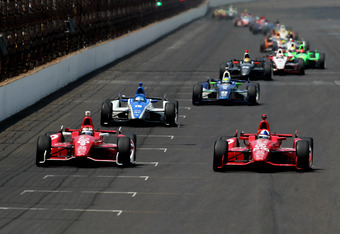 Nick Laham/Getty Images
Sato smacked the outside wall. Race over. Franchitti wins under caution.
While controversial and perhaps not in the spirit of open-wheel racing, where the cars are more fragile and the speeds are more dangerous, Franchitti's move did doesn't technically go against the IndyCar rulebook. Quoted directly from the source are the two rules most applicable to the situation:
9.3.2. Blocking—A Driver must not alter his/her racing line based on the actions of pursuing Drivers or use an abnormal racing line to inhibit or prevent passing. Blocking will result in a minimum of a black flag "drive through" penalty.
9.3.3. Avoidable Contact—A Competitor must not initiate or attempt to initiate avoidable contact that results in the interruption of another Competitor"s lap time or Track position.
The move at issue was not Franchitti's move on the frontstretch, but his move in the first turn. There, Franchitti was firmly entrenched in the typical racing groove at Indianapolis, which is anywhere from a foot to a car's width off of the white paint.
The spirit of the blocking rule, in the past, has always been applied to cars that are still completely in front of the faster vehicles behind them; since Sato pulled out from that move and managed to get his car next to Franchitti's car, a blocking penalty may not be applicable.
The question, then, is whether or not "avoidable contact" between Sato and Franchitti took place. Replays from Franchitti's on-board cameras suggest that such contact, despite the hair's width between the two drivers, was not actually made.
If they feel like they have a case under either rule, Rahal's team could file a protest, but the question is what the series would do to penalize Franchitti and whether the outcome would even improve the team's fortunes. Sato probably couldn't inherit the win, because he neither pushed his nose by Franchitti's nor completed all 200 laps. That would hand the win to the second-place finisher Dixon, also a Ganassi driver.
Sato's move was one of the most gutsy in recent Indianapolis 500 memory, and will not go forgotten. But even as Franchitti's defense of the lead will prove controversial and disappointing to many, there's little consolation to be had in the Rahal Letterman Lanigan pits.
There was nothing else they could do. They almost had it.
Christopher Leone is a featured motorsports columnist for Bleacher Report. View a comprehensive archive of his work here. Follow him on Twitter at @christopherlion.