Being a Superstar 101: 5 Classes Taught by Current WWE Talent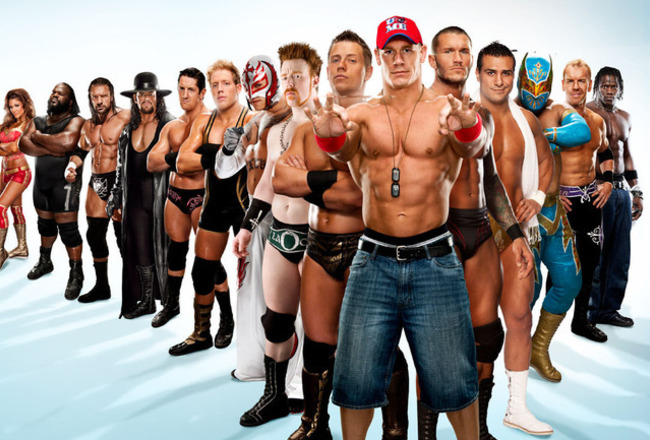 In the world of being a WWE Superstar, each and every competitor has one thing that really stands above the rest of the roster.
Some have supreme wrestling abilities, some are more comfortable speaking on the microphone and some have the ability to make you love—or hate—them on the drop of a dime.
With all of these different characteristics, it sometimes takes years for most of the WWE roster to develop all of these traits to become a great Superstar. For instance, how long did it take for guys such as Daniel Bryan and Zack Ryder to finally develop a following?
Bryan had those who knew of him in his Ring of Honor days behind him, but was struggling to get the WWE Universe's full support. Ryder had the skills to be a star, but the WWE brass never gave him a chance until fans demanded he get his time in the spotlight.
Having a plethora of abilities is what makes a Superstar, or Diva, great, thus allowing for more airtime, right appearances and title opportunities. To put it another way, each Superstar or Diva that comes into the WWE is a student of the craft, hoping to learn from the masters.
Looking at each Superstar as a student, I have decided to create a sort of WWE college. In this college, just like any college, there is a course book with numerous class options and different professors for each course. These courses are designed to utilize each and every skill that makes someone coming into the WWE a success. Credits will be given out, and each course will have special guest speakers throughout the course to give different perspectives on the subject.
Without further ado, here is the first of what hopes to be multiple installments of WWE University's Course Book. This installment: Speaking and Personality Skills.
Crowd Pandering 101:Professor John Cena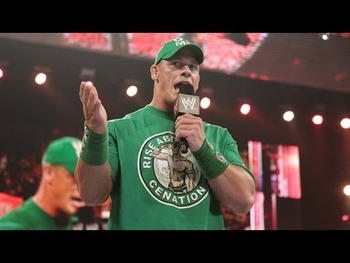 If there is one thing that becoming a top-notch face in the WWE requires, it's getting the crowd on your side.
Some call this playing to the crowd, others call this giving the fans what they want. For argument's sake, we are going to call this pandering to the crowd. And when it comes to pandering to the crowd, nobody does it better than the biggest face the WWE has to offer today, John Cena.
Whether it's his ability to make your children laugh or make grown men hate you for making their children laugh, nobody can do it like Professor Cena can.
Professor Cena is undoubtedly one of the most polarizing figures the company has ever had. He's achieved numerous accolades, broken multiple records and does everything that is asked of him to do. Despite never doing wrong either inside or outside of the ring, Cena has those that love him for that and those who hate him for it.
Cena has done everything in his power to gain control over his fans, but he is also not above saying he doesn't do it just to get fans on his side. From feuds against The Rock, Brock Lesnar, Nexus and John Laurinaitis, Cena's career has taken quite a few twists and turns over the past two years, but he has never changed his tune.
In this course, you will learn to both listen and ignore the crowd and their responses. You will also be informed on the pros and cons of being the company's go-to-guy. You'll learn to accept the love, but also to accept the hate for whatever you do, nothing, and everything, will be done in the right frame of mind for the company.
This course will prepare you to be the head of the company, opening numerous doors both in the WWE and out in other endeavors.
Guest Lecturers:
The Rock
Triple H
Stone Cold Steve Austin
Arrogance 101: Professor Miz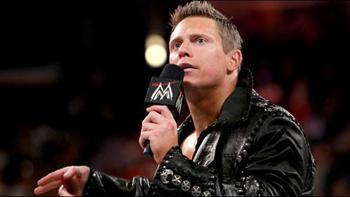 Pandering to a crowd not your style? Would you rather tell it how you feel and accept the hate and encourage it as well? Look no further than Arrogance 101, the art of being hated for having high self-esteem.
In this course, you will be taught how to make the crowd hate you, rather than hoping for them to love you. Professor Miz has gone from reality television star, to hosting SmackDown, to being the most hated man in the WWE locker room to being the most successful man in the company, culminating in a successful WWE Championship defense on the grandest stage of them all, WrestleMania 27, against the biggest face in the WWE, John Cena.
Since then, Professor Miz has established himself as another face of the WWE, but for opposite reasons of Professor John Cena. Miz has taken his arrogant character and used it to his advantage, becoming a main stream success in television and, most recently, gaining a lead movie role. Doing all of these things by doing nothing more than being his arrogance, cocky self.
Throughout the course, you will learn to embrace your inner jerk, flaunt it before the class in public displays of arrogance and, eventually, have the confidence to go up to any random person in the streets tell them how great, or Awesome, you really are.
As an added bonus, by the end of the course, if you learn all that there is to learn, you will gain an incredibly beautiful girlfriend to boost your confidence even more.
Guest Lecturers:
Wade Barrett
Alberto Del Rio
Charisma 101: Professor Chris Jericho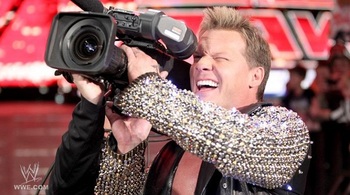 wwe.com
Fan of light bright jackets? Enjoy digging deep into your enemies' personal lives? Are you just a little in love with yourself?
Look no further than Charisma 101, taught by World-renown ego maniac Professor Chris Jericho. Since his early days in World Championship Wrestling to his current run in the WWE, Professor Jericho has done everything there is to do in the world of wrestling, all while enjoying himself a little too much.
In order to have charisma, you must first love who you are. Jericho will teach you how to do so in just a few short steps. These steps include, but are not limited to, creating a group centered around your name while adding "holics" to the end, giving a rather lengthy list of reasons why you are better than one person or another and, finally, creating an End of the World type entrance to make yourself appear very important. However, if you use these same ways of making yourself known, you are also subject to ridicule and mockery for have copied said ways from Professor Jericho.
During your time in Charisma 101, you'll learn to use big, long words to confuse the audience, making you automatically smarter than your opponent and the crowd. You will also utilize your skills to make yourself superior to yourself. Don't worry, it sounds confusing, but once you complete Professor Jericho's course, it will all make sense.
Guest Lecturers:
None. Professor Jericho feels that if you are to learn anything, you will learn from him more than any other Superstar in the history of the world.

Finding Your Inner Comedian Through Wrestling: Professor Santino Marella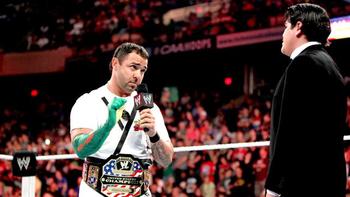 wwe.com
Everyone likes a little comedy, do they not?
One of the trickiest aspects to being a comedian is utilizing it while also displaying talents beyond that. You can never take yourself too seriously in this business. If you do, you lose the passion that brought you into the business in the first place.
Except, there is a fine line between having fun and being a joke. You must have fun with what you are doing, but you must also be able to back it up. Santino Marella has made a career out of his comedy, but that is not without proving himself in the ring.
While many choose to see the Professor as a joke, Santino has the wrestling ability to compete in the big time. Don't let his accent and demeanor fool you, Mr. Marella knows how to back up his work on having a good time.
A former tag team, Intercontinental and current United States Champion, Santino has done quite well for himself while assuming the role of resident WWE cutup.
Throughout the course, you will learn to embrace your inner goofball, while also being able to utilize it inside the ring. You will learn to create your own specialty joke, such as his patented "Cobra."
You will be asked to perform a stand-up act in front of the class as well as go out in public wearing an embarrassing suit. In this suit, you will be asked to own up to making a fool out of yourself. By doing so, you will feel more confident in front of people and be willing to do similar activities throughout the course of your career.
Upon completion of the course, you will establish yourself as a capable, confident performer in all aspects. From the ring to the microphone, you will be able to let your hair down and free yourself. This is a confidence boosting class that all competitors should take.
Guest Lecturers:
Mick Foley
Gregory Helms (aka Hurricane)
R-Truth and Little Jimmy

Advanced Pipe Bombs: CM Punk (Head Professor of Psychology)
photo courtesy: wwe.com
Have you ever been so fed up, so sick of the same ol' song and dance, that all you want to do is forget social protocol and say exactly what is on your mind. Not through social networking or YouTube, but in front of everybody you know and many of those who don't?
CM Punk did just that nearly a year ago and changed the landscape of professional wrestling forever. He personally helped usher in a new "Reality Era" into the WWE. While that era may have been short lived, it brought much attention and glory in a time where the company desperately needed a new direction.
Throughout the course, you will be directed to forget everything you've been taught about restraining yourself on the microphone, going all out and speaking your mind.
In that one promo, Head Professor Punk went from mid-card jobber to main event mainstay and, eventually, WWE Champion. He now graces the covers of magazines and video games, talk show appearances and, now, his own DVD set due out in the Fall of 2012.
All of this, and much more, can be yours as well. During your time in Advanced Pipe Bombs, you will drop some bombs on your classmates, your professors, your friends.... essentially, you will be asked to drop pipe bombs on everyone in your life.
If you are uncomfortable with any of the course requirements as stated above, do not enroll in the course. Professor Punk will have no slackers or stragglers. Unless you are 100 percent committed to making something of yourself, do not register for the course.
Guest Lecturers:
Stone Cold Steve Austin
Joey Styles
Paul Heyman

First Installment Conclusion
This has been the first installment of the WWE Course Book.
Feel free to let me know if you would change any of the professors or guest lecturers in this installment surrounding the speaking and personality skills of the book.
Be on the lookout for the next installment surrounding WWE career-building.
Fell free to follow me on Twitter for more thoughts on WWE and other aspects of sports and life in general. My handle is @gieseflysouth.
Keep Reading