Steelers 2012: The Trickle Down Economics of Todd Haley's Offensive Scheme
May 27, 2012

With a presidential election looming in the fall of 2012, that will put the two prevailing political ideologies in the United States head to head more than ever, another clash of ideologies in Pittsburgh has led to an uprooting of the past four years of Steelers offensive football.
Those four years, of course, are attributed to former offensive coordinator Bruce Arians, who left the Steelers after his contract expired at the end of last season. During his tenure, the Pittsburgh passing attack literally took off and turned Ben Roethlisberger into one of the elite quarterbacks in the NFL.
Now with Arians with the Indianapolis Colts, former Kansas City head coach, Todd Haley has stepped in, creating a simultaneous sense of classic Steelers revival and skepticism over his new playbook.
Rumored rifts and disconnects between Roethlisberger, entering his ninth season at quarterback in Pittsburgh, and Haley over the changing of the offensive guard have been squashed in public forums with both insisting it is quite the contrary. Roethlisberger said in an interview at Steelers' OTAs that he "has no problem with Haley" and asked his receivers to be patient with the new changes being implemented.
If there is one thing Haley excels at (and proved so in Kansas City), it is running the football. After taking over the Chiefs in 2009, Haley's rushing attack in Kansas City averaged 164.2 yards per game in 2010 and led the NFL in that category. If there is one thing synonymous with the Steelers' identity over the decades, it has been running the football.
In the Arians' years of 2008 to 2011, the Steelers did not exactly forget about the run, but the emphasis became on the big play down field as receivers like Santonio Holmes, and later Mike Wallace and Antonio Brown, became targets for Roethlisberger's long ball.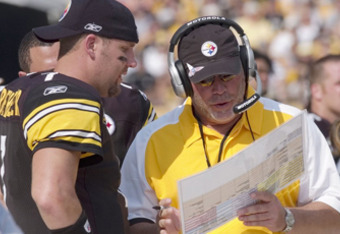 During the Arians' years, the Steelers rushing offense averaged 114.2 yards per game due to many predictable first and second down runs that produced minimum gains and eventually set the Steelers into many third and long situations.
What it all boils down to is simple trickle down economics, making changes at the top that bring success to other parts. Getting the Steelers back to running the football, first of all, keeps a defense that is "long in the tooth" off the field and better rested. After all, besides averaging around 31 years of age, the Steelers were minus 13 in turnover ratio; far from their dominating defense of previous years.
But what re-establishing the run also does is keep an often battered and banged up Roethlisberger a lot healthier and extends a playing career that has already been plagued with injuries. Not only that, but a more pocket oriented Roethlisberger, that gets rid of a ball after three or five step drops, keeps more pressure off of an offensive line in the midst of rebuilding.
Although Roethlisberger's bootleg scrambles for daylight, and subsequent down field bombs, have separated him from many other quarterbacks in the NFL, it's also a sword the Steelers can very easily die by as well and did in 2011.
But a key loss already haunting the upcoming season for the Steelers is Rashard Mendenhall, whose ACL tear during the playoffs of the 2011 season will most likely keep him out of the 2012 regular season. This will cast considerable doubt about whether Haley will have the personnel to achieve his rushing success at Kansas City.
In Mendenhall's place will mostly likely be backup Isaac Redman, who has averaged only 363 yards over his two full seasons thus far. Tough shoes to fill considering Mendenhall was nearly over 1,000 yards for his third year in a row in 2011.
Haley's change to the offense sounds easy on paper for what it can provide for the Steelers. Will it translate to immediate success? Express cautious optimism on that thus far.