Indy 500 2012: Dan Wheldon's Absence at the Forefront of Racing's Greatest Day
May 27, 2012

Robert Laberge/Getty Images
For the first time since 2008, this year's Indianapolis 500 will start without its defending winner in the field.
Telling that story is, and will always be, heartbreaking. It still doesn't even seem real. In last year's event, Dan Wheldon capitalized on a last-turn crash by J.R. Hildebrand to inherit the lead and win his second Indianapolis 500. It was Wheldon's only scheduled race of the season at the time, as he had been spending much of the year developing the cars that will contest this year's race.
Five months later, he was gone, the victim of a fiery accident at the Las Vegas Motor Speedway that sent him flying into the second turn catchfence. He left behind a wife, Susie, and two young sons, Sebastian and Oliver.
Now, one year removed from his final and most unlikely triumph, Wheldon remains in the minds of all of those at the Indianapolis Motor Speedway, and of millions watching at home.
He was one of the most charming drivers in the garage area, a cheeky yet dashing young Briton whose penchant for white sunglasses and more pairs of shoes than most women made him somewhat of a unique character in the paddock.
His former teammates have called him, more than once, "the little brother (they) didn't want," both bemused by his personality and slightly annoyed by the fact that he could beat them.
But the fans always loved Wheldon, and for good reason. He had the unique ability to make his supporters feel like the only person there to see him in a crowd of hundreds. He'd stop to take pictures with anybody wherever he could, and he'd always encourage his competitors to sign just a few more autographs.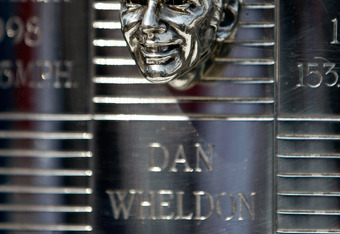 Jonathan Ferrey/Getty Images
It was that personality that enabled him to represent his sponsors with an unmatched level of passion. For two years, Wheldon was backed by the National Guard, despite his British citizenship. No matter—in a series of 2009 commercials for the Indy Downforce fan program, Wheldon's stint as a drill instructor for a "lucky" fan remains one of the sport's finest ads.
On the track, especially at Indianapolis, Wheldon simply had a knack. Although he began his career on road courses, he became one of the best oval drivers that IndyCar had seen in recent memory, scoring six finishes of fourth or better in nine starts at the sport's most famous circuit.
The two wins came in very different fashions; the first, in 2005, came after dominating the final quarter of the event, while the second only required him to lead a single lap.
And so the hundreds of thousands at IMS today will honor Wheldon, wearing pairs of his trademark white sunglasses in the grandstands. His face hangs on a banner outside the speedway, commemorating last year's win, while a photo of him dousing himself in the traditional winner's milk adorns the ticket. Undoubtedly, this year's winner will mention Wheldon in victory lane.
His memory, and spirit, will hang in every corner of today's event, especially the four corners that he used to get around so well. But nobody will ever replace Dan Wheldon. And a year after winning the Indianapolis 500, the heartbreak of his absence remains.
Christopher Leone is a featured motorsports columnist for Bleacher Report. View a comprehensive archive of his work here. Follow him on Twitter at @christopherlion.