SEC Football Top 150 Players: No. 95, Deontae Skinner, Mississippi State LB
May 27, 2012

Grant Halverson/Getty Images
The SEC Blog will be counting down the top 150 players in the SEC every day, concluding on Aug. 30 at the start of the college football regular season.
95. Deontae Skinner, No. 51, Mississippi State Linebacker
2011 stats: 69 tackles, nine tackles for loss
Strengths
Skinner was overshadowed last year by Cameron Lawrence, but put together a solid season at the outside linebacker spot. The 6'2", 245-pounder has the size to take the punishment in the SEC, and has a nose for the backfield—making nine stops behind the line of scrimmage. He emerged as a reliable linebacker during his sophomore season in 2011 for head coach Dan Mullen.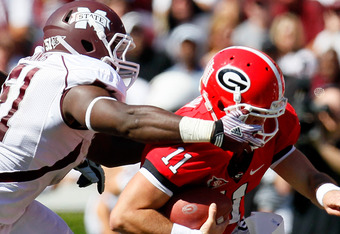 Kevin C. Cox/Getty Images
Weaknesses
He may not even start. Chris Hughes is listed above him on Mississippi State's spring depth chart, so the amount of playing time Skinner receives as a junior is still very much up in the air. Competition is healthy for a team, so expect Skinner to be improved even if he isn't on the field as much.
2012 Prediction
Even if he isn't a starter, he will still see the field a lot. He's too talented to stand on the sidelines. Skinner will make an impact for the Bulldogs whether it's as a starter, backup or on special teams.