Philadelphia Flyers: 4 Reasons Re-Signing Jaromir Jagr Is Key to the Offseason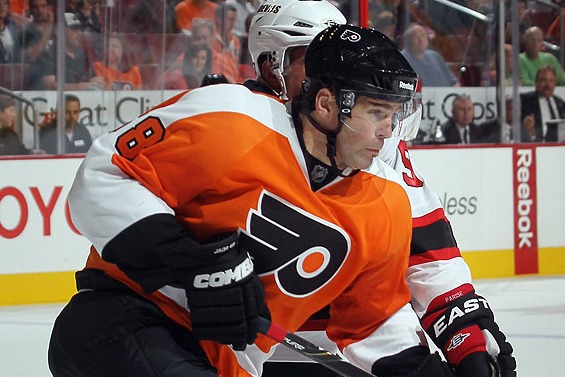 The Philadelphia Flyers are fortunate. Much of their core is already signed for next season and beyond.
Still, some key offseason personnel questions remain. One of the biggest centers around the fate of future Hall of Fame forward Jaromir Jagr.—
Jagr inked a one-year deal worth $3.3 million when free agency began last July. When this July hits, the seven-time, first-team All-Star will be a free agent once again.
Jagr has indicated he wants to return to the NHL next year but the question remains—where? The answer should be back to Philadelphia. Jagr himself indicated to Flyers.com that this was one of the most enjoyable seasons of his illustrious career and Philadelphia could certainly use what he brings to the table.
With that, here are four reasons why re-signing Jagr is a huge key to the offseason plans for the Flyers.
Begin Slideshow

»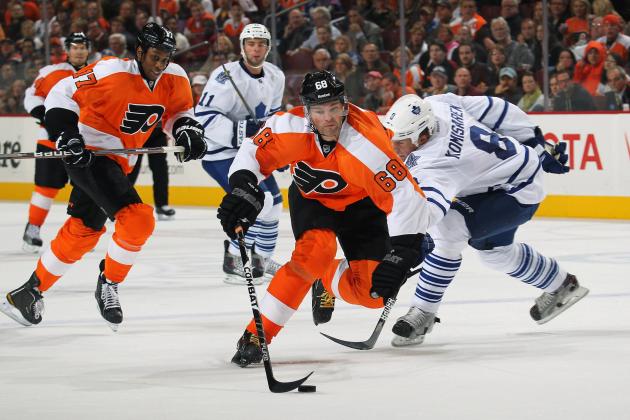 You can't score in hockey unless you have the puck.
It sounds absurdly simple, but it's true. Time spent with the puck is one of the biggest factors in producing offense.
Since he broke into the league back in 1990, Jagr has been, and continues to be, one of the best puck-possession forwards the game has ever seen. Even at 40 years old, the 6'3", 245-pound winger is still capable of dragging the puck into the offensive zone and dangling around multiple defenders to create scoring chances for his linemates.
In addition, Jagr's board play continues to excel even in the twilight of his career. Philadelphia's best spurts of offense this season came when the Flyers were able to establish a sustained forecheck—working the puck from corner to corner below the goal line. That forecheck can only be maintained by winning battles for 50-50 pucks along the walls.
Jagr possesses that rare combination of strength and skill to win those grudge matches along the boards and then produce high-caliber scoring chances afterwards.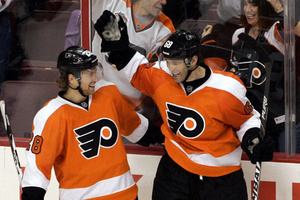 It's not just enough to simply have the puck. You have to be able to do something with it once it's on your stick.
Jagr has certainly proven he knows what to do with the puck once he's got it.
The native of Kladno, Czechoslovakia currently ranks 11th all time with 665 goals and eighth all time with 1,653 points. He has notched 20 or more goals in 16 of his 19 seasons of NHL service and has only failed to top 20 goals in three injury-shortened campaigns.
This past season was one of those years. Jagr finished third on the team in scoring with 54 points, which included 19 goals. Still, the veteran forward was tied for fifth among all Flyers with those 19 goals and ranked third on the team with eight power-play strikes.
Jagr's days of leading the league (or even a team) in scoring are behind him. But proven goal scorers are a rare commodity in hockey and even at 40 years of age, Jagr has shown he still has a nose for the net.
On a team blossoming with young talent, Philadelphia needs to retain that proven scoring touch to avoid slipping into offensive funks which tend to plague young, inexperienced teams.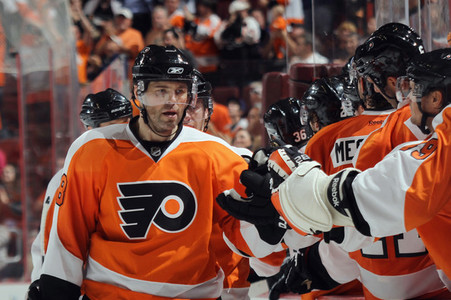 Speaking of experience, despite a run to the Eastern Conference semifinals, the Flyers remain an incredibly young and inexperienced squad.
Re-signing Jagr is an absolute must to inject some much-needed playoff experience into a team that harbors hopes of capturing the Stanley Cup a year from now.
During Philadelphia's 11-game run in the 2012 NHL playoffs, six different skaters experienced NHL postseason action for the first time. And while the Flyers received wonderful contributions from their young players all season long, teams that make runs deep in the playoffs do so with solid play from playoff-tested veterans.
Following the 2012 postseason, Jagr currently sits at 180 career playoff games played. That number is far and away greater than any other player on Philly's postseason roster. Danny Briere is second at 108 postseason games while Scott Hartnell and Matt Carle are tied for third with 84 playoff tilts each.
In fact, Philadelphia as a team has now accumulated 1,054 games of playoff experience—180 of which (17 percent) belong to Jagr alone.
What's even more impressive than the 180 playoff games for Jagr is the 189 career points he's chalked up in those postseason contests. In his career, Jagr has tallied 78 goals and 111 assists in the playoffs, including a goal and seven assists this postseason.
As a team, the Flyers' brighter days are ahead of them, but they will still need proven veteran leadership and experience to achieve all that this team is capable of. That's where Jagr comes in.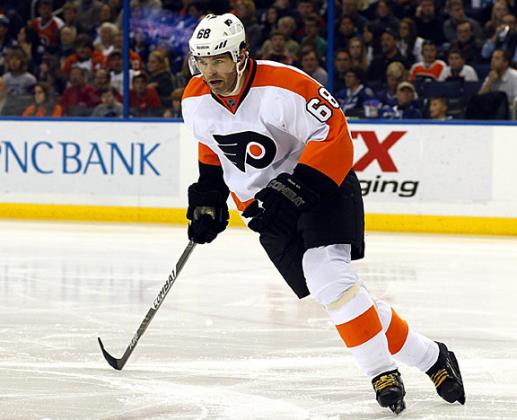 Finally, the last reason why re-signing Jagr is a huge offseason key for the Flyers is without a doubt the most important.
He's a two-time Stanley Cup champion.
Jagr has firsthand cup experience and knows the sacrifices that are required to capture hockey's ultimate prize.
Yes, Jagr's two Stanley Cups came 20 years ago when he was a young buck with the Pittsburgh Penguins, but the principals of winning the cup haven't changed in that time.
The same blood, sweat and tears the Penguins exerted 20 years ago is the same effort the Flyers will need to put forth if they're to win the season's final game a year from now.
Jagr was one of only four players on Philly's postseason roster to ever hoist the cup (Max Talbot, Pavel Kubina and Andrea Lilja were the others) and he's the only member of the Flyers to have ever won it multiple times.
Playoff experience is one thing. Stanley Cup Finals experience is another. Stanley Cup-winning experience is something else entirely.
Jagr has that. The Flyers want it. Seems like re-signing him is a no-brainer.