Arsenal: Why Is Arsene Wenger so Hesitant to Play Theo Walcott as a Striker?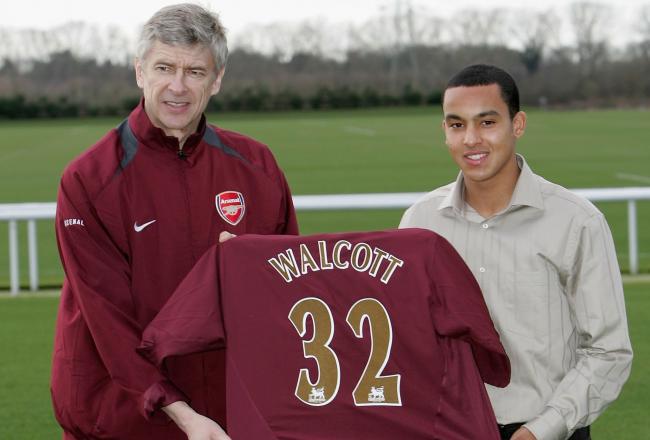 Mark Thompson/Getty Images
Arsenal's victory over West Bromwich Albion in the third round of the 2006-07 Carling Cup was remarkable for two reasons.
1. Jeremy Aliadiere, he of the potential forever untapped with Arsenal, notched a brace for the Gunners in the 2-0 victory.
2. Arsene Wenger's post-match comments concerning a certain Theo Walcott—then a burgeoning 17-year-old fresh off a controversial inclusion within the 2006 England World Cup squad, where he'd played nary a minute—were fascinating.
It was only Walcott's second start for Arsenal—he'd joined the club in January of that year from Southampton, but his searing pace and nose for goal had already sparked comparisons between the youngster and one Thierry Henry.
Like Henry, who had joined Arsenal in 1999 after foundering on the wing at Juventus, Walcott was expected to make the transition from winger to dynamic central forward for Arsenal. That was, at least, Wenger's plan for him back then.
"When you have a player like Theo, it is important to let him develop on the wing," Wenger told Soccernet following the West Brom match.
"[Walcott] has to learn how to dribble and gain confidence in attacking people in one-on-one situations. Then, in a year or two he can move into the middle and use those abilities to do a better job."
Fast-forward to 2012, and Walcott is still being used by Wenger as a winger. The Englishman, now 23, has made no secret about his desire to be played as a central forward, but he has yet to see his wish granted.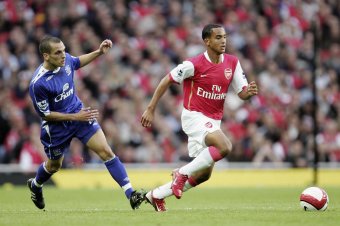 Mike Hewitt/Getty Images
It is a bit bizarre. Wenger had spoken in the past of how he always considered Henry to be a central forward, from his youth days at Monaco (where Wenger had coached him), to his struggles at Juve. It spoke to that belief that within months of coming to Arsenal, Henry was starting alongside Dennis Bergkamp as the Gunners' first-choice strikers.
Walcott's case appears slightly more layered.
The Telegraph's Jeremy Wilson voiced his doubts over whether Walcott had the footballing ability to play as a central forward in a November 2010 blog, adding his opinion to that of many, many others.
With the 2010 World Cup as his reference point—when the likes of Holland, Spain and Germany had swashbuckled their way to the tournament's final rounds employing a dynamic version of the 4-2-3-1 formation, exemplified with the Germans' 4-1 dismantling of England in the Round of 16—Wilson expressed his reservations of Walcott's potential as a central forward.
"The striker is no longer just a goalscorer; but rather a focal point for the team who can hold the ball up, play with his back to goal, run tirelessly into space, drag defenders out of position, provide an aerial threat and, most crucially of all, create chances for others," Wilson wrote.
Besides noting Walcott's lack of aerial prowess—one of Didier Drogba's, Wilson's example of the perfect modern forward, best attributes—Wilson reasoned that the Englishman might best be used in a central role if he had another striker to work with, say in a 4-4-2 formation.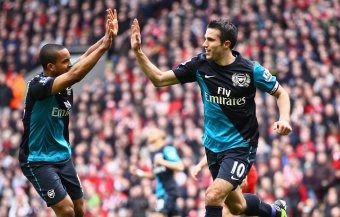 Clive Mason/Getty Images
That's the formation in which Henry had made his transformation, after all.
Wenger had been quoted by Arsenal's official website just one day before Wilson's article, saying Walcott was "very, very close" to being used as a central forward, thus completing his own Henry-esque transformation from the wing.
But the French manager stopped short of making a comparison to Henry (it would be cruel, after all, to compare any player to Arsenal's all-time leading goal scorer), and noted that his 4-2-3-1 formation called for a central forward "who is good in the air."
That is bizarre, considering that the player currently occupying the forward position for Arsenal, Robin van Persie, is not renowned for his aerial prowess. But then, when you score 30 goals in a season, it's hard to ladle criticism upon van Persie's purported deficiencies.
But Wenger also noted that Arsenal often face teams whose defenses sit in deeper positions, which would impinge upon Walcott's ability to get in behind the back four from a central position.
"We face teams that play very deep like West Ham so there is less space in behind. That is why at the moment I use [Walcott] on the flanks," Wenger said.
Wenger acknowledged that several of Walcott's goals for Arsenal that season had come from a central position on counterattacks—i.e., occasions where Walcott had taken advantage of an opposing defense's high line and exploited it with ruthless efficiency (his goal on the counter against Newcastle in the 2010-11 Carling Cup was just one example).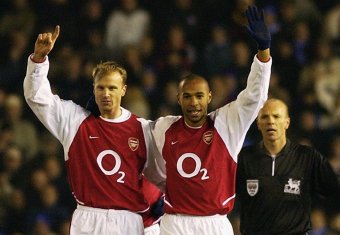 Shaun Botterill/Getty Images
But basing a move laden with such obvious implications as a switch in positions off a couple choice examples from several games doesn't seem like the wisest decision. Wenger knew that.
The ever-astute minds at Arsenal Vision seconded Wilson's belief that Walcott would function best in tandem with another central forward, a la Michael Owen in his heyday at Liverpool, when he partnered with Emile Heskey.
AV made the excellent point that following the sale of Cesc Fabregas—around whose creative bent the 4-2-3-1 formation Wenger had switched to ahead of the '09-10 season had been fashioned—the table was set for Walcott to be paired up top with Robin van Persie, bolstered by two dogged central-lying midfielders (as we'd seen from Arsenal in the '07-08 season, when Fabregas was paired with Mathieu Flamini).
Walcott has spoken in the past of his relationship with van Persie, which was like clockwork on certain occasions last season.
So why not try them up top together? Wenger showed he was willing to revert to a 4-4-2 in the Carling and FA Cups this season, playing Marouane Chamakh and Park Chu-Young in tandem in the early rounds of each.
But Wenger stuck with the 4-2-3-1, and kept Walcott out on the wing.
There, he can cut a rather isolated figure, often collecting the ball so close to the sideline (as AV duly noted) that his only real option is to turn upfield and embark upon a run down the line.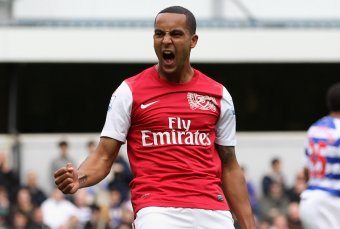 Ian Walton/Getty Images
In the end, Walcott is a natural-born attacker: he gets the ball, his first instinct is to bomb forward. That much was made apparent in that Champions League quarterfinal leg at Anfield, where Walcott tellingly surged through the middle of the Reds defense before pulling off to the right and opening up space for the onrushing Adebayor—and people say he isn't an intelligent footballer?
That incredible run aside, Walcott has been behind some of the classier finishes for Arsenal in recent seasons.
That is why it's almost bizarre to hear him, as if it were an admission of his dashed hopes and dreams as a scorer, say his main role for Arsenal now is as a passer.
Speaking to Arsenal's official website after the 7-1 romp against Blackburn last February, Walcott said one of the stipulations of his job as a winger requires that he look to provide assists before turning his eye toward goal.
Wenger, perhaps merely as a defensive reflex against probing questions, has said he considers Walcott to be a striker. The Frenchman even contrasted Walcott from Alex Oxlade-Chamberlain by saying that while Walcott was a "striker," Oxlade-Chamberlain was a "midfielder."
But the Frenchman's reluctance to play Walcott at the very position he considers him to be most adept at playing would appear to refute his designation.
Many people forget that Walcott bagged 13 goals in just 25 league appearances for Arsenal in 2010-11—a strike rate any forward would pray for—despite battling a debilitating ankle injury that scuppered his excellent start to that season.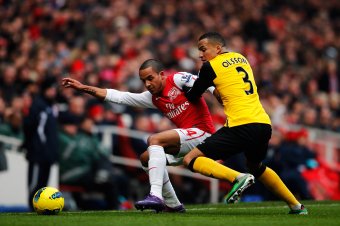 Paul Gilham/Getty Images
The wingers of Arsenal's formation do play in a very advanced formation, hearkening to mind the image of a striker, but the fact that Walcott considers his first obligation to look for passes ahead of goals makes him more of a classic midfielder than striker.
And when those wingers do show a propensity to cut more centrally, a la Samir Nasri last season or Yossi Benayoun in the recently-completed one, they look more like midfielders than central forwards.
So where do things stand now, following Walcott's sixth full season with the club? To be blunt, just where they stood after that Carling Cup match against West Brom some five-and-a-half years ago.
Walcott remains a winger, and Wenger continues to push back his time frame for converting him to a striker. But Walcott's patience appears to be waning.
Speaking to Arsenal.com, Walcott revisited his talk with Wenger about playing as a striker.
"He knew the conversation would come up and was very happy to talk about it. He says he'll give me a chance there at the right time, and I'm dying for it to happen – but he knows exactly what he is doing and obviously I trust him.
"I believe I can give so much more to the team playing up front, with the runs I can make off the ball, and I just love hitting the back of the net as well.
"At times I feel a bit, if not wasted, then in and out of games on the right. I just want it more and more, having scored a few last season - I'm not a winger and I think plenty of people know that. I've done OK out there but I'd love to play down the middle," Walcott said.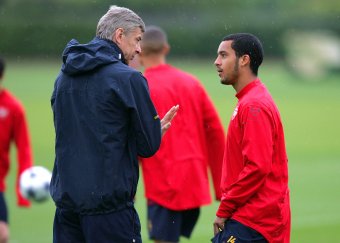 Tom Dulat/Getty Images
It is true that, at 23, Walcott is now the age Henry was when he joined Arsenal. Perhaps Wenger was simply waiting for him to mature to the point where the French manager felt confident employing him in a new role.
But will there be enough time? Walcott's contract with Arsenal expires at the end of next season, and he has yet to show any real intent of signing a new deal.
Heading into next season, it's still "wait and see" when it comes to Walcott's future as a striker. It is definitely one of the plot lines to keep track of, especially in the upcoming preseason fixtures.
Walcott will likely be sapped from the Euros, but Wenger could indicate his plans for the winger next season with the way he lines him up, say, on the Asia tour.
This article is
What is the duplicate article?
Why is this article offensive?
Where is this article plagiarized from?
Why is this article poorly edited?

Arsenal: Like this team?