UFC 146 Prelims: Dan Hardy's Mindset Will Propel Him over Duane Ludwig
May 26, 2012

Jeff Zelevansky/Getty Images
Dan Hardy may not be on the main card or the pay-per-view for UFC 146, but he's got the right mindset to go in to his prelim bout against Duane Ludwig and come away a winner.
The one thing that I love about UFC, MMA and any of the "fighting" sports in general is that there is such a big factor going into these fights that most people don't think about, or maybe don't care about—mindset.
To me, mindset is everything when I'm looking at two fighters going into a ring, Octagon or wherever their respective fight happens to be.
The natural human response to the danger of fight is a rush of adrenaline, quick heartbeat and fast breathing, but for a fighter that can be devastating. All of those responses can lead to a racing, unfocused mind, and when you're in the Octagon, any loss of focus can be disastrous for your chances.
The same can be said of your mindset when it comes to training and preparing for the fight. Are you focused and determined, realizing what a great opportunity you have?
Are you brash, loud and more worried about talking than fighting? Even worse, are you scared?
A fighter's mindset in and out of the fight can be 100 percent beneficial or 100 percent detrimental to his actual fight, and these quotes from Hardy via Andy Samuelson's article on mmajunkie.com lead me to believe that he's in a good place:
"I'm all in," said Hardy, whose aspirations outside the cage include writing and traveling. "The good thing is I'm all in cause I want to be. I had one foot out the door for the Lytle fight, and that obviously wasn't the right frame of mind to be in."

Now I'm all in because I know that when it does come to an end, it's not a big deal. There are other things I want to do. I can fully invest my time right now because I know it might be the last time I invest it. That changes everything, my approach in my head where I'm at now, and where I see myself in the future. I'm fighting fights to fight and enjoying every one.
These quotes suggest to me that Hardy is coming into this fight focused on the task at hand, and that combined with the natural skills he has will make him a very dangerous opponent for Ludwig.
He'll be able to be in every moment, take every hit, see every counter and keep his mind right where it needs to be.
Not only that, but if he's having fun he'll be so much looser out there, which in itself can be the difference between winning and losing. When you're loose as a fighter you don't over-think the fight as much, and instead go with the flow.
Over-thinking leads to a lack of focus, but that's the last thing that I'm expecting from Hardy in this match.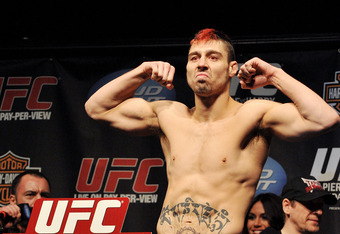 Jon Kopaloff/Getty Images
Physical attributes and skill aside, mindset is such a powerful weapon for a fighter, and it appears as if Hardy is coming into this bout with a great one.
That can be the difference when everything is on the line.
In Hardy's case, I expect it to be the difference between winning and losing, and I expect him to come away as the winner.