Arsenal FC: 10 Best Foreign Stars in Gunners History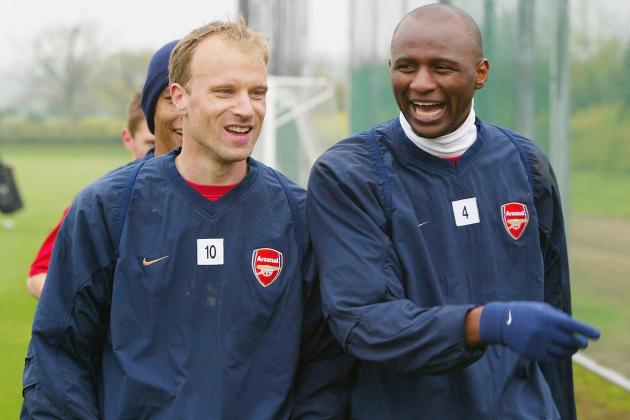 Paul Gilham/Getty Images

Some criticize Arsenal today for not having enough English players on the team, despite their location in the heart of London.
But they would do well to remember the fact that many of the best players in the club's history have been foreigners, and individuals who hail from outside of England's shores have left an indelible mark on Arsenal.
Especially during Arsene Wenger's reign, foreigners have been an integral part of the machine that brought the club so much success. Without their influence, Arsenal would not be regarded as highly as it is today.
With that in mind, let's take a look at the best imports to ever wear the cannon.
Begin Slideshow

»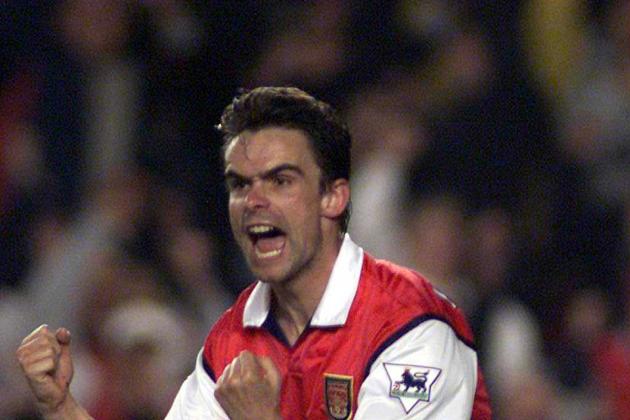 Laurence Griffiths/Getty Images

One of the smartest decisions that Arsene Wenger made in his early days at Arsenal was to bring in Marc Overmars from Ajax, and the Dutchman certainly left his mark on the club.
Blessed with truly incredible pace and technique, it was very common in the late '90s to see Overmars blazing down the left side of the pitch and either finishing the move himself or turning around a defender to set up a goal for a teammate.
Always a man for the big occasion, Arsenal fans remember his thrilling contribution to a 1-0 victory at Old Trafford in March 1998 and the brace a couple months later that clinched the title for Arsenal in the famous victory over Everton at home.
He became the most expensive Dutch player ever when he transferred to Barcelona in 2000, but he never scaled those heights again.
Getty Images/Getty Images

If you want to know how Liam Brady played the game of football, rub some silk and describe how it feels.
This is what Arsenal fans of the 1970s felt on a weekly basis watching the Irish master work his magic in midfield.
Brady had the ability to pick the perfect pass, glide past opponents or rip a powerful shot and place it exactly where he wanted it to be. He was at the center of the engine room, the man who really made Arsenal tick.
When he moved to Juventus in 1980, the whole club seemed deflated, and the Gunners struggled for some time afterwards. Brady was truly a man ahead of his time, and one of the greatest midfielders in Arsenal history.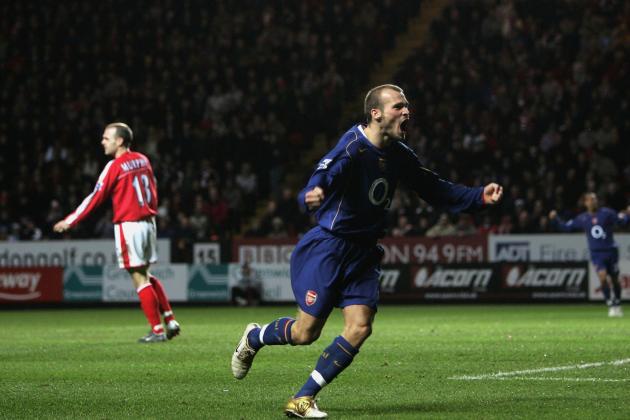 Tom Shaw/Getty Images

Freddie Ljungberg was one of the weirdest, most unlikely and most exciting players of the Arsene Wenger era.
Plucked from tiny BK Halmstad in 1998, the Swede immediately brought his brand of athletic, flowing football to the Premier League to help Arsenal to their greatest successes in the early 2000s.
Ljungberg's best season was probably the 2002 double campaign, in which he scored 17 total goals and was so clutch during the run-in that he earned himself the Player of the Year award.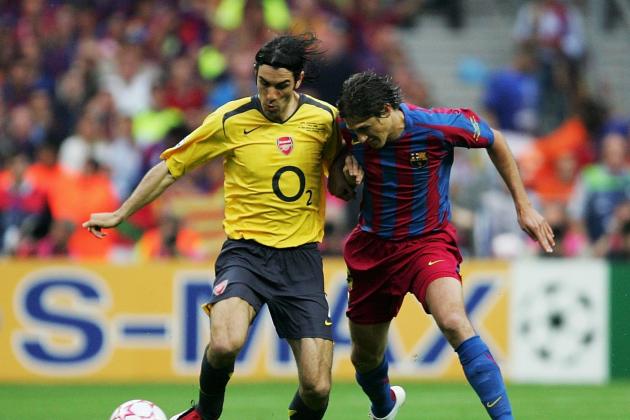 Alex Livesey/Getty Images

Despite a slow start to life in England, Robert Pires grew into one of Arsene Wenger's best signings and a crucial member of Arsenal's most successful teams.
He certainly had an abundance of pace, but he did not need to rely upon it, for his technique was impeccable, and he could place both a pinpoint pass or score truly amazing goals.
Without Pires, the Arsenal engine could not run with nearly the same beauty and efficiency that it did with him. Forming the crucial link between Ashley Cole and Thierry Henry, much of the attacking beauty that characterized the last Gunners team to win anything came through Pires.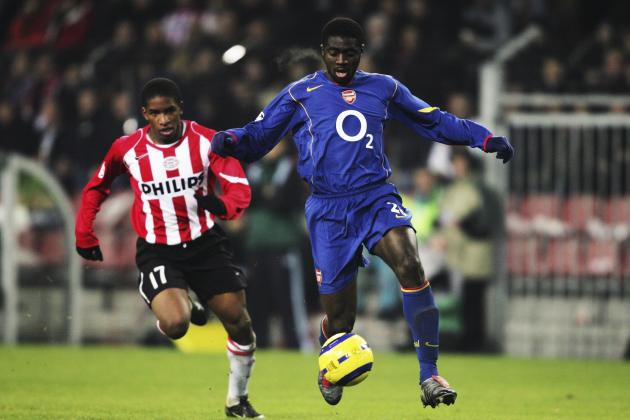 Shaun Botterill/Getty Images

If not Nicolas Anelka, Kolo Toure is surely the most cost-effective signing that Arsene Wenger has made at Arsenal.
Signed from ASEC Mimosas for only a couple hundred thousand pounds, Toure quickly established himself as a rock at the back for Arsenal, working with Sol Campbell to form the bedrock of the "Invincibles" team of 2003-04.
With Philippe Senderos in 2006, Toure kept a record 10 consecutive clean sheets in European competition, a record that will not soon be broken.
Sadly, Arsene Wenger chose to let him go instead of William Gallas in 2009, but the Ivorian will always be remembered fondly at the Emirates Stadium.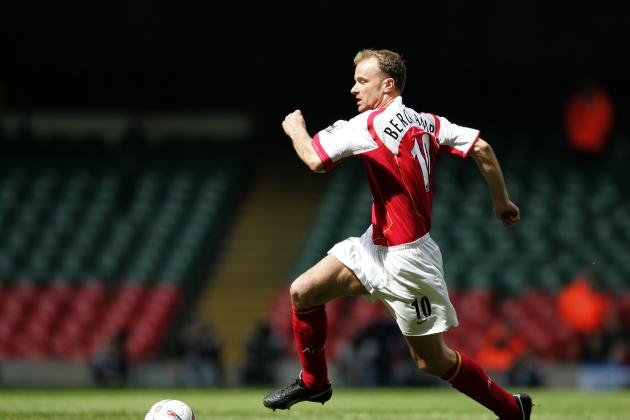 Clive Mason/Getty Images

How can one begin to describe the sheer brilliance of Dennis Bergkamp? When he was signed from Inter Milan in 1995, it signaled a daring change in strategy for "boring, boring Arsenal," and the Dutchman was the catalyst for much of the Gunners success under Arsene Wenger.
He was the archetypal No. 10, playing just behind Thierry Henry to create chances for the Frenchman and support the attack. Without Bergkamp, the awesome counterattacking style that Arsenal played a decade ago would not have flowed with the same beauty.
Even as he aged, the Dutchman was still a critical member of the squad, and without much running he could use his marvelous footballing brain to pick apart defences at will.
A true legend of both Arsenal and the game of football.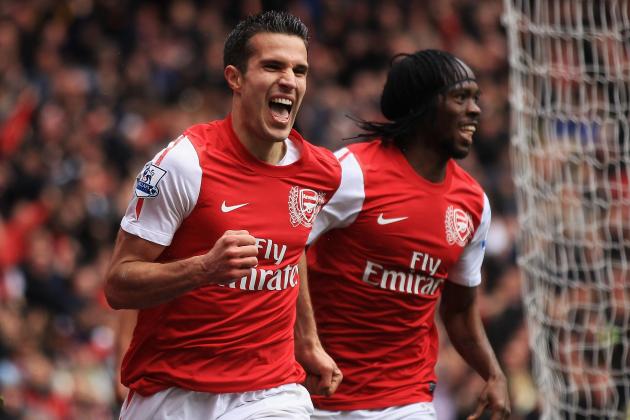 Bryn Lennon/Getty Images

There is no denying that Arsenal's current best player is also one of the best to ever wear the shirt.
Robin van Persie is blessed with many of the same qualities as the aforementioned Dennis Bergkamp, but his placement as a central, rather than a supporting striker, has meant that he has scored a tremendous amount of goals for the Gunners.
Other than perhaps Lionel Messi, Van Persie has the best left foot in all of football, and the power and precision with which he uses his most deadly weapon is truly awe-inspiring.
The incredible 37-goal season that he just finished showed what he can really do when given a full year to play without injuries and with a proper rest.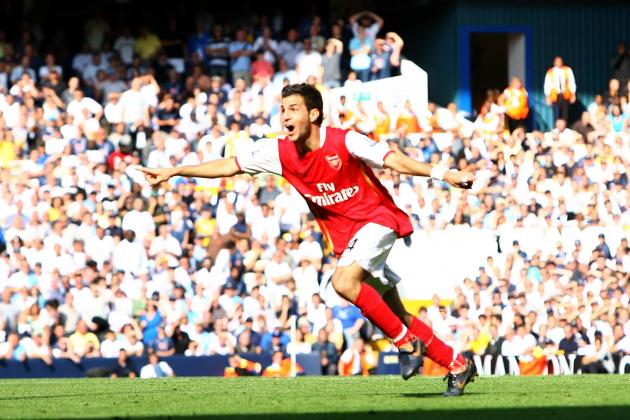 Ryan Pierse/Getty Images

Cesc Fabregas became one of the three best midfielders ever to play for Arsenal and he left at the age of 24. So, yeah, you could say the guy had some talent.
Unfortunately, Arsenal supporters were not treated to what would have been a truly spectacular career of greatness from the incredibly gifted, young Spaniard. But what we did see was spectacular.
There were spectacular goals, like his stunner against Spurs, and sublime passes, the likes of which had never been seen at Arsenal since the days of Liam Brady. Such was the kid's talent that Arsene Wenger sold Patrick Vieira, his captain and leader, to build his new team around this amazing youth.
His Arsenal career may have been tragically cut short by his love for his hometown club, but the quality he brought to the team and the sheer joy he brought to the fans makes him a club legend.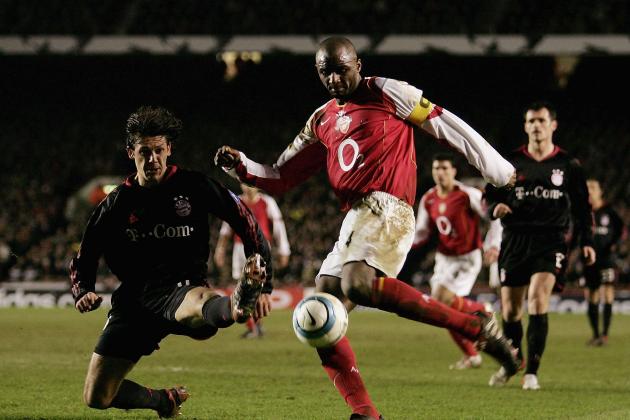 Shaun Botterill/Getty Images

Patrick Vieira was one of those rare players who had it all. His size and strength meant that he could put in a crunching tackle and intimidate the opposition, while his incredible technique and footballing mind allowed him to be Arsenal's chief midfield architect.
Oh, and he was also one of the best leaders in the history of the club.
It would not be unreasonable to say that the French maestro was Arsene Wenger's greatest transfer success, and the boss knew how much he needed Vieira when he insisted that the club purchase the young midfielder as a condition of his arrival in 1996.
Arsenal may never find another quite like him, and he probably left before his time was truly up in 2005. Vieira is an absolute legend, nonetheless.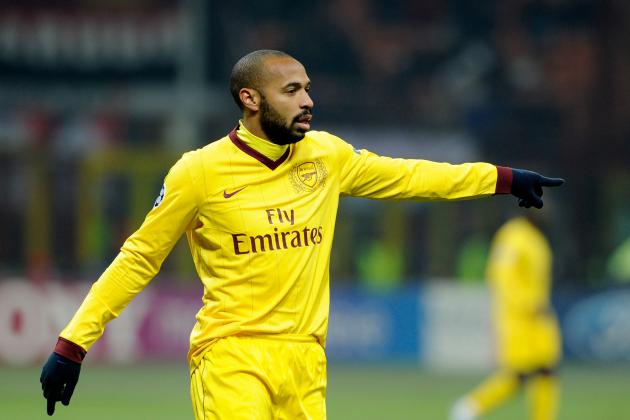 Claudio Villa/Getty Images

How can one begin to sum up the career of Arsenal's best-ever player and arguably the best in the history of the Premier League?
Using a freakish combination of blistering pace, height, strength and almost unrivaled technique, Thierry Henry scored 228 goals for Arsenal in 377 appearances, and was at times utterly unplayable.
When he wanted to, like all truly great athletes, he could take a game over and make himself a one-man counterattack. If a team had the misfortune of catching Henry in this mood, they knew that the match was as good as over.
Even at 34-years-old and bereft of much of his legendary speed, the Frenchman added quality and class on his return to Arsenal this past January, which was much too brief for the greatest player ever to wear the cannon.