NBA Rumors: Dissatisfied Rockets PG Kyle Lowry Wrong to Want out of Houston
May 26, 2012

Streeter Lecka/Getty Images
When things get tough, you find a way to get through it, right? Not if you're Houston Rockets point guard Kyle Lowry.
According to Jonathan Feigen of Ultimate Rockets, Lowry is ready to leave the team if Kevin McHale returns as Rockets head coach.
I don't think so. I honestly think it would be tough. Things have to be addressed. The situation would have to be addressed. If things aren't addressed coaching-wise, I guess I have to be moved.
However, this seems to be a one-sided dispute. McHale didn't take away any hard feelings from this past season.
"That's very surprising," McHale said. "I didn't think we had too much of a problem coexisting this year. Everybody has a little beef every once in a while. I didn't feel like (there were problems). He apparently did.

"There were times that we didn't agree on things. There were times that I got on him. I don't think it was unduly harsh on anybody."
This sounds like a style issue. McHale's coaching mindset isn't meshing with Lowry and both have different opinions on the strength of their relationship.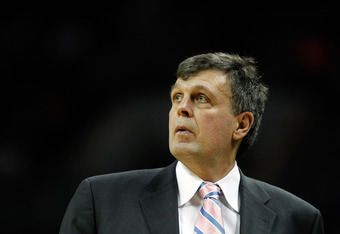 Streeter Lecka/Getty Images
Tough love isn't a bad thing, but some players struggle with that style. It appears that Lowry struggled with it more than we thought.
Another situation for Lowry is at the point guard position, where he is in a battle with Goran Dragic. Feigen points out the issue with Dragic and Lowry.
But as he leaves town Saturday, he does not know if he'll return to those familiar facilities or if he wants to be back. Lowry does not believe he and Goran Dragic, his successor as the starting point guard this season, will both return to the roster next season.
There are a couple things I don't like from this situation. First, I don't like how he handled the situation through the media. Second, at age 26, he is the same age as Dragic so the opportunity to outplay him is there for the taking.
Competition brings out the best in players, yet Lowry seemingly wants no part of it.
Finally, maybe he's just using McHale as a cop-out here. Maybe he's afraid of losing the job to Dragic. His excuse for "really" wanting to leave the team is because of the battle with Dragic, not the coach.
Regardless of the situation, Lowry should stick it out and attempt to be the starting point guard for the Houston Rockets in 2012-13. Dealing with an issue or problem is much better than running away from it.