Indy 500 Lineup: Poor Qualifiers Who Will Contend in Racing's Greatest Spectacle
May 26, 2012

Nick Laham/Getty Images
There is no question that qualifying well can give a driver a leg up on the competition when it comes to the Indianapolis 500, but they run a full, 200-lap race for a reason. Pretty much anything can happen at Indy, so it wouldn't be a surprise at all to see a driver who didn't qualify particularly well win the race, or at least be a major factor.
Some of the bigger names like Helio Castroneves, Will Power and Tony Kanaan did an excellent job last weekend, while others are going to start in the middle or near the back of the field and will have a lot of work ahead of them. Success in the Indy 500 comes down to quality drivers with quality equipment, though, so poor qualifying shouldn't do certain drivers in.
Here are three drivers who didn't qualify as well as they had hoped, but will still be major factors on Sunday and will be in contention for a win.
Dario Franchitti
As a two-time Indy 500 winner, Dario Franchitti will have a big target on his back on Sunday, but he'll have to be the hunter before he is the hunted. Franchitti will start in the middle of the pack at No. 16, but he obviously shouldn't be counted out.
Franchitti is one of the most successful drivers in IndyCar history as he has won 18 races in addition to his two 500 victories, and he has captured an impressive four points titles as well.
Franchitti has been a bit hot and cold this season with just one top-five finish in four races, but he has been a dominant force on the circuit for the past seven seasons, so he should be just fine. Prior to last year's 12th-place finish, Franchitti had finished seventh or better at Indy for five straight seasons. Franchitti simply knows how to get to the front at this track, and despite his lukewarm qualifying performance, he'll be a factor on Sunday.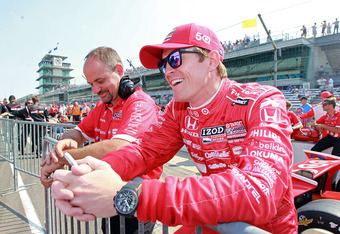 Andy Lyons/Getty Images
As one of just three drivers in this year's field to have won an Indy 500, Scott Dixon is among the odds-on favorites. He obviously didn't do himself any favors by qualifying 15th, but it shouldn't be a big issue for the New Zealand-born star.
Dixon won the 500 in 2008, but he has come close to winning it on several other occasions as well. He has finished eighth or better seven times, including six straight top-six finishes.
There may be no driver in the series who runs as consistently well as Dixon in Indianapolis, and that should bode well for his chances even though he'll have some ground to make up.
There are very few drivers with winning experience in Sunday's field, so Dixon has a very unique advantage. He knows how to get to the front from essentially any spot on the race track, and that should ensure that he's in the mix over the race's latter stages.
J.R. Hildebrand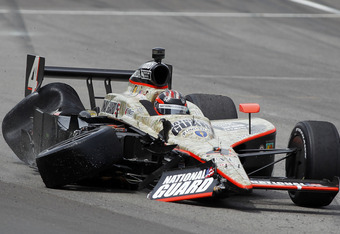 Todd Warshaw/Getty Images
As a rookie last season J.R. Hildebrand was on the verge of one of the most surprising Indy 500 victories of all time. When he took the final turn in the lead, however, something went wrong as he crashed into the wall, allowing the late Dan Wheldon to pass him for the victory.
It was one of the most agonizing losses in auto racing history and it just so happened to occur in what many believe to be racing's biggest event.
Hildebrand will look to conquer his demons on Sunday, though, as he'll try to bounce back with a victory. It may seem like qualifying 18th doesn't bode particularly well for his chances, but he showed incredible acumen as a rookie last season and has likely only gotten more comfortable on the track since then.
All eyes will be on Hildebrand, so he will be facing a lot of pressure, but he'll be motivated to give it another run and perhaps make everyone forget about last year.
Follow @MikeChiari on Twitter