New York Rangers: Lundqvist Looks Anything but Royal as Rangers Fall to Devils
February 8, 2017
Bruce Bennett/Getty Images
Hockey is undeniably a team sport.  There is, however, one player more so than any other on the ice that can influence the outcome of a game on a given night, for good or bad: the goaltender.
The legacy of a goaltender, much like that of a quarterback, is measured by the number of championships he brings to his city.  And much like a quarterback, until that time when a netminder leads his team to the Promised Land, his status as truly elite will remain a subject of debate. 
For the entirety of his career, Henrik Lundqvist has been considered among the best at his craft, racking up All-Star nods and perennially earning Vezina nominations, all while rocking cover-model good looks, and sporting a regal sobriquet.  Perhaps equally impressive, he has also somehow managed to avoid the slings and arrows that are typically directed at goalies after multiple abortive trips to the playoffs.
With the ousting of his top-seeded New York Rangers at the hands of their neighbours from the swamp, perhaps it is time to let the questioning begin.  To be fair, Lundqvist is no Roman Cechmanek, nor does he have a glaring Dan Cloutier moment, however, he is an exceptional goaltender who seems unable to take his game to the next level come playoff time.
This is not to say his playoffs numbers are bad, but, as numbers often do, they make for an interesting illustration.  For the sake of comparison, let's look at Lundqvist's numbers and those of some of his contemporaries with similar playoff experience. 
We will compare win percentage, and whether or not the goalies in question see their numbers improve in the playoffs vis-a-vis their regular season performance—in other words, do they "raise their game?"
Playoffs            Win %    +/-  SV%     +/- GAA
H. Lundqvist      .456          - .003           +.04
R. Luongo          .525         - .003           +.01                      
P. Lalime           .512         + .021          - .81
E. Nabakov        .513         + .001          - .11
R. Miller             .531        + .002           - .10
And just for fun, let's look at a couple of recent legends …
M. Brodeur        .588         + .006           - .22
E. Belfour          .547         + .014           - .33
P. Roy               .611         + .008           - .24
C. Joseph          .473         +.011            - .37
Ed Belfour and Curtis Joseph make nice comparisons. 
Belfour, before winning his Cup with Dallas in '99, was regarded as an exceptional goaltender during his previous 10 seasons in the NHL, but questions remained about his ability to "get it done" in the second season - until he won. 
Joseph, the winningest goalie in NHL history without a Cup to his credit, was often given a pass due to his playing on some substandard squads, but nonetheless guided them (particularly the Edmonton Oilers and Toronto Maple Leafs) deeper than their skill level suggested they should go.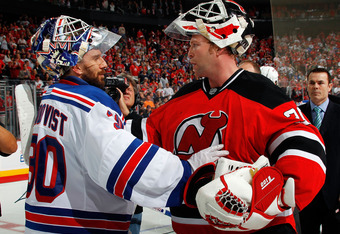 Bruce Bennett/Getty Images
At this point in his career, Lundqvist's resume resembles a rich man's Joseph, which is no small compliment, but nevertheless speaks to a degree of playoff futility.  This is not to say that someday Lunqvist won't find his name etched on Lord Stanley's Cup, but it certainly seems like a rare and golden opportunity has just slipped away.
We often hear that the regular season means nothing.  If we are inclined to agree, then a regular season 1.97 goals against average and a .920 save percentage—while impressive and certainly Vezina-worthy—means squat. 
Numbers, as they say, don't lie, but they sure can be cruel.  They can create expectations, and if we believe that the best performers elevate their game in the playoffs, then the numbers "King Henrik" put up against the New Jersey Devils (2.64 and .905) certainly wilt under the scrutiny of those expectations.  
Taken as a whole, Lundqvist's numbers this postseason are very impressive, and he is certainly not the sole reason the Rangers bowed out to the Devils.  However, the annals of NHL history are filled with storied Cup runs where lesser goalies have taken lesser teams further. 
In many ways, Lundqvist's career is a lot like a four-star Chinese buffet—lots of promise, and lots of MSG, but in the end, it always seems to leave you wanting more.