Philadelphia 76ers: 10 Reasons the Team Can Build a Winner Around Andre Iguodala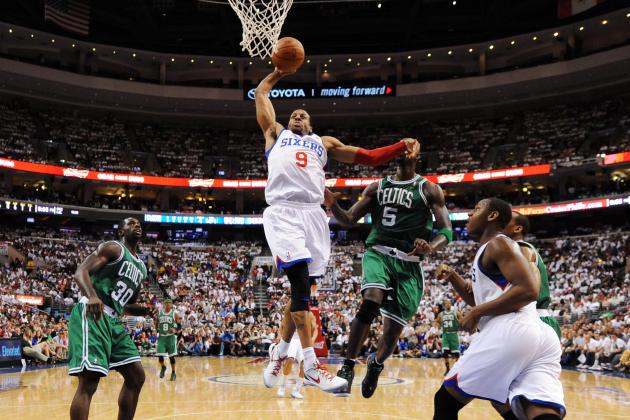 Drew Hallowell/Getty Images

Andre Iguodala's 2011-12 campaign is difficult to classify in a few words.
It's clear that without the play of their 6'6" swingman, there's no way that the Philadelphia 76ers would have come within shouting distance of a date with the Miami Heat in the NBA Eastern Conference Finals. But there are also those who point to Iguodala's flaws (his free-throw shooting, his lack of scoring) as evidence that he can't effectively lead a team.
The Sixers' deep playoff run convinced many that the franchise isn't all that far away from being a legitimate contender. So for those who still question whether or not Iguodala can be the team's central figure, here are 10 reasons why the 76ers can build a winner around their star small forward.
Begin Slideshow

»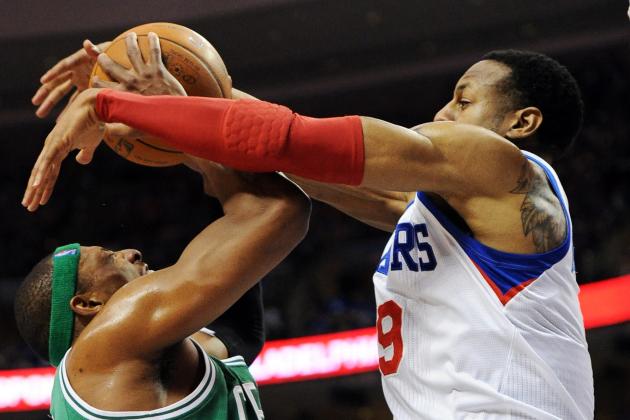 Drew Hallowell/Getty Images

Pay no attention to the voters for the NBA's All-Defensive Team this season: Andre Iguodala is one of the premier defensive players in the league.
This season, Iguodala held opposing players to Metta World Peace-level offensive production. His ability to guard four positions is matched by very few in the league, and the fact that he can shut down the other team's best wing player makes life easier for the rest of his teammates.
As we saw this year, even with terrible shooting, the Sixers made it to within a game of the Eastern Conference finals because of defense—a defense keyed by the play of Iguodala.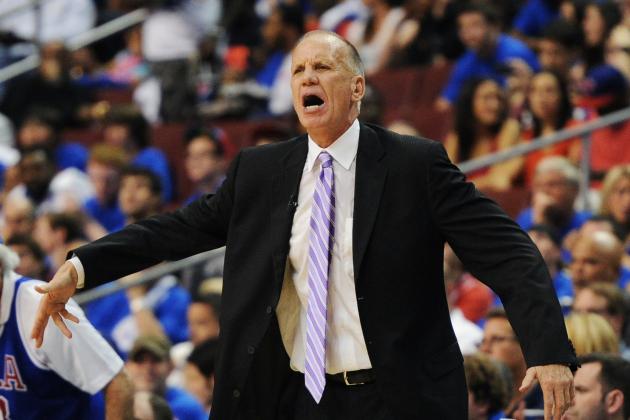 Drew Hallowell/Getty Images

76ers' head coach Doug Collins is an unabashed supporter of Andre Iguodala.
After two seasons together, Collins is fully aware of Iguodala's strengths and weaknesses, and he is supremely equipped to put his small forward in places where he can best succeed. Collins knows that Iguodala won't average 25 points per night, but he uses his 6'6" forward in a variety of roles in order to maximize his effectiveness (point forward, slasher, defensive stopper).
If this past season is any indication, the Collins/Iguodala duo should continue to be successful for years to come.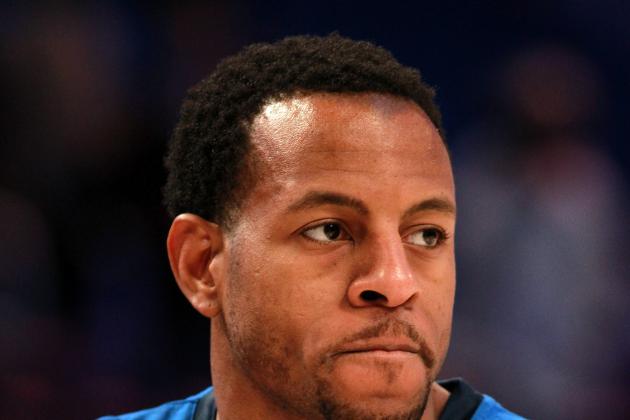 Ronald Martinez/Getty Images

Andre Iguodala's contract is a source of concern for 76ers fans, but his deal (which has two seasons and $30.62 million remaining) doesn't necessarily preclude the team from making any major moves.
Spending $15 million per year for an All-Star who happens to be one of the league's best defenders isn't completely out of line. And if Philadelphia uses the amnesty clause on Elton Brand this year, the franchise will have more than enough money to acquire the pieces it needs in order to truly become a contender.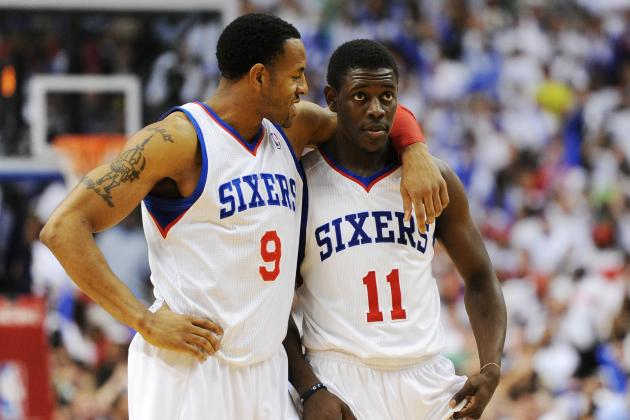 Drew Hallowell/Getty Images

The 28-year-old Andre Iguodala provides much-needed veteran leadership to a team that's still learning what it takes in order to be great.
Iguodala is one of only two players in Philadelphia's rotation who is over the age of 25 (Elton Brand is the other). And with eight NBA seasons under his belt, the 6'6" swingman is the perfect mentor for the Sixers' young nucleus of Jrue Holiday, Evan Turner and Thaddeus Young. With his guidance, the team's core will soon blossom into one of the league's most formidable units.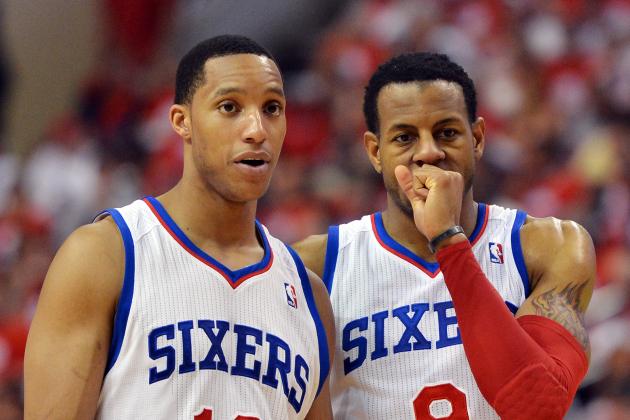 Drew Hallowell/Getty Images

Three years into Jrue Holiday's NBA career, the Philadelphia 76ers are still figuring out what his role should be on their team.
Two years into his NBA career, Evan Turner is still learning how to play without dominating the basketball.
All of this figuring and learning would normally lead to losses, but the versatility of Andre Iguodala allows both Holiday and Turner to play where they're most comfortable (whether it be lead guard or off of the ball) with little ill effect on the team.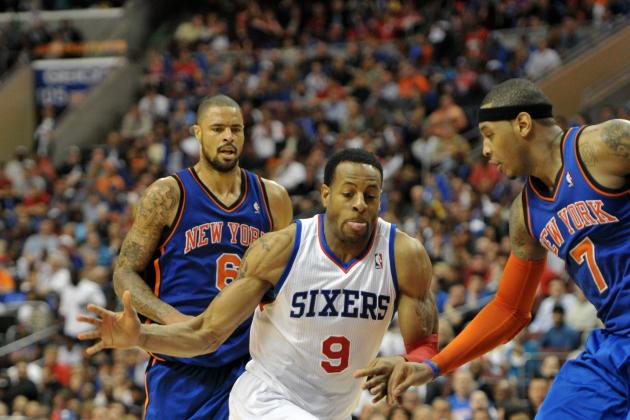 Drew Hallowell/Getty Images

With the ball in his hands, Iguodala is one of the more efficient playmakers in the league. In 2011-12, his assist-to-turnover ratio of 2.95-to-1 was the eighth-best in the Association, and his 5.5 assists per game was the second-best average among forwards in the NBA.
The 76ers pride themselves on not making unforced errors, and with Iguodala leading the charge this past season, the team had the lowest single-season turnover rate in the history of the NBA.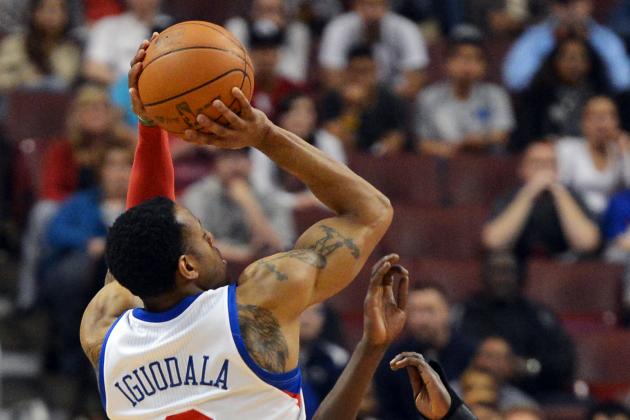 Drew Hallowell/Getty Images

When Andre Iguodala let a jump shot fly from beyond the arc, his attempts used to elicit a collective groan from the fans at the Wells Fargo Center in Philadelphia.
Not anymore. After working on his jumper last offseason, the 6'6" forward shot a career-best 39.4 percent from downtown this season.
Eight years after he was drafted, Iguodala continues to work on the less impressive aspects of his game. With his defense not in question, expect a more aggressive Iguodala on the offensive end going forward.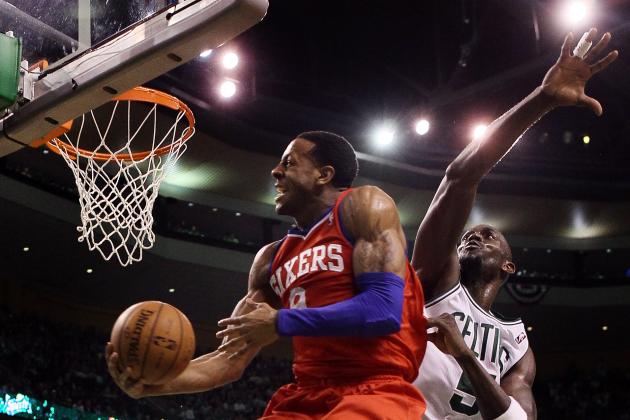 Elsa/Getty Images

There are about five NBA players who are consistent triple-double threats each and every night.
Andre Iguodala is one of them.
Iguodala—who averaged 12.4 points, 6.1 rebounds and 5.5 assists in 2011-12—makes a habit of filling up the stat sheet on a consistent basis. This season alone, the Sixers veteran had 11 games in which he finished with either double-digit rebounds or assists.
Players with diverse skill sets are in short supply in the NBA, and Iguodala's talents are the main reason why he has a great chance to be named to the Olympic team this summer.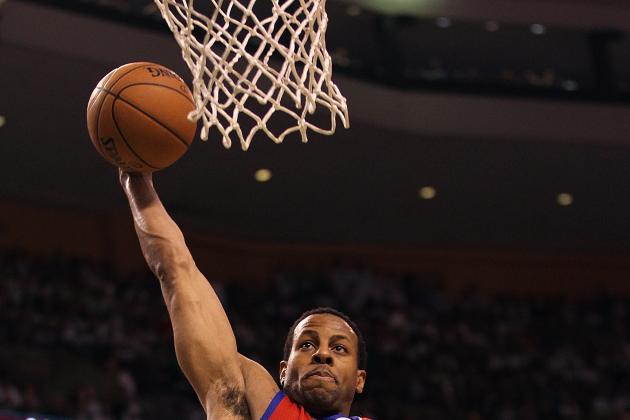 Jim Rogash/Getty Images

Andre Iguodala logged 35.6 minutes per game for the Sixers this year, and the team needed him on the court for virtually all of that time in order to best match up with opposing teams.
Iguodala's energy goes beyond just playing time, however. When Philadelphia is on the break, the Sixers' athletic small forward is typically on the wing, waiting to finish the possession with a thunderous slam dunk.
The spirit that Iguodala brings to the arena each night is infectious, and it's clear that his teammates feed off of his drive and determination.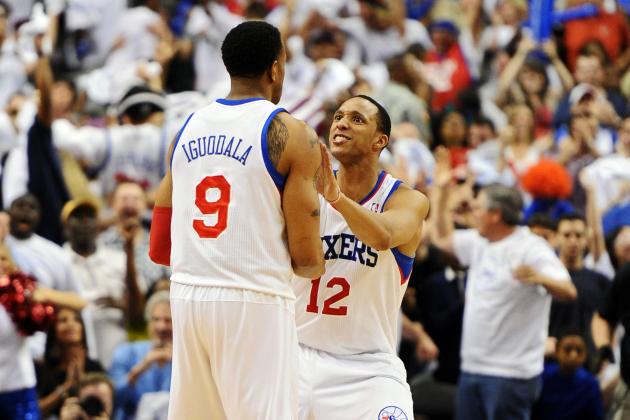 Drew Hallowell/Getty Images

Before the playoffs this year, one would rarely use the word "clutch" in the same sentence with "Andre Iguodala."
Two clutch free throws against the Chicago Bulls and several big jump shots versus the Boston Celtics have changed the narrative quite a bit. A team that has been searching for a go-to option ever since Allen Iverson left may have finally found its closer. And in Iguodala, Philadelphia may have a cornerstone that it can build around for years to come.