UFC 146: Lavar Johnson vs. Stefan Struve Head-to-Toe Breakdown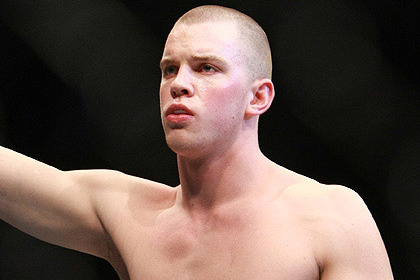 MMAWeekly.com
Lavar Johnson and Stefan Struve are both coming off of two impressive victories and looking to earn a fight with a heavyweight contender. With a win at UFC 146 on Saturday, one of these fighters will take a big step toward getting that chance to compete with one of the division's best.
Still only 24 years old, UFC veteran Struve appears to finally be hitting his stride. Many believed "Skyscraper" would become a force in the heavyweight division by using his long reach and solid ground game.
After some setbacks, Struve could finally be on the verge of meeting his potential with a win over Johnson.
Coming into his UFC debut in January, Johnson had lost two straight fights in Strikeforce. However, a merge of the UFC and Strikeforce heavyweight divisions gave Johnson a chance to prove he is a UFC-level fighter. With knockouts of Joey Beltran and Par Barry, Johnson has turned his career around and become one of the hottest heavyweights of the year.
Let's take a look at whether Struve or Johnson has a better chance of keeping his run going on Saturday night.
Begin Slideshow

»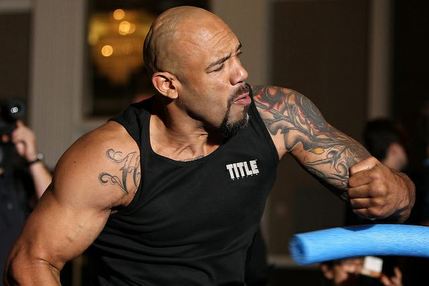 Josh Hedges/Zuffa LLC via Getty Images
On their feet, Lavar Johnson and Stefan Struve bring very different threats to each other. While Johnson has proved to be one of the heaviest hitters in the sport, Struve possesses a massive reach and a more technical approach to his stand-up game.
In his first two UFC fights, Johnson was able to score knockouts by getting inside and throwing huge uppercuts. Against Struve, who probably won't even bother trying to stand with Johnson after watching his opponent's recent appearances, Johnson will have difficulty getting through the Dutch fighter's reach advantage to work on the inside.
Struve would very easily be able to out-strike Johnson from the outside, but the former Strikeforce heavyweight's ability to finish fights with a single punch makes these competitors even on their feet.
Edge: Push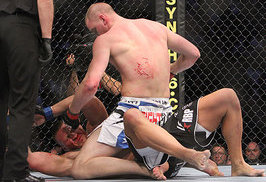 Ken Pishna/MMAWeekly.com
Stefan Struve's takedowns aren't the best, but Pat Barry was able to drag Lavar Johnson to the ground, so Struve, who holds a submission win over Barry, shouldn't have much problem taking away his opponent's strength in this matchup.
Johnson's punching power is the only danger he presents to Struve in this bout, so an early takedown by Struve seems likely. Unlike Barry, Struve has the grappling to keep Johnson on the ground, where he is capable of finishing the fight with strikes or a submission.
Edge: Struve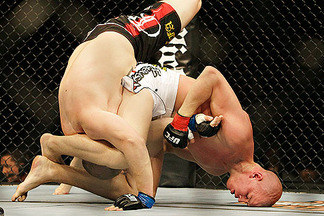 Jeff Chiu/Associated Press
With a triangle armbar submission against the former kickboxer, Stefan Struve is clearly a better submission artist than Pat Barry, who nearly locked up an Americana in his recent bout against Lavar Johnson.
Of his five career losses, Johnson has been submitted four times. If Struve avoids getting sucked into a stand-up brawl with Johnson, he should become the fifth fighter to take advantage of Johnson's subpar ground game.
Edge: Struve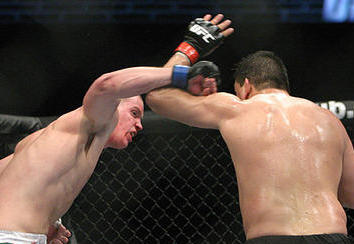 Jeff Cain/MMAWeekly.com
With 10 UFC fights already under his belt, the 24-year-old Stefan Struve is a much more experienced fighter than his opponent, who is nearly a decade older. The Dutch fighter has tasted defeat inside the Octagon and made major improvements that may have him ready to finally make a run up the heavyweight ladder.
Struve's reach will also be an important asset in dealing with Lavar Johnson's punching power. If he can use his jab more effectively than he has in the past, Struve's chin shouldn't even be tested by the looping punches of Johnson.
Edge: Struve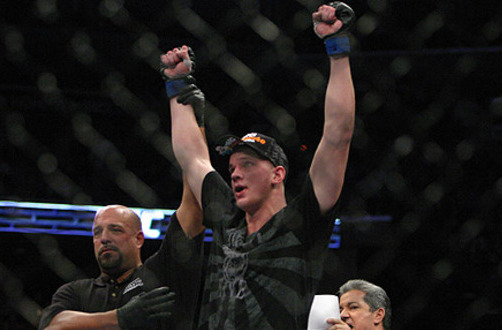 Jeff Cain/MMAWeekly.com
One problem Stefan Struve has had in the past has been is dealing with fighters who rush straight forward with heavy hands. Johnson is going to bring that type of attack in this fight, but Struve should have learned from his past mistakes.
In this fight, look for Struve to use his jab and circle away from the fence or shoot in for a takedown as Johnson is moving forward. Once he has Johnson on the ground, Struve will posture up and use his long arms to soften Johnson up with punches before taking his opponent's back and locking up a rear-naked choke.
Prediction
Struve defeats Johnson by submission (rear-naked choke) in the first round.