MLB Power Rankings 2012: Surprise Teams Who'll Fight for Playoff Spots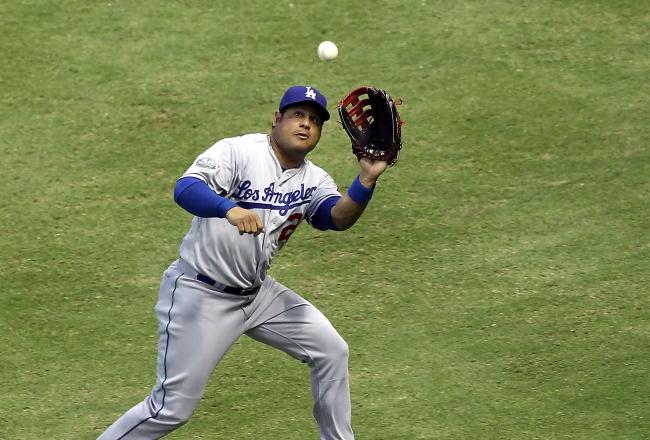 Christian Petersen/Getty Images
We're about two months into the MLB's regular season, which means there's plenty of teams showcasing .500 records that most would've never suspected.
So, how do we decide which teams are truly going to be fighting for playoff spots and which are just impostors that will fade away before season's end?
First, such a team needs to be getting production from every area. Their batting can't be top-heavy on one end of the order and flaky on the other end. Their bullpen needs to be as strong, often stronger, than the starting rotation.
Next but most importantly, said team has to be in a division and a position where winning at least a wildcard berth is possible.
Let's take a look at some teams who are certainly contenders for a playoff spot.
Washington Nationals, 26-18
Many people thought it would take this Washington Nationals team a while to grow and flourish into a contending team. That would've made sense if Bryce Harper and Stephen Strasburg were leading the winning run, but they're getting help from everyone.
The Nationals' best pitcher, surprisingly enough, hasn't been Strasburg this season. Gio Gonzalez has had an incredible season on the mound, currently at 6-1. He leads the team in ERA, wins, and strikeouts.
Adam LaRoche is having an All-Star season with 8 HR and 33 RBI, and the end of the roster that wasn't supposed to have the upper-end talent to compete in a great NL East division has climbed to the top of the division.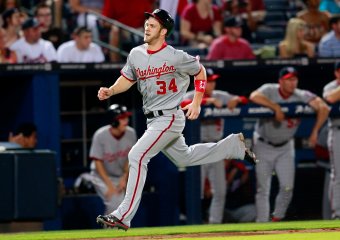 Kevin C. Cox/Getty Images
Then throw in Strasburg and Harper, both young, hungry and confident. Look for this Nationals team to keep making noise and not go down without a fight in the NL East.
Baltimore Orioles, 28-17
The Orioles are no fluke as they've posted one of the MLB's best records to this point and lead the AL's fiercest division in the AL East.
Centerfielder Adam Jones is having a breakout year offensively as he leads the team in nearly every category. He's tied for second in the AL with 14 home runs and is top-10 in batting average, slugging percentage and RBI.
Jason Hammel has been a stud on the mound for the O's this season. He's sprinted out of the gates with a 6-1 record and a 2.78 ERA. He's 3-0 in his last four showings and only gave up five earned runs in those outings combined.
Los Angeles Dodgers, 30-14
After the slew of financial troubles that the Dodgers organization faced in the last year, it would've been understandable for them to get off to a subpar start to the 2012 season.
Instead, they've become one of the biggest stories of the year in baseball as they've run out to a MLB-best record of 30-14.
Matt Kemp didn't lose a step after his 2011 season in which he finished as a runner-up for the NL MVP. In fact, he's gained a step or two as he's my odds-on favorite to win the MVP this season with a stellar .359 batting average and 12 home runs.
Could the Dodgers win the MVP and the Cy Young in the same year? Clayton Kershaw is holding up his end of the bargain pretty well with a 4-1 record and a 1.9 ERA. He's pitching the seams off the ball right now for L.A.
But it's pointless to talk MVP's or Cy Young's, because all this Dodgers team wants is to get back to the World Series. They're on track after the best two-month start in baseball.
Full Power Rankings:
1. Los Angeles Dodgers
2. Baltimore Orioles
3. Texas Rangers
4. Tampa Bay Rays
5. Atlanta Braves
6. Washington Nationals
7. St. Louis Cardinals
8. Cleveland Indians
9. Toronto Blue Jays
10. Miami Marlins
11. New York Mets
12. San Francisco Giants
13. Cincinnati Reds
14. New York Yankees
15. Boston Red Sox
16. Chicago White Sox
17. Detroit Tigers
18. Los Angeles Angels
19. Philadelphia Phillies
20. Arizona Diamondbacks
21. Milwaukee Brewers
22. Oakland Athletics
23. Pittsburgh Pirates
24. Houston Astros
25. Colorado Rockies
26. Seattle Mariners
27. San Diego Padres
28. Chicago Cubs
29. Minnesota Twins
30. Kansas City Royals
This article is
What is the duplicate article?
Why is this article offensive?
Where is this article plagiarized from?
Why is this article poorly edited?