Euro 2012 Players to Watch: Yohan Cabaye of France
May 26, 2012

Scott Heavey/Getty Images
That Yohan Cabaye was signed for just £4.8 million from Lille last summer should have had Michel Seydoux, president of Les Dogues, stomping about in fury. With the 2011-12 season as a reference point, Seydoux should have gotten about triple that price for his former midfielder.
Somewhere, former Liverpool Director of Strategy Damien Comolli is shifting nervously as he realizes that he spent far more (£20 million and £7 million) on players (Jordan Henderson and Charlie Adam, respectively) who were significantly less influential than Cabaye this season.
Cabaye has rode his wave of terrific form over the past three seasons, with both Lille and Newcastle, into a consistent spot on the French national team, where he has developed a good understanding in midfield with Yann M'Vila after earning his first start six months ago.
While the Rennes sentinel takes care of the defensive chores, Cabaye is allowed the freedom to roam and unleash his formidable creative potential.
He was a late arrival to the French European qualifying campaign, but after making his first appearance, as a starter, no less, against Romania on Sept. 6, 2011, Cabaye started Les Bleus' final two matches against Albania and Bosnia-Herzegovina.
It spoke to Blanc's trust in him that the manager would start him in such important fixtures (France entered the Bosnia match needing at least a draw to assure them top place in their group).
Cabaye came on as a substitute in some of France's higher-profile friendlies in recent years as well—the Brazil match in February 2011 at the Stade de France—but you can bet that, come June 11 when Les Bleus square off against England in their first match of the Euros, Cabaye will be a starter in midfield.
In Numbers

Scorer of 15 league goals (18 overall) and 17 league assists in his last two seasons with Lille, Cabaye wasted little time in making an impact at Newcastle this season.
He ended with four goals and six assists in 34 Premier League matches, forming a terrific partnership with Cheik Tiote in the middle of the park for Toon.
Despite being just 5'9", Cabaye displays a resilience and agility which allow him to withstand the considerable rigors of the Premier League. At 26, he has earned 10 caps for France at the senior level (three during the completed European qualifying campaign) and has yet to score a goal for Les Bleus.
A late-comer to the national team party, to be sure. But as we've seen with 25-year-old striker Olivier Giroud, who scored in his full debut for France in late February, better late than never can work out just fine sometimes.
What to Expect
Cabaye can impact a game in any number of ways. His distribution is excellent, and his supreme vision allows him to dictate play from a central position. It's a rare talent and one he often uses to devastating effect.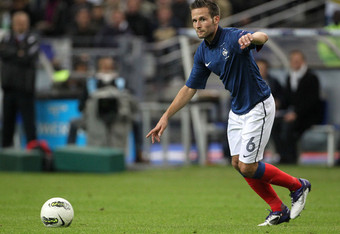 He'll almost certainly start for France and should make quite an impression on viewers. If they don't know him before the competition, they'll certainly know his name after watching France.
Excellent in the run of play, Cabaye also possesses an innate ability for converting free kicks. It's a rare quality, and one that might hearken to mind fond memories of certain French No. 10s of yore.
What They Say About Him
While he will always consider Lille to be "his club," Cabaye admitted in a press conference at Clairefontaine, the French national team's training center, that the switch to Newcastle United has aided in his development and increased his stature among his teammates at the international level.
Blanc has voiced his concerns over the relative lack of experience within the midfielding ranks, however. M'vila is just 21, and Cabaye can only lay claim to the aforementioned 10 appearances for Les Bleus.
Speaking to L'Equipe, Blanc said, "My final hesitation concerns a long-term problem...the midfield is suffering from a lack of leadership and a lack of players with international experience.
"There are players who have the potential to be in the France team, but players who have proven they can really be a part of it, there are very few."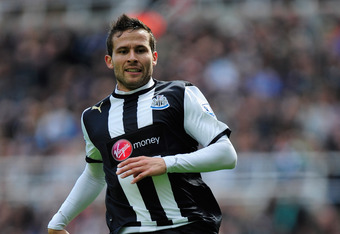 Stu Forster/Getty Images
Cabaye is aware of that death of experience, but in the aforementioned French article, he noted that the experience of playing in the Premier League on a weekly basis, in front of stadiums numbering 50,000 and 60,000, has been a vital boon to his development as a player. There's a steeliness that develops from playing in front of that type of exacting audience.
Alan Pardew, his manager at Newcastle, would appear to agree with Cabaye, based on the confidence he placed in his summer signing.
Cabaye was a starter in Newcastle's first league match of the season, against Arsenal, and while Pardew admitted that the Frenchman struggled to adapt to the physical nature of the Premier League during the early portions of 2011-12, he raves about his potential.
"I don't want to build him up to much at this stage because he's still learning his trade," said Pardew back in September.

"There have been a couple of games this year where he's struggled...he needs to get a grip of the hurly-burly of the Premier League but if we can get him on the ball he's an outstanding player.

"There's no mystery why he's in the French national team. He has a gift of a pass; his vision is his real quality. He has that special intelligence. He showed that against Villa, where he and Cheik [Tiote] controlled the midfield, with help from Demba Ba, and that's something we didn't do very well last season."