Athletic Bilbao 0-3 Barcelona: Tactical Analysis of Blaugrana's Destruction
May 26, 2012

Angel Martinez/Getty Images
Athletic Bilbao's promising season ended in tears as they were emphatically beaten by Barcelona in the Copa del Rey final, 3-0.
It was over in 25 minutes, as Pep Guardiola's boys ran riot in an effort to gift their boss the best possible send-off.
The sides drew 2-2 earlier in the league season and, as the chaps on Sky Sports 1 pointed out, both managers used the very same tactics in approaching this game.
Here's how the two teams lined up on the pitch.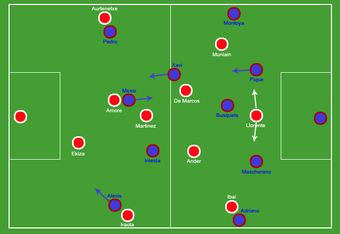 What Barcelona Did Well
Starting at the back, Barca were far more composed playing the ball out of their defence. That's to be expected, but Gerard Pique was especially adventurous during the game, making multiple surging runs and causing Bilbao a lot of problems.
Marcelo Bielsa's strict man-marking system didn't stretch to cover a marauding central defender, so allowing Pique that freedom was a Guardiola master stroke. What was Fernando Llorente supposed to do—follow him all the way back to his own penalty area?
Barcelona also managed to utilise the "false-nine position" through Lionel Messi far more effectively than Cesc Fabregas did against Chelsea in the UEFA Champions League semifinal.
Messi was able to pull Fernando Amorebieta all the way out of defence and into the Blaugrana half. While Bielsa had planned for this, adding Pique into the mix meant Bilbao simply ran out of players to cover the holes.
Xavi was adept at filling the space left by Messi, meaning he became part of the attacking front three. While Borja Ekiza was able to pick him up, the midfield weren't able to delegate who should mark the surging Pique quick enough. The result was chaos.
Chelsea managed to combat this system by parking eight men in front of the penalty box. Frank Lampard and Obi Mikel simply refused to follow Cesc Fabregas out and thus no "rip" in the formation could be made.
Bilbao's dogged tracking played right into Guardiola's hands here.
What Bilbao Did Badly
Apart from the obvious slow start, Los Leones failed to get their key players on the ball in the right areas and thus failed to create much significant danger.
With Dani Alves out with a broken collarbone, many expected Iker Muniain to give Martin Montoya a hellish 90 minutes. Instead, Muniain was barely able to get one vs. one with the right-back, and Pique dealt comfortably with Llorente all game (except for that stone-wall penalty, I suppose).
The unfamiliar central defensive partnership was their undoing. In Bilbao's 2-2 draw against Barcelona, Amorebieta paired up with Javi Martinez to great effect. The latter is as clever a player in the game, and thus the decision to go or stay and track or sit was taken quickly and correctly every time.
Ekiza played the role of sweeper for this game, while Amorebieta continually made poor decisions in tracking Messi way too far up the pitch.
Watch this video on how Bielsa's men were instructed to deal with Barca during the earlier league tie.
While Amorebieta is able to pressurise Fabregas in an advanced position, he's still nowhere near the halfway line. When it's Martinez's turn to track, he makes the decision not to, since the opposing player was nowhere near a potential danger area.
While that did leave Martinez with no one to mark for the time being, his midfield were in a position to track the forward runs. All the defender had to do was pick up his man when he came back to his area of the pitch.
Conclusion
Overzealous pressing lost Athletic this game at an early stage and they simply couldn't repair the damage.
With Ander Herrera sick, Bielsa opted to field Martinez in the anchor role rather than Ander Iturraspe, a decision that may well have cost them stability across the back line along with quick delegation of tasks and responsibilities in their defensive third.
Barcelona were absolutely brilliant, however, and deserve full credit for the win. Guardiola won this tactical battle by creating two vs. ones in critical areas and pulling their markers all over the pitch.
Well done, Pep and good luck for the future.