Oakland A's: Pitchers Deserving of More Run Support; Chris Carter the Answer?
June 9, 2016
Following a disappointing series against the Los Angeles Angels in which the Oakland Athletics only managed to score a total of three runs and were held to just 10 hits in the three-game series, the A's need to address their struggling offense. Is a call-up for Chris Carter in order?
The A's are currently hanging on to second place in the American League West, a position they were not expected to be in at the beginning of the season. The fact that they are managing to compete, while scoring the fewest runs and having the worst batting average in the AL, is a testament to just how good the A's pitching has been early in the season.
Young pitchers such as Tommy Milone and Jarrod Parker have stepped up to fill the voids left by the very trades that brought them to Oakland (Trevor Cahill to Arizona for Parker and Gio Gonzalez to Washington for Milone).
Bartolo Colon has continued to show that the A's made a wise investment in signing him this offseason. He has brought a veteran presence and stability to an A's rotation that currently has only one other starter, Brandon McCarthy, not in his first full season of major league ball.
McCarthy, currently on the 15-day disabled list, has been solid in his nine starts, although he has experienced a lack of run support.
The bullpen has been solid as well and has kept the A's in games.
The A's rank third in the American League in ERA and runs-allowed. They are second in home runs allowed and fifth in saves.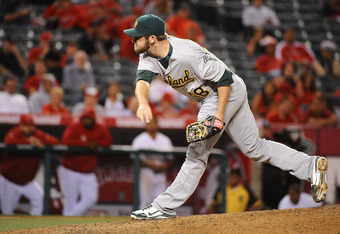 Jonathan Moore/Getty Images
The closer position may still be up in the air and could be a work in progress for a while, but the results are there. Ryan Cook looks like the eventual heir to the position that was vacated by Andrew Bailey's trade.
The big question will be if Oakland pitchers can maintain this high level of performance for the duration of a 162-game schedule. The A's should get Brett Anderson and Dallas Braden back from the disabled list after the All-Star break.
The A's offense has some holes created by injuries, for sure.
Brandon Inge and Yoenis Cespedes should be returning soon, providing power to a team struggling to score runs. That takes care of two holes in the lineup, but the A's still need to address the lack of production they have received from catcher (Kurt Suzuki), first base (Daric Barton & Kila Ka'aihue), second base (Jemile Weeks) and shortstop (Cliff Pennington).
Each player has their strength. Their common weaknesses are batting averages hovering around the Mendoza line and their inability to score runs.
Suzuki's job appears safe, at least until they feel Derek Norris is ready to handle the everyday duties of calling games and handling a major league pitching staff. Suzuki's handling of the pitching staff has earned him some patience from the front office and fans alike.
Norris has been having a very good season in Sacramento, batting .296 with six homers. He also boasts a .997 fielding percentage behind the plate and a 36 percent caught-stealing rate. He should see a call-up to learn behind Suzuki as the backup catcher at some point this summer, especially with Anthony Recker batting just .129.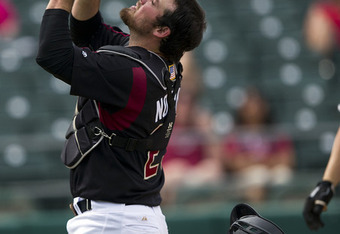 Weeks was publicly anointed the face of the franchise in the offseason, and the A's are committed to letting him play his way out of his early struggles—not to mention there really is no one in the minors ready to step up and fill his position.
Pennington is a solid defender who will make some ESPN highlight reels with his glove, and with Grant Green being converted to the outfield, there is no top prospect ready to unseat him.
The same can't be said for Barton and Ka'aihue. True, Barton is a great defender, but his .198 batting average is just not cutting it at the major league level. Ka'aihue has been better at .250, but his overall production with the bat still leaves a lot to be desired.
Calling Chris Carter a "top prospect" at this point of his career may be nauseating to A's fans who have lost patience in waiting for his arrival—after failed stints in the past two seasons—but his production in the minors this year outperforms both Barton's and Ka'aihue's.
The time may have finally come to give him the extended look that he has not yet been afforded.
Would it be worth sacrificing defense for the potential in Carter's bat? Can Carter finally figure out major league pitching if he is given the opportunity to play through his struggles and try to make adjustments?
These are questions that cannot be answered by continuing to watch Barton and Ka'aihue take the field in Oakland and with Carter putting up numbers in Sacramento. It is the one position that Oakland may actually have an offensive upgrade for in the minors.
With Josh Reddick and Cespedes in the middle of the order and Manny Ramirez set to join the team shortly, Carter can be dropped to a less pressure-filled position further down in the lineup and allowed to take his hacks without having to be "the guy."
The front office and coaching staff can hope that the other holes will work themselves out as players return from injury and (hopefully) play their way out of slumps.
But as the A's slip back under .500 at 21-22 and try to maintain contention in the AL West and the wild-card race, filling as many holes as early as possible may be key to supporting a pitching staff that deserves better than a .500 record.
This article originally appeared on BaySportsNet.com. You can view more articles like this at BaySportsNet.com. Follow Brandon McClintock on Twitter @BMcClintock_BSN