Indy 500 2012: Projecting How Each Former 500 Winner Will Finish
May 25, 2012

Chris Trotman/Getty Images
As difficult as it may be to believe, only three drivers who have previously won the Indy 500 will be in Sunday's field. It may seem like they don't have particularly good odds of achieving the feat again in a large, 33-car field, but Helio Castroneves, Dario Franchitti and Scott Dixon are three of the best drivers of their era.
Castroneves and Franchitti have each won the 500 on multiple occasions, in fact, so another win for either of them will ensure their respective spots in history. While they will have the advantage of knowing what it takes to win the Indy 500, they have huge targets on their backs as all of the other drivers will be looking to best them.
Here are my projections for how each former Indianapolis 500 winner in this year's lineup will fare on Sunday.
Helio Castroneves
Castroneves is already one of the best drivers the IndyCar Series has ever seen, but one more win will certainly cement that. The Brazilian star has won the Indy 500 three times, but winning on a fourth occasion would tie him with A.J. Foyt, Al Unser and Rick Mears for the most ever. Another win is a very real possibility as well because Castroneves may be driving better now than he ever has.
He is currently second in the points standings and already has a win this season at St. Petersburg. On top of that, he qualified sixth for the race and appears to have an extremely fast car. Castroneves has disappointed the past couple of years after winning the 500 in 2009, but I believe he'll bounce back this season. It won't be enough to win, though, as he'll finish second to Marco Andretti.
Dario Franchitti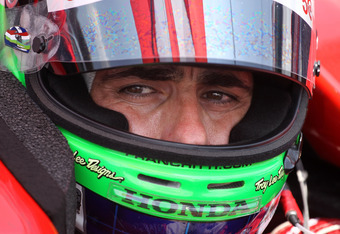 Andy Lyons/Getty Images
As one of the most decorated drivers in the history of IndyCar racing, Franchitti will be a force to be reckoned with on Sunday. He has won the 500 twice already, he has 20 career victories on the circuit in total, and he has won the points title in his past four full seasons. Franchitti hasn't gotten off to a great start this year as he is only tenth in the standings, but he always seems to rise to the occasion at Indianapolis.
Franchitti wasn't particularly good in qualifying as he will start in the middle of the field at No. 16, but he has the skills and experience to navigate his way to the front quickly. Like Castroneves, though, every driver on the track is going to be aware of his positioning throughout the race. I expect Franchitti to be in contention in finish well, but fifth place is as good as it will get for him.
Scott Dixon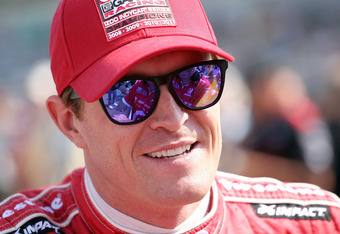 Andy Lyons/Getty Images
At 31 years of age, New Zealand's own Scott Dixon still has a lot left in the tank, but he is considered a grizzled veteran on the circuit as this is his 10th IndyCar season. Dixon finally broke through to win the Indianapolis 500 in 2008, and he most certainly would love to find victory lane once again. Dixon has also won the points title twice and has 24 overall wins, so he is better than almost everyone else in the field in that regard.
Dixon has finished third or better in the standing for five straight seasons, but he is still trying to find his groove this year. Dixon will start Sunday race in 15th, so he will have quite a bit of work ahead of him, but he can't be counted out. For whatever reason I'm not getting a good vibe from Dixon despite the fact that he has finished sixth or better at Indy in six straight seasons. I expect him to get caught in some trouble and be a non-factor as he finishes 24th.
Follow @MikeChiari on Twitter