Penn State Football: What You Need to Know About Nittany Lions QB Battle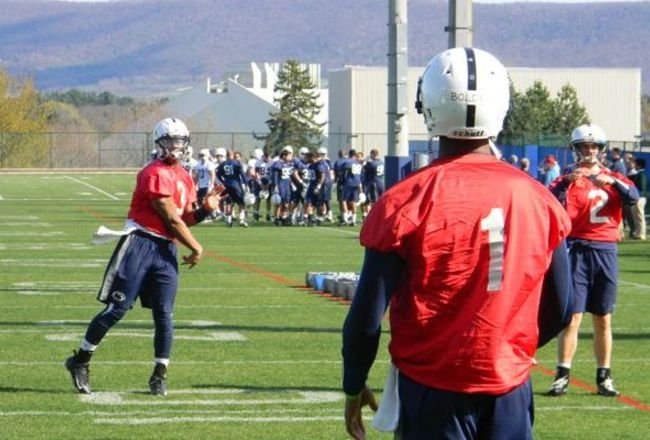 Paul Jones and Rob Bolden throw to each other in a spring practice. Will either have a chance to start this fall? Photo: Kevin McGuire, No2MinuteWarning.com.

So you think you know who should be the starting quarterback for Penn State this season? Maybe you do, in which case you may want to email your reasons in outline form to Bill O'Brien when you have a moment.
By now you probably know who the main contenders are for the starting job, but let's take a couple of minutes to run down the pros and cons of each anyway, and we'll share a prediction at the end.
Feel free to add your own comments along the way down below.
The Candidates: Matt McGloin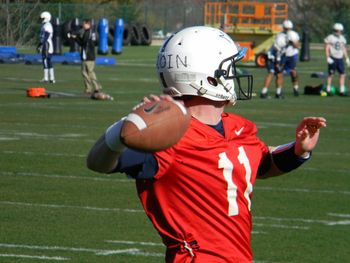 Photo: Kevin McGuire, No2MinuteWarning.com.
Matt McGloin, the scrappy walk-on from Scranton, has finished each of the past two seasons as Penn State's main quarterback despite starting the season as a backup or getting split playing time.
Last season McGloin passed for 1,571 yards, eight touchdowns and was intercepted five times. When inside the red zone, McGloin was 16-for-31 (51.6 percent) with four touchdowns and one interception. In the fourth quarter of games, McGloin completed 22-of-43 passes (51.2 percent) with one touchdown and one interception.
The Candidates: Rob Bolden
Photo: Kevin McGuire, No2MinuteWarning.com
Rob Bolden has started each of the past two seasons under center for Penn State but has failed to keep the job, finishing the past two seasons on the sideline. Multiple transfer rumors have provided for some colorful storylines as well, but Bolden is on campus for the summer right now and has said before he feels confident in his abilities to run the offense.
Last season, Bolden completed just 39.3 percent of his passes (53-for-135) and threw two touchdowns and seven interceptions. Bolden had some nice passes that just never seemed to be brought in by his receivers, but he also had some misguided and poor pass attempts as well.
The Candidates: Paul Jones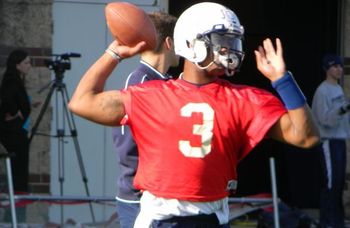 Photo: Kevin McGuire, No2MinuteWarning.com
Paul Jones is finally ready to compete for his opportunity to start as well. After sitting out his first year on campus in a redshirt year and being academically ineligible last season, Jones is said to be in good standing and ready to go.
The athletic and dynamic quarterback has become the wild card in the mix after performing very well in the Blue White Game in 2010, but failing to capitalize in the 2012 spring game (2011 was a washout due to weather).
The Quarterback Coach: Charlie Fisher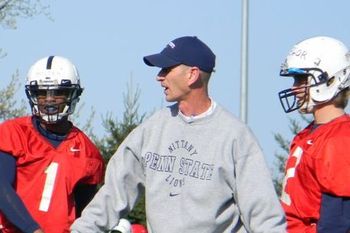 Photo: Kevin McGuire, No2MinuteWarning.com
Charlie Fisher is one of the many new faces on Penn State's coaching staff this year, and if he can turn any player on this roster in to his next Jay Cutler-type success story, then he will certainly prove his worth.
Some of the other names Fisher has coached that went on to have successful careers included Earl Bennett, Torry Holt and Nick Harwell.
But his task at Penn State is to mold the quarterbacks, and he brings a breath of a fresh air to the coaching position after years of Jay Paterno. This could be on important upgrade to the staff if Fisher can help the quarterbacks on staff show some progress on the field this fall.
The Favorite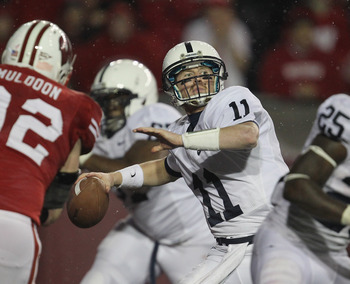 Jonathan Daniel/Getty Images
Matt McGloin appears to be the most likely starter at this point in time. His ability to pick up the playbook and show progress in practices gives him a slight leg up on the competition right now.
Bill O'Brien has said that he will not take in to consideration anything that the quarterbacks had accomplished or done on the field before he was hired, but McGloin has a bit of a track record for being able to move the offense more often and effectively than Bolden.
That trend appears to have continued in practices and the spring game.
The Long Shot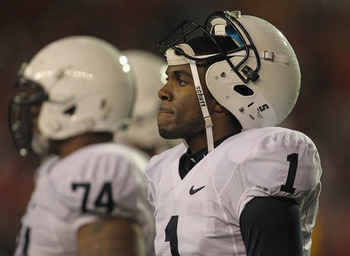 Jonathan Daniel/Getty Images
Rob Bolden did not show much in the spring game to prove he should be in strong contention for the starting job, despite his optimism in the postgame interviews. Bolden's three interceptions in the Blue White Game were anything but pretty, and with a new coaching staff coming in with no attachment to anybody on the roster, Bolden's stock appears to be dropping.
It is not necessarily time to write Bolden off as a quarterback, but time is starting to tick.
The Fan Favorite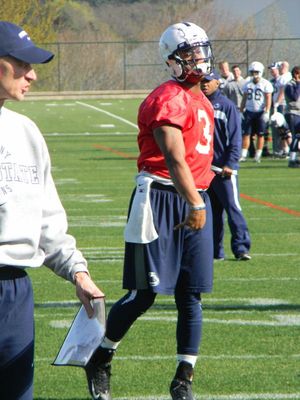 Photo: Kevin McGuire, No2MinuteWarning.com
Paul Jones, if nothing else, has become the fan favorite. After two seasons of inadequate and frustrating quarterback play, Jones is seen by some as the cure to all of the pains.
He may have some catching up to do, but if the coaching staff can get him to reach his supposed potential, then Jones could be the starter for Penn State at some point this season.
The Freshman
Photo: Rivals.com
If all else fails, will incoming freshman Steven Bench get a crack at the job? Well, probably not, but his place on the roster should be pretty interesting. A transfer player should not be discounted entirely, although Bolden's status with Penn State could put a plug in any potential transfer possibilities, but as the first quarterback recruited by the new coaching staff, it is clear there is something they like in Bench.
Don't expect Bench to be considered for the starting job unless injuries and complete disasters on the field come in to play, but look for him in any potential mop-up duty if the situation should arise.
Decision Deadline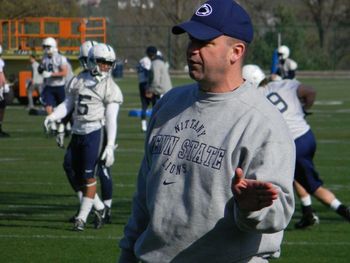 Photo: Kevin McGuire, No2MinuteWarning.com
Bill O'Brien said at the start of spring practice that he may not make a decision on a starting quarterback until the night before Penn State's first game of the season, against Ohio. There have been some hints dropped that O'Brien has a good idea which direction he will head with the decision, but he has not stressed any sort of deadline to make the call.
It could be a benefit to make a decision at the start of summer practices, if possible, so the entire offense can begin to build a clear identity with one guy getting the first-team reps.
Prediction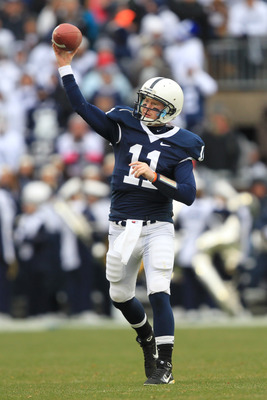 Hunter Martin/Getty Images
When the time comes to announce the decision, do not be surprised if it is McGloin's name that is listed first on the depth chart.
McGloin's ability to adapt to the offense more quickly than Bolden and Jones, and his relative advantage with commend of the offense on the field, could place him in the pole position for the starting job in 2012.
The question will be whether or not he can hold on to the job as the season progresses.
Kevin McGuire is a member of the Football Association of America and National Football Foundation. Follow Kevin on Twitter and Facebook.
Keep Reading

Penn State Football: Like this team?