Indy 500 2012: Examining Top Pole Sitters for This Year's Race
May 25, 2012

Andy Lyons/Getty Images
This year's Indianapolis 500 favorites aren't starting at in the first row, but Ryan Briscoe, James Hinchcliffe and Ryan Hunter-Reay see themselves as the race's top contenders after the best pole finishes. 
All eyes will be on Dario Franchitti and Helio Castroneves, but these upstarts proved earlier this week they have what it takes to compete in racing's greatest spectacle. 
Let's take a closer look at the three drivers with the best starting positions in this year's Indy 500. 
Ryan Briscoe
Briscoe won the closest pole in Indianapolis 500 history. Briscoe's average speed was 226.484 mph, leading him to complete the 10-mile qualifying run .0023 seconds faster than James Hinchcliffe. 
This marked an extension of Penske's record 17 poles at Indy, which includes five of the last seven. 
Briscoe has only six wins in his eight-year IndyCar career, and has only parlayed one out of 11 pole positions to victory, but winning the pole at Indy bodes well for the 30-year-old Australian. 
In the history of the 500, 20 winners have come from the pole position, the most at one position.
Helio Castroneves in 2009 and Scott Dixon in 2008 most recently emerged victorious from the pole position. 
Briscoe's a member of Penske Racing, and while he's the team's third-best racer behind Castroneves and Will Power, Penske has won the Indy 15 a record 15 times. 
James Hinchcliffe
Hinchcliffe started on the IndyCar series in 2011, and although he won Rookie of the Year last season, he has yet to capture his first win in 16 starts.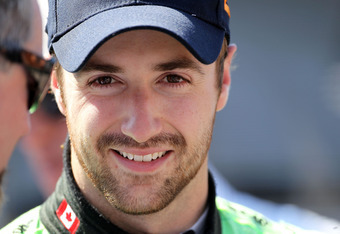 Andy Lyons/Getty Images
The 25-year-old Canadian is a member of Andretti Autosport, and has Marco Andretti and Ryan Hunter-Reay as teammates. 
It's been 17 years since the 500 winner hailed from the Great White North. 
Hinchcliffe smacked the wall midway through the race last year at Indianapolis Motor Speedway. 
There have been 11 winners from the No. 2 spot in the race's history. 
He's a dark horse to stay in contention and potentially shock the world this Sunday. 
Ryan Hunter-Reay
Hunter-Reay will start from the No. 3 position after an average speed of 226.240 mph. His position has yielded 11 winners over the years at the Indy 500.
He made his debut in IndyCar in 2007 and has three career wins in 74 starts. 
The 31-year-old American started from the 33rd spot last year in Indy and finished 22nd. His best finish at the famed race came in 2008 when he finished eighth. 
He's well known as the only racer to win races in each of North America's top open-wheel formulas: CART, the Champcar World Series and IndyCar.