New Orleans Saints: Biggest Free-Agent Surprises of the New Millennium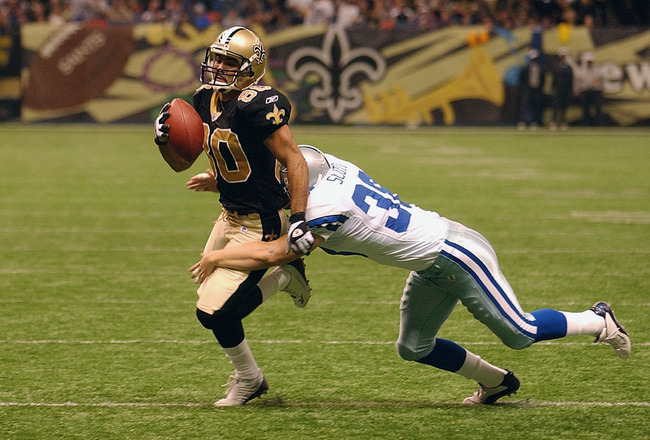 Chris Graythen/Getty Images
After discussing some of the biggest disappointments for the Saints in this new millennium, I am taking a look at the biggest surprises in free agency for New Orleans. This is more about the unknown or castoff players that the Saints signed and played out of their mind during their time in NOLA.
These players weren't expected to be nothing more than role players or roster fill-ins in case of injury. Some became fan favorites, and others were more of a one-year wonder.
In any case, they were huge surprises in a positive way for the Black and Gold.
Charlie Clemons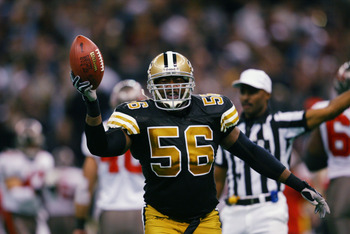 Jamie Squire/Getty Images
Charlie Clemons was signed from the Super Bowl champion St. Louis Rams to add depth to a thin linebacking corp in 2000. He didn't last long on the depth chart in that season due to injuries landing him on injured reserve for the year.
His comeback in 2001 was a crazy surprise.
He took over the starting middle linebacker position and proceeded to turn in one of the best seasons in Saints history. He put up 93 total tackles and 13.5 sacks with an interception.
The sack total took a significant drop in his follow-up season despite starting the same amount of games as his breakout season of a year prior. He only lasted two seasons in New Orleans, but his first season was one of the biggest surprises in this newest millennium.
Willie Jackson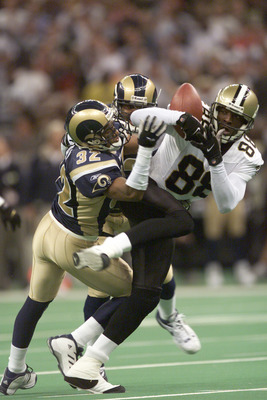 Craig Jones/Getty Images
Joe Horn was the leading receiver in 2000, but there was not much after him. Two of the next three leading receivers were actually running backs—Ricky Williams and Chad Morton.
The other leading receiver was the unexpected Willie Jackson.
Jackson was on his third team in five years and had a slow start to the '00 season. He started to turn it on with the culminating factor being his performance in that year's playoffs. In those two games, Jackson went off for 15 catches, 267 yards and four touchdowns.
Even with that momentum, the Saints signed Albert Connell in the offseason to make the offense more dynamic. Jackson went on to blow Connell out of the water in 2001. He had 81 catches for over 1,000 yards and five touchdowns.
He would end up only spending those two years in New Orleans but will go down in Saints lore as having three touchdowns in the franchise's first playoff win.
Fred Thomas
Doug Benc/Getty Images
Fred Thomas was very good find by ex-general manager Randy Mueller.
Coming off four, nonchalant years in Seattle, Thomas was seen as nothing more than a nickel or dime cornerback who could help out on special teams. He would go on to make Mueller, the man who drafted him in Seattle, look like a genius.
His first year in 2000 wasn't much of anything, but his three-year stretch afterwards looks amazing. In that period, he would go on to snag 10 interceptions, 47 pass deflections and also help out in the run game with over 200 tackles.
New Orleans might have been average in that time period, but Thomas was playing at an above-average clip.
Injuries slowed his playing time down but was still a veteran force in the locker room, especially during and after Hurricane Katrina's aftermath. He could go in the Saints Hall of Fame, and it wouldn't surprise me.
Jerome Pathon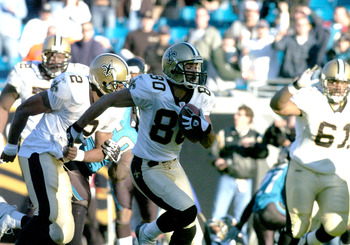 A. Messerschmidt/Getty Images
With Lance Moore hitting a little bit of a bumpy path due to injuries, people have been trying to find the next, great slot receiver—the next, great Lance Moore—reliable in tough situations and always willing to go over the middle.
To Saints fans, that should sound a little familiar.
There can't be a "next" Lance Moore when he's already the "next" Jerome Pathon.
Pathon had a couple of 50-reception years in Indianapolis before joining New Orleans but nothing like the connection he had with Aaron Brooks. He was Brooks' safety valve for three years before injuries caught up to him in his third season in New Orleans.
In his time with the Saints, he amassed over 120-plus catches, over 1,600 yards and nine touchdowns. Those stats might not seem like a lot, but he was always there for Brooks when he didn't decide to throw it backwards.
Michael Lewis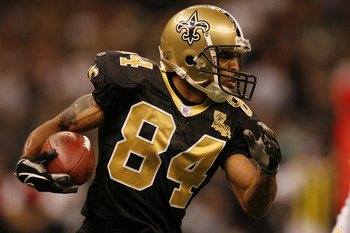 Mike Ehrmann/Getty Images
You know the "Beer Man" had to be on this list.
He was the biggest surprise of any millennium.
His nickname came from his job driving beer trucks out of high school. He never played college ball and bounced around from indoor leagues to finally get a shot with his hometown team, the Saints.
Lewis had to endure NFL Europe and a couple of years on and of the roster until he finally made it in 2002 as a return specialist. And the 5' 8" spark plug didn't disappoint.
He would go on to fall just 44 yards short of the then-record 2,690 all-purpose yards in a season set by Derrick Mason in 2000.
He would set a Saints' record of 2,647 all-purpose yards in a season. (Darren Sproles would go on to break that record in '12.)
He would also add three return touchdowns to all of that yardage and was a threat to score whenever he touched the ball. He stayed with the team through the 2006 season and played in the NFC championship game that year.
He has since joined the Saints organization as "Team Ambassador."
Keep Reading

New Orleans Saints: Like this team?