Will Nick Fairley or Mikel Leshoure Produce More Coming off Injury-Plagued 2011?
May 25, 2012

Kevin C. Cox/Getty Images
The Detroit Lions (currently factored at a 9.5 over/under in wins by esteemed Football analyst 'Las Vegas' Nevada) are looking to do more than show up to the playoffs in 2012.
They're looking to win the whole damned thing.
To that end, there are several players who need to contribute more than last year. Two of those would be Nick Fairley and Mikel Leshoure. Both players were hampered by injury (Leshoure completely shut down because of it) and are going to be asked to make a much bigger contribution this time around.
The question is, which one can the team count on to produce more?
Of course, both players also need to watch themselves off the field, first and foremost.
Beyond that though, both men could have the opportunity to really make a difference on this team.
Leshoure will have a more immediate chance as he is not as buried on the depth chart as Fairley who has Ndamukong Suh, Corey Williams and Sammie Lee Hill in front of him.
Williams plays well, though his production is by no means off the charts. Suh would have better numbers if he stayed healthy and not suspended—if would also help if he was a bit better against the run, something I expect to see progress on this coming season. Hill isn't much of a threat.
It's not unreasonable that Fairley sees more work this season. He won't unseat Suh and likely won't replace Williams permanently but he will get more of a chance to show what he can do this year.
It's no sure thing either—Fairley's stats were good, but not great and would have tracked behind the other starters even had he played all 16 games. He showed some flashes of what he could be though, and the Lions will want to see what they have in Fairley as Corey Williams will be a free agent in 2013.
I'm sure they'd prefer to keep Williams but financially that might not be possible. Plus, they will want the leverage of knowing that the guy behind Williams can replace him.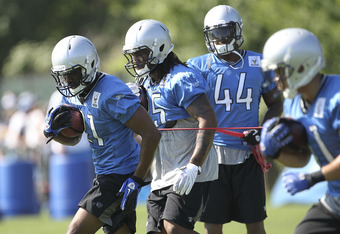 Leon Halip/Getty Images
With LeShoure, the path is clear. he's expected to be a starter early on, or at the very least split carries with Jahvid Best. It's unknown if Leshoure's Achilles injury has robbed him of him of any of his speed, explosion or burst and how that might change his role.
As it stands though, he's going to carry a large portion of the load at a position where there isn't as much competition.
Both Leshoure and Fairley will have a much better season in 2012 than they had in 2011 (in Leshoure's case it'd be hard not to).
However, even if he's not as explosive as he was before, Leshoure will be in a better position to have an impact sooner rather than later.
Check out the B/R NFC North Facebook page - like us and keep up with everything NFC North on Bleacher Report!