Miami Marlins' Giancarlo Stanton Almost Hits Logan Morrison with Cutoff Throw
May 25, 2012

Miami Marlins slugger Giancarlo Stanton is a dangerous man with his bat and throwing arm.
Thursday night, he launched a ball to the deepest part of right-center field at Marlins Park. The ball soared over the sign marking 427 feet by some 50 feet. 
Three nights prior, Stanton crushed a ball down the left-field line that hit the ballpark scoreboard and broke a panel on the LCD screen. 
As if hitting 900 feet worth of home runs wasn't enough, Stanton also showed that his right arm is a lethal weapon, too. First baseman Logan Morrison almost learned that the hard way, as Stanton's cutoff throw came close to taking off his head. 
Watch video of the throw here.
That was nearly a literal interpretation of "hitting the cutoff man." But how about Morrison's reflexes? He looked like Neo dodging bullets in The Matrix with those moves.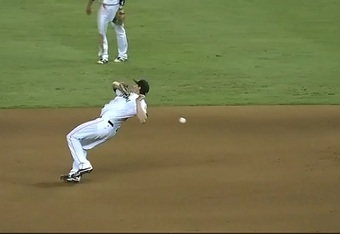 Morrison may want to keep that glove up at all times. At least when throws are coming in from "Zhancarlo!" in right field.
Follow @iancass on Twitter.