Liverpool: Fenway Right to Take Their Time over New Anfield Boss
May 25, 2012

Michael Regan/Getty Images
When Fenway Sports Group took over at Liverpool a year-and-a-half ago, they quickly hired Kenny Dalglish as manager and let the club legend do things his way. That approach resulted in a trophy, but it also ushered in their worst league finish in 18 years.
Now, with Dalglish gone, the American owners of one of world football's most successful and prestigious clubs are going to try things their way.
John Henry and FSG are in the process of exacting a ruthless overhaul at Anfield, which they hope will lead the club back to its former glory both in the honour roll and on the balance sheets.
Dalglish was fired last week after Liverpool finished eighth in the Premier League table, losing 14 games in the competition and winning just six at home. Clearly the Carling Cup—which was only won via a penalty shootout win over second-tier side Cardiff City—and appearance in the FA Cup final were no compensation for the Reds failing miserably in their quest to secure a return to the Champions League.
In search of that lucrative prize, FSG invested more than £100 million in players sought by Dalglish and his erstwhile director of football strategy, Damien Comolli, since taking over on Merseyside. For that outlay they have bought, among others, a £20 million winger who neither scored nor created a single league goal last season, a once promising young midfielder who's regressed since his arrival and a striker who is nowhere near being the world-beater his £35 million price tag suggests.
Henry is a card-carrying fan of Billy Beane and his "Moneyball" approach to recruitment in baseball—so much so that he tried to poach the Oakland As' general manager and bring him to his Boston Red Sox. Despite that, the 62-year-old let Dalglish and Comolli proceed with the completely opposite approach, trusting the duo's combined decades of experience in a game into which he was making his foray. It didn't work out.
Both men have now paid for their respective failures with their jobs. Comolli's head was the first to roll back in April, and Liverpool's head of communications and commercial director were also shown the door before Dalglish was the last of the old regime to be swept out of the ground.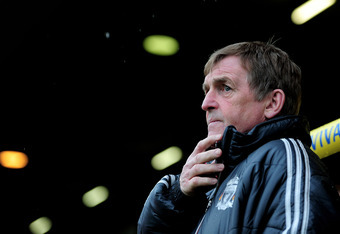 Jamie McDonald/Getty Images
Now, save for the players and the tea lady, FSG have given themselves a clean slate upon which to present their vision of how an English football club should be run.
Henry and chief cohort Tom Werner have conducted the recruitment process in a very business-like manner, and the wheels are already turning. In came Billy Hogan as chief commercial officer and Jen Chang as corporate relations and communications director, with both appointments announced on the club's official website on Thursday.
The appointment of Hogan, as former chief executive of FSG, seems an obvious move, and the hiring of Chang may prove to be inspired. A former journalist and editor for ESPN and Sports Illustrated in the US, Chang's knowledge of world football is exceptional, and his relationship with many key members of the British media makes him a highly-prized asset. The club can expect to get an easier ride from the press with Chang acting as the go-between than they got in the last days of Dalglish, when his exchanges with the same writers who heralded his return became increasingly paranoid and bitter.
Reports also suggest that veteran Dutch coach Louis van Gaal is in line to become the club's first sporting director. Even if it is not the Champions League-winning boss who takes the job, the very fact that such a position—which differs significantly to the role Comolli had held—has been created is a sign of how seriously and progressively FSG are taking their reshaping of Liverpool.
Of course, all of the aforementioned positions mean nothing if the right manager is not in place, and in addressing that vital vacancy too Liverpool's owners have adopted a thorough, almost corporate approach.
Rather than putting all their eggs in one basket by offering the job to one candidate, FSG have been methodically approaching several promising young managers from across Europe to sound out their interest in the job.
Such approaches have seen Swansea's Brendan Rodgers, Ajax's Frank de Boer and Borussia Dortmund's Juergen Klopp have each politely declined the Reds' interest without any embarrassment on anyone's part, while Wigan's Roberto Martinez and former Chelsea boss Andre Villas-Boas have been more receptive to the club's advances. As such, they will be at least two of the candidates to move on to the next stage of the process
Liverpool fans can be forgiven for feeling nervous about Fenway's apparent lack of decisive action, as indicated by supporter group Spirit of Shankly's open letter to the club's owners earlier in the week, published here on the group's website.
However, given that the next manager will be charged with guiding Liverpool through a pivotal period in their modern history, FSG are not only right to take their time but would be reckless and irresponsible if they didn't.
Get it right, and Liverpool could soon be back on the road to the top end of the table. Get it wrong, and the disappointment of this season could become par for the course.