Indy 500 2012: Why Josef Newgarden Could Shock the Rest of the Field
May 25, 2012

Jonathan Ferrey/Getty Images
Sarah Fisher Hartman Racing driver Josef Newgarden knows he's not the biggest name in the IZOD IndyCar Series, but the 21-year-old Nashville native has no problem making light of it.
In a video from last month's Toyota Grand Prix of Long Beach, Newgarden went incognito as a fan interviewer, asking race attendees if they had heard of last year's Indy Lights champion. Most had no idea that they were saying "no" to his face, but the young driver took it in stride.
Come Monday morning, there's a good chance that they'll know who he is.
Newgarden and SFHR, known to many in the IndyCar paddock as "the little team that could" for its resilience and respectable results despite a persistent lack of funding, qualified seventh for Sunday's 96th running of the Indianapolis 500. After a series of strong practice runs all month, they have a strong chance at bringing home the victory when all is said and done.
Before Saturday's Pole Day, IndyCar teams had seven practice sessions on the 2.5-mile Indianapolis Motor Speedway. Newgarden topped the speed charts in three of the first six sessions, setting him up well for qualifying despite a minor incident on Wednesday.
Unsurprisingly, he made it into the pole shootout late Saturday afternoon, but he shocked many by representing the only Honda in the segment.
Newgarden didn't have much for the field in the pole shootout, but the qualifying boost from Saturday will not be used for the race. Instead, the engines will revert to the settings from earlier in the week, when he was so competitive in practice.
Fan ignorance aside, the American rookie has the pedigree to make something happen at Indianapolis. A veteran of 16 race victories in various formulae in 2008 and 2009, Newgarden joined Sam Schmidt Motorsports in Indy Lights last year and smoked the entire field, scoring five wins and 10 podiums in 14 starts to beat teammate Esteban Guerrieri for the title by 94 points. That put him on the fast track to replace the departing Alex Tagliani on Schmidt's IndyCar squad, but Fisher snapped him up.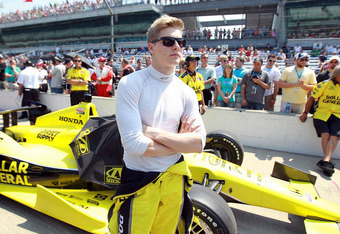 Andy Lyons/Getty Images
2012 stood to be a huge year for Fisher no matter what. After scoring its first win with Ed Carpenter at Kentucky last October, and the increased investment of oil magnate Wink Hartman, the newly-rechristened SFHR would prepare for its first full season of competition.
With Newgarden, they found the right driver to build a long-term program around while seeking to replace longtime sponsor Dollar General.
This month of May has been huge for both driver and team. Fisher added a second car for 2011 USAC champion Bryan Clauson, and both Dollar General and Angie's List have returned to the team from last year for one-race deals. In response, SFHR has been the surprise of the month, competing with the powerhouses of Andretti Autosport and Penske Racing for fast lap times.
They've got more than enough motivation. Fisher wants full-time backing, while Newgarden wants to enforce that he belongs at American open-wheel racing's highest level for years to come. Beyond that, IndyCar has been looking for a marketable, race-winning American star for years.
A win at Indy could mean all of those things.
And next year, come Long Beach, there wouldn't be a person in the crowd who didn't know Newgarden's name.