NBA Draft 2012: Should Cleveland Cavaliers Trade Back from 3rd Overall Pick?
May 25, 2012

Mike Stobe/Getty Images
The NBA draft lottery is Wednesday, May 30th, and many teams will be on pins and needles, hoping desperately to have their ping pong ball bounce the right way.
As it currently stands, the Cleveland Cavaliers are projected to have the third overall pick in the June 28th NBA draft, winning a tie-breaker with the New Orleans Hornets.
Most mock drafts have the Cavs taking either Kentucky small forward Michael Kidd-Gilchrist or Florida shooting guard Bradley Beal.  Both seem like excellent talents and would bring different attributes to the table for rebuilding the Cavs.
If the Cavaliers' pick should fall to around fifth or sixth in the draft, they would likely have to choose between UNC's Harrison Barnes or UConn's Andre Drummond, two prospects that may be just as good or better than the picks before them if given the right system and opportunity.
My question is this: with such a deep draft, would it make sense for a rebuilding team like the Cavs to actually, gulp, trade back?
Unlike the NFL, teams with a high pick seldom, if ever, trade back in the draft to accumulate more picks, so why would the Cavs be interested in doing so?
I see a couple reasons why this would be beneficial.
For example, let's assume the lottery order stays they way it's projected to.  Anthony Davis would go first to the Charlotte Bobcats, but after that the lottery could go a lot of different ways.
Christian Petersen/Getty Images
For argument's sake, let's say that the Washington Wizards decide they like Kansas forward Thomas Robinson.
So with Davis and Robinson off the board, Cleveland would likely choose between Beal and Kidd-Gilchrist because of their need for help on the wing.  A team like the New Orleans Hornets, picking fourth, really wants Kidd-Gilchrist to pair with Eric Gordon on the wing.  They know the Cavs also like him, so they call and offer their fourth overall pick, plus the 10th pick that they also own from the Minnesota Timberwolves in exchange for the the Cavs' third pick and 24th overall pick from the Los Angeles Lakers.
If such a deal was offered, would the Cavs be willing to trade back, knowing that Kidd-Gilchrist could blossom into an All-Star and All-Defensive player for the next 10 years?
Another team that might be interested in trading up would be the Portland Trail Blazers, owners of the projected sixth and 11th overall picks.
Let's say the Blazers really liked Bradley Beal and were willing to swap both of their first rounders for both of Cleveland's.  The Cavs would risk losing out on Beal, a perfect compliment and great athlete next to Kyrie Irving in the Cleveland backcourt.
Would the Cavs be willing to trade back to acquire multiple lottery picks? 
Instead of comparing picks No. 3 and No. 24 to No. 4 and No. 10 or No. 6 and No. 11, let's look at the players projected to go in those spots.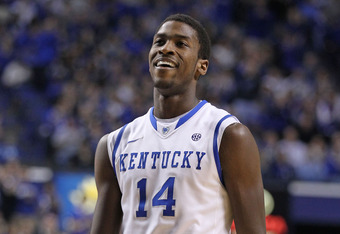 Andy Lyons/Getty Images
With the Hornets, a deal swapping first rounders would seem to be extremely beneficial, as it would likely look like this:
New Orleans Receives: Michael Kidd-Gilchrist, SF (Pick 3) and Fab Melo, C (Pick 24).
Cleveland Receives: Bradley Beal, SG (Pick 4) and Jared Sullinger, PF (Pick 10).
Such a deal would greatly benefit the Cavaliers, as they still get one of the two top guys that they want and get to move up 14 picks to take a great post player in Sullinger.
Would New Orleans be interested?  Maybe, maybe not. It would depend how much they valued Kidd-Gilchrist or possible Bradley Beal if they didn't want to match a max contract for Eric Gordon.
If Portland called about moving up to grab Beal or Kidd-Gilchrist, who both certainly wouldn't make it past pick No. 6, a deal could look like this:
Portland Receives: Bradley Beal, SG (Pick 3) and Fab Melo, C (Pick 24).

Cleveland Receives: Harrison Barnes, SF (Pick 6) and Jeremy Lamb, SG (Pick 11).
This has a greater likelihood of happening as opposed to the Hornets deal due to the amount of picks that Portland would move up.
Cleveland would solidify the wing position and could address the center position via free agency.
Conclusion:
My point is the Cavaliers should certainly entertain the idea of trading the third overall pick, or whatever it ends up being, if they could acquire multiple lottery picks in a draft as deep as this.
Players like Jeremy Lamb, Austin Rivers and Jared Sullinger would have gone in the top three-five picks last year but are now often projected to fall out of the top 10.
Kidd-Gilchrist and Beal are both great players, but I don't believe the Cavs should fall in love with either one of them, especially if a team with multiple lottery picks comes calling.
Adding two lottery players in a draft this deep could land them a playoff spot this coming season and for years to come after that.