Euro 2012 Players to Watch: Alex Oxlade-Chamberlain of England
May 25, 2012

Laurence Griffiths/Getty Images
Going from unknown commodity—a teenage one at that—with no Premier League experience to the toast of English football—and doing it within nine months' time at that is quite the feat.
But that's exactly what 18-year-old Alex Oxlade-Chamberlain did in 2011-12. Signed by Arsenal from Southampton last August for a reported £10 million fee, the youngster wasted little time in becoming a fan favorite at the Emirates, wowing viewers with his purposeful play on the wing, delightful technique and eye for goal.
It is the rare teenager that can ignite this kind of reaction after being substituted, after all.
But then, Oxlade-Chamberlain is the sort of transcendent talent that inspires hope and confidence for the future. He may be the closest thing to a "sure thing" seen in English football since Wayne Rooney—like the Liverpudlian, Oxlade-Chamberlain has become a fan/pundit fixation at a tender age and has been forced to accept the weight of expectation that comes with that distinction.
And like Rooney, the "Ox," as he's come to be affectionately known at Arsenal, is primed to make an impact at the European Championships. (Rooney famously scored four goals as an 18-year-old wunderkind at the 2004 Euros in Portugal.)
In Numbers
His statistics don't jump out at you—Oxlade-Chamberlain scored two goals and had one assist in 16 league appearances this season, but he also netted once in the Carling Cup (against Shrewsbury) and Champions League (against Olympiakos). As is so often the case, though, the numbers don't tell the whole story where the Ox is concerned.
Oxlade-Chamberlain was superb this season against two of the teams considered to be among the greatest in world football—Manchester United (Jan. 22) and AC Milan (March 6).
He provided the assist for Robin van Persie's goal that brought Arsenal level against the Red Devils. (Notice that, just as he'd done against Barcelona in that epic Feb. 16, 2011 match at the Emirates, Laurent Koscielny won back possession and provided the pass that started the sweeping Arsenal movement that culminated in a goal.)
It is that ability to show up for the biggest occasions, despite his age, that is shared by the world's greatest players. It's for that reason that Oxlade-Chamberlain's considerable hype doesn't look set to fall flat anytime soon.
He's not unproven at the international level, either, although he's yet to win his first cap for England's senior team.
Back in October, Oxlade-Chamberlain scored a hat trick against Iceland for the England U-21s. Not too shabby, considering he was three years under that level of competition's age limit.
What to Expect
Oxlade-Chamberlain will be a long shot to start for England in their first group stage match against France on June 11, but with Rooney suspended for the first two games of the competition, manager Roy Hodgson will be looking for sources of inspiration to mitigate the loss of his unequivocal star.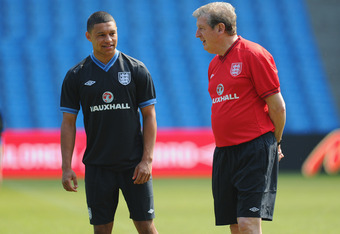 Michael Regan/Getty Images
He could get it from the Arsenal man. Oxlade-Chamberlain's future is likely in central midfield, but his pace and trickery could make him a perfect substitute for the Three Lions against France.
Laurent Blanc's defense is looking like his weakest link in the wake of the news that Younes Kaboul and Bacary Sagna, both first-choice starters at center-back and right-back, respectively, through France's qualifying campaign, have been ruled out due to injury.
It's no stretch of the imagination to envision a scenario where Oxlade-Chamberlain so impresses Hodgson in a brief spell against France that the manager decides to start him in England's second or third match in the group stages.
What They Say About Him
Tomas Rosicky, Oxlade-Chamberlain's teammate at Arsenal, has lent his endorsement toward the midfielder's inclusion within the England squad.
"I was surprised to see him in the England squad, but he definitely has the tools to succeed," Rosicky told Eurosport. "When he comes on as a sub, he is a real impact player.
"He can change the game, and brings something very fresh. I'm really happy for him, and it will be a great experience for him going straight into the Euros. Potentially, he has a huge upside and can develop into a great player."
Hodgson has said that it was Oxlade-Chamberlain's terrific display in the Champions League Round of 16 second leg against AC Milan that captured his eye and convinced him to bring the teenager on board for the Euros.
While he isn't promising playing time to the youngest player in the England squad—Oxlade-Chamberlain will have to earn it—he is excited to have such a talent within the ranks.
"I wouldn't have chosen him if I didn't think he was ready to start games," Hodgson told The Independent. "It won't be easy for him to break into the team given the competition, as we've loaded up in the wide areas because [Wayne] Rooney can't play in the first two matches.
"But I'd like to think that, I've seen him play in European matches. One of the games where he really sprang to my attention was the match against Milan.
"He has a maturity beyond his years," Hodgson continued. "He is a precocious talent. I think, sometimes, there has to be a place in the squad for a precocious talent. It'll help England's future as well.
"I can't guarantee he will play. I'm pretty sure Sven Goran Eriksson selected [Theo] Walcott (for the 2006 World Cup—Walcott was just 17 at the time) for the right reasons as well but, when push came to shove, [Walcott] showed he wasn't quite up to it in training.
"I'm expecting that Oxlade-Chamberlain will now be able to deal with that situation and won't be overawed by the Gerrards, Lampards, Barrys and Parkers. I expect him to stand up to that, but I don't know. The only way I'll find out is to select him and sling him in at the deep end. Even if he doesn't swim now, he'll learn to swim in the future."