Cleveland Indians: Chris Perez Breathes Life into Depressed Fanbase
May 25, 2012

Jason Miller/Getty Images
"Our deepest fear is not that we are inadequate. Our deepest fear is that we are powerful beyond measure. It is our light, not our darkness that most frightens us. We ask ourselves, Who am I to be brilliant, gorgeous, talented, fabulous? Actually, who are you not to be?" — Marianne Williamson
Come on, Cleveland.
I know things have hurt since you-know-who dumped us for sunshine and visions of glory. We'll never find another team like those 1990s Indians that got away.
Right in front of us sits a once-in-a-lifetime opportunity in the 2012 Cleveland Indians.
"It's just a slap in the face when you're in first place and last in attendance. Last. Not 25th or 26th. Nobody wants to play in front of 5,000 fans," All-Star closer Chris Perez lamented to the media earlier in the week.
That's right: All-Star.
As in made the All-Star team last year.
Shortstop Asdrubal Cabrera also made the All-Star squad last year. He may be the best at his position in all of baseball.
Don't be surprised if Jason Kipnis or Carlos Santana represent the American League at the Midsummer Classic in the very near future.
Third baseman Jack Hannahan would be a shoe-in were the criteria based on defense alone. At the plate, "Super-Hannahan," has been flat out deadly with runners in scoring position.
Ten and two in one-run games and often impressive even in defeat, this Tribe team serves as a wonderful antithesis to the LeBron James-led Cavalier squads. Their scars sting fresh two summers later on the already-damaged psyche of a city desperate for a winner.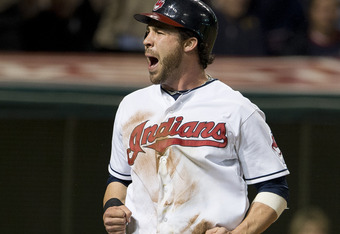 Jason Miller/Getty Images
The Cavaliers perennially featured an awkward composition of talent befitting a squad of aging veterans trying to make their last run. James' notorious free agency "search," began circa 2008. The Cavaliers desperately surrounded LeBron with aging veterans like Ben Wallace, Shaquille O'Neal and Antawn Jamison.
They thought Mo Williams could serve as the anchor to kept James in Cleveland—a young, talented sidekick who could distribute the basketball.
Alas, James' lack of commitment not only decimated the franchise upon his departure, it slowly decayed the organization from within as the result of perpetual short-term building to appease him.
But, these Indians.
These Cleveland Indians are a team.
They're young. They're tough. But most of all, they are good.
Consider the performances in 2011 against Detroit and Texas.
Even in their hottest days of the early season, the Rangers dominated the Tribe at Progressive Field. Detroit almost single-handedly knocked the Indians out of the AL Central race in the dog-days of August and September.
This year, the Indians nearly swept those Rangers, as they just did the Tigers. The same Tigers with a payroll $54 million higher than Cleveland's.
Fans enthusiastically answered Chris Perez's call this week. The Indians enjoyed one of their top walk-up draws ever, and fans poured in for the weekday day game finale against Detroit.
How did the Tribe fare with those extra fans?
They beat AL MVP Justin Verlander. Not just the Cy Young winner—the MVP. 
Jump on the bandwagon while there's still room.
You can follow me on Twitter: @StepanekButton