Athletic Bilbao vs. Barcelona: Copa Del Rey Final Means Everything to Barca
May 25, 2012

David Ramos/Getty Images
Barcelona earned two trophies in August of 2011, the Spanish SuperCup and the UEFA SuperCup. Both competitions celebrated accomplishments of the previous campaign and took place before La Liga play even opened.
Then they went on to win the FIFA Club World Cup in dominating fashion in the month of December.
But once the calendar ran and the year changed 2012, everything went downhill for the trophy-dominating club.
The Catalan giants saw their three-year run atop the league come to an end, and they failed to return to the Champions League final to defend their European crown. The disappointing 2012 campaign will end with Pep Guardiola leaving the club regardless of the Copa Del Rey final outcome.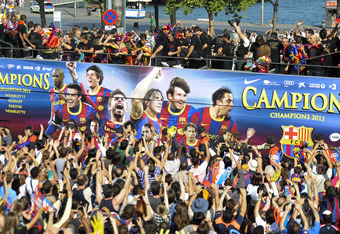 David Ramos/Getty Images
The 41-year-old coach and Barca legend led the club to a ridiculous number of trophies during his four-year run on the sideline. The Spanish giants won three league titles, three Spanish SuperCups, two Champions League finals, two European SuperCups, two FIFA Club World Cups and one Copa Del Rey.
It is only fitting that Guardiola chase down his last trophy as boss of the Blaugrana in the one competition that has given him the most trouble. He's won everything at least twice, except for the Copa Del Rey, and now he takes on the very club he won it against the first time around.
Obviously, a league and Champions League title would've been the preferred way to go out (although he probably wouldn't be out had he won both), but this is rather fitting.
The players aren't accustomed to going this long without a trophy in their hands either. Should they lose to Los Leones, it would send them home trophy-less in the second half of the campaign.
A win here is not only crucial, but is everything to this club and their soon-to-be former manager.