NHL Playoffs 2012: 5 Players to Watch in Rangers vs. Devils Game 6
May 25, 2012

Bruce Bennett/Getty Images
Tonight, the New Jersey Devils will look to close out the New York Rangers in Game 6 of the Eastern Conference finals. The game, to be played in New Jersey, comes two days after the Devils took the series lead with a late goal in a game many would say they shouldn't have won.
The cross-river rivals have played fairly evenly throughout the series, so the fate of the game remains entirely unpredictable. But one team has to win, and no team wins without players stepping up for that game.
Here are five players who will probably play a large role in the outcome of Game 6.
5. Patrik Elias, New Jersey Devils
After an impressive regular season that saw Elias outscore teammate Zach Parise, the long-time Devil has been somewhat disappointing this postseason; he has just six points in all, and only one this series. That one point, a somewhat fluke goal in Game 5, is the first sign of life Elias has shown in a while, and if he is able to start performing again, the effect would be tremendous.
He is such a dynamic force on offense that his awakening could bring the Devils to an entirely new level. Of course, he has not necessarily awoken, but all the same, Elias has the experience and heart to win the game and series for the Devils. If he shows up—as he's prone to in big playoff games—expect him to be the main reason the Rangers lose.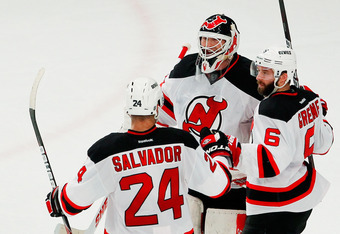 Paul Bereswill/Getty Images
4. Bryce Salvador, New Jersey Devils
Bryce Salvador has become an offensive weapon. It's hard to believe, and I certainly can't explain it, but I'm liking what I'm seeing all the same.
Salvador has three goals and seven assists, putting him at second among defensemen in points in this postseason. This comes after an 82-game regular season in which he went goal-less and had just nine assists.
He's always been a fairly reliable defenseman. But this new facet to his game has made him a veritable game-changer. He may do it unsuspectingly, but don't be surprised if Sal sets up (or scores) an important goal in Game 6.
3. Chris Kreider, New York Rangers
Chris Kreider has done everything that's been asked of him and more. He's helped lead the Rangers offensively while eating up major minutes, and he's doing it all without a regular season game under his belt.
Still, as good as he's been, he needs to keep it up. His play has earned him major minutes: at least 15 minutes in each game of the series, and more than 18 in Game 2. In Game 5, he had more ice time than Brad Richards, Marian Gaborik, Carl Hagelin, Brian Boyle or Brandon Dubinsky. In short, he's become a key player for them.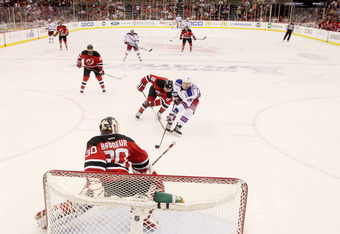 Bruce Bennett/Getty Images
If the Rangers are looking to extend their season, he will need to put up a big performance. He had a goal in both Rangers wins, as well as their 3-2 loss, while going pointless in the last two losses. If he isn't able to have an effect on the game, that leaves very few reliable players for the Rangers to turn to.
2. Zach Parise, New Jersey Devils
Zach Parise sure seems to be hitting his groove. He has 14 points this postseason, with five of them coming in the last two games: He had two goals and one assist in Game 4 and one of each in Game 5. Given, two of those goals were empty-netters—though difficult empty-netters—but even so, he just seems to playing at the level he's been aiming for.
What that means is that his shots are going where he wants, he's able to skate and puck-handle to his liking and his positioning is spot-on. If Parise continues to play like this, watch for him to be near the goalie on every play, just waiting for that brief fraction of a second where he can pounce in and poke the puck through. Every play.
1. Henrik Lundqvist, New York Rangers
Of course, when your nickname is "King Henrik," you're probably going to be a pretty important figure. And indeed, the Rangers' netminder will be the single most important player in Game 6.
Lundqvist has the ability to be the best goalie in the world, and is usually reliable as well. When Lundqvist is sharp, he's nigh-impossible to beat. And while no one is always at 100 percent, Lundqvist reliably saves around 90 percent of shots every game, and that's good enough to beat most teams. The results are his extremely impressive career numbers.
But the last two games, his play has not cut it. Whereas earlier in the series he was winning his team games, Games 4 and 5 saw him miss shots early and only playing well once his team was already well behind.
Game 5 was an extremely tight game, but only because the Devils became as sloppy as Lundqvist had been. If they return to their normal, extremely-difficult-to-break defense, Lundqvist had better be his top self from the start.
More likely than not, the Devils will not blow another 3-0 lead, so Lundqvist—and the entire team—needs to make sure that he's ready to play as soon as that puck drops. If they start slow, they won't have another opportunity to start fast.
All numbers obtained via NHL.com and ESPN.com and Hockey-Reference