WWE No Way Out 2002: Top 10 Moments from the Night the nWo Returned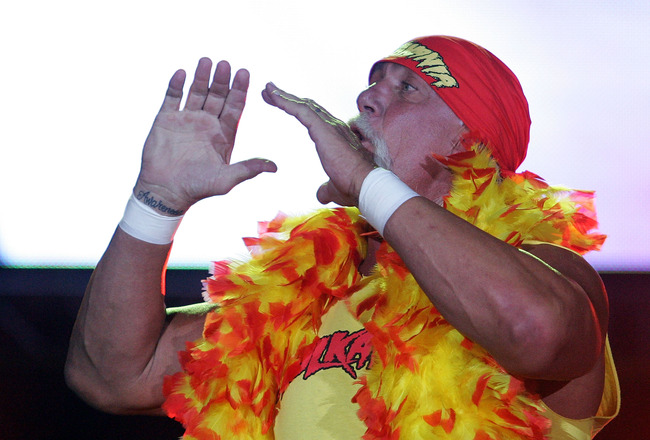 Paul Kane/Getty Images
The nWo was about to invade WWE. Every wrestling fan had seen them run wild on WCW, but this was an entirely different story. Besides that, this event had the usual pre-WrestleMania hype.

There was not a lot of a huge matches taking place. However, nothing was terribly bad, either. All in all, WWE delivered a solid (C grade) pay-per-view for their fans.

What were the highlights? Let's find out!
10. Tag Titles
Tazz and Spike Dudley were the reigning WWE Tag Team Champions. Yes, the division was on fire 10 years ago!

Their challengers were Test and Booker T. One thrown-together team taking on another sure does sound familiar, huh?

Anyways, neither pair would last long. This match was not bad, but it did nothing for me. Tazz was slowly moving away from wrestling, while Spike would only have a few years left with the company.

Test and Booker T were capable of doing so much more. In the end, this was not their night. The champs retained.
9. Regal vs. Edge
William Regal defended his Intercontinental Championship against Edge. The stipulation was a "Brass Knuckles on a Pole" match. Yes, this really happened.

To be honest, I liked both men. They each could put on a great match. Also, their face-heel interaction was perfect in 2002 (and 2001).

Sadly, this feud just dragged on and on. This was their third straight pay-per-view wrestling, and the feud never did much. By the time this ended, I was ready to move on.

Regal cheated to win.
8. Presentation
I also felt like WWE was very lazy with this pay-per-view. Sorry, but it was all over this show.

The poster for the event with Rob Van Dam was about as bland as they come. WWE always creates great pictures for upcoming shows. This one was about as plain as I have ever seen.

Just RVD standing by a sign?

Also, the entrance ramp did not fit the theme one bit. Again, WWE is often amazing at creating stages. I did not like this one at all.

Finally, and I know it is a small issue, but the theme song was not my cup of tea. It just seemed like everything surrounding this event was not for me. The ultimate irony is where this event was held...
7. Live Crowd
This pay-per-view was held in Milwaukee, Wisc.

It was a unique time for wrestling fans in the Dairy State. We had just been given a Raw in December 2001. The last thing I expected was a pay-per-view just two months later.

Little did I know, that was the plan.

Ten years later, WWE returned to the same building for Elimination Chamber 2012. The crowd was loud and excellent then, just as it was three months ago.
6. RVD Wins
Goldust had just returned to WWE.

Rob Van Dam was a "cool" face at the time. Thus, it was only logical for these two feud for a little bit before 'Mania.

The two had a decent match at No Way Out. There was never any option as to who would win. RVD had to be victorious, and he was.
5. Tag Turmoil
This match had actual teams!

Well, most of them were legitimate.

The winners of the tag team turmoil match received a title match at WrestleMania in March. It was very intriguing as to who would win here.

The first team was Scotty 2 Hotty and Albert. The next was Christian and Lance Storm. That is an interesting way to start things.

Up next were Matt and Jeff Hardy. They had feuded for a little bit to close 2001 but were back as a team. The fourth team was Billy and Chuck.

I think a lot of folks loved them back in 2002. They certainly were a fun act. Finally, APA was out there to compete. Of all the teams, I had imagined many winning.

To the shock of many, APA won the turmoil match. To the shock of nobody, Spike Dudley and Tazz did not make it to 'Mania as tag champs.
4. Rock vs. Undertaker
The Rock did not have a lot of time left in WWE. It was clear that his full-time days being in the wrestling business were coming to an end.

Thus, you had to think of new opponents for him. He had faced Undertaker before, but they did not have a lot of long feuds.

A big match at No Way Out made perfect sense in 2002.

Taker was still trying to convince fans he was a heel with short hair. The Rock was still entertaining the millions and millions.

With this being a one-and-done feud, the outcome was very obvious.

Rocky won after a nice 15-minute match. Ric Flair cost Undertaker the match, and their feud began.
3. Triple H Loses
This was a very confusing story line.

Triple H had won the Royal Rumble in January. His big comeback journey was complete, as he was ready to be in the WWE Title main event of WrestleMania.

Since he was a face, it was not going to be easy.

He had to put his title shot on the line at No Way Out against Kurt Angle. Of course, there was one more stipulation added on.

Stephanie McMahon was going to be the special guest referee. Since she had just split up with The Game, you knew she was on Angle's side.

Well, this is exactly what happened. Steph helped Angle win and earn the title match for 'Mania.

As most remember, that ruling would not even last 24 hours. The next night on Raw, Triple H beat Angle to win his title match back.
2. Main Event
This was Stone Cold's last pay-per-view title match.

He was set to face Chris Jericho for the Undisputed Championship. With many options for the title match at 'Mania, this was a very unpredictable main event.

Would Jericho really walk into the biggest show of the year as champion?

Would Austin finally win the Undisputed Title?

Well, Jericho did end up winning. It was definitely not clean, but he retained his gold once again. Stone Cold began his next feud, while Jericho lost the title to Triple H the following month.
1. NWO Returns
This was their debut in WWE. Hulk Hogan, Kevin Nash and Scott Hall ran all over WCW in the past, but this was going to be amazing to watch.

These three began the night with a heartfelt promo. All they wanted was a second chance. The group had changed their ways and were good guys.

Jim Ross begged the viewing audience not to believe a word they said. All three were liars, and it would show eventually.

Throughout the night, we saw them interact with different wrestlers. As expected, their reception backstage was not every warm.

By the time Chris Jericho vs. Stone Cold in the main event was coming to a close, we would see the nWo one more time.

The men (particularly Scott Hall) cost Steve Austin the title. They followed that up by "branding" his back with spray paint.

It was a historic night for WWE. Within a month though, all of the momentum would be gone. To this day, all three are still making wrestling headlines. Some are more positive than others.
Keep Reading