Alabama Football: Preseason All-American List Spot-on with 'Bama Players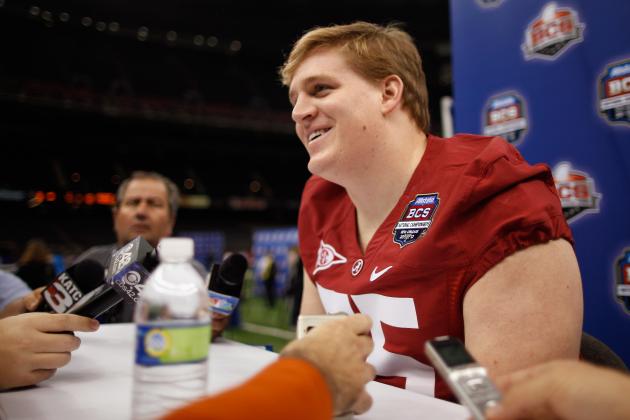 Chris Graythen/Getty Images
Barrett Jones, pre-season first team All-American.
Preseason lists for awards and honors are hit or miss, as they are based completely upon past performances. They do not account for dark-horse players and potential.
This time, Phil Steele nailed it when it comes to Alabama players.
He gave appropriate recognition to Alabama players and didn't get too carried away in the high-potential, low-experience players.
Don't get me wrong. I have found the list to be extremely flawed in many aspects (such as listing South Carolina's Jadeveon Clowney on the fourth team), but not when it comes to Steele's opinion on the boys in crimson.
Here's a link to Steele's preseason All-American list (philsteele.com).
What exactly did Steel get right? I'll show you.
This is only a look at Steele's preseason All-American list, not his preseason All-SEC list.
Begin Slideshow

»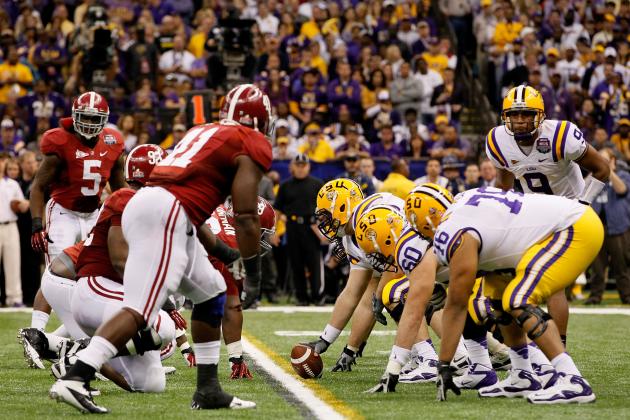 Kevin C. Cox/Getty Images

Steele confirms what many already expected: Alabama will have the best offensive line in the nation heading into the 2012 season.
Barrett Jones, D.J. Fluker and Chance Warmack are all predicted by Steele to be first team All-Americans.
And it makes total sense.
Jones is a fourth-year starter and multiple-time All-American with an Outland Trophy to boot.
Warmack and Fluker will both be third-year starters. Fluker is future first round NFL draft talent, and Warmack could find himself there (or very close to it) with another dominating season in the trenches.
I can't remember the last time three offensive linemen from one team were all predicted to be first team All-Americans—let alone actually earn the honors.
You know what's really funny, Alabama fans?
If Cyrus Kouandjio had been a year older and started last season, Alabama would have four preseason All-Americans. Feel free to laugh at opposing SEC defensive linemen.
Alabama's offensive line isn't quite the Great Wall of China in magnificence and utility, but it's no easily-skirted Maginot Line either.
What is it, with these three preseason All-Americans?
I would boldly say that Alabama's offensive line is every quarterback and running back's dream, but that would be an understatement.
Brett Favre would have traded the entire 2010 Minnesota Vikings staring offensive line for these guys—that's not a joke.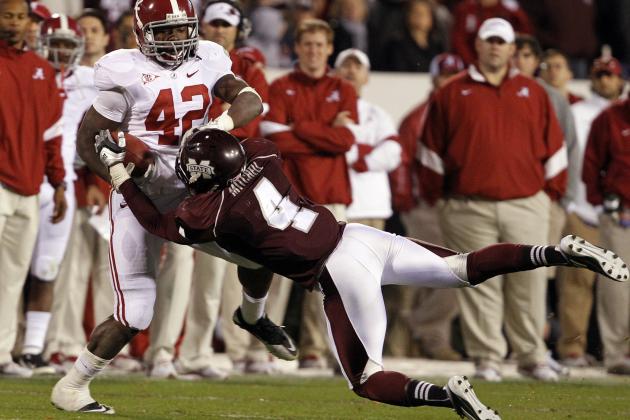 Butch Dill/Getty Images
Eddie Lacy.
Steele did not include any other Alabama players on his preseason All-American list, and for good reason.
I'm a huge fan of all the players in crimson, but other than the offensive line, no other offensive players have a resume to warrant All-America honors yet.
Though I am completely sold on A.J. McCarron and believe he will perform at a Heisman-caliber level in the near future, I wouldn't go so far as to label him as a preseason All-American yet—and Steele agrees.
As for Eddie Lacy, myself and all the other Alabama fans know that he is going to shred turf with speed, power, first downs and touchdowns.
He has proven he has that potential. Then again, he has spent his career as a backup behind Mark Ingram and Trent Richardson.
Can he continue his seven yards-per-carry average when he is first and last guy to tote the rock in tough games?
On top of that, will he be fully recovered from his turf toe injury, an injury that is significantly worse than it sounds?
I think so, but preseason predictions are based on past performances, not potential. Lacy has more potential than highlight reels at the moment. As such, he'll need a Heisman-worthy campaign in 2012, and he's more than capable.
Let's also not forget about his ridiculous, nasty, disgusting, mind-blowing spin move. The last time I saw a spin move like that I was watching the Tasmanian Devil chasing around various forest critters with unsurpassed voracity.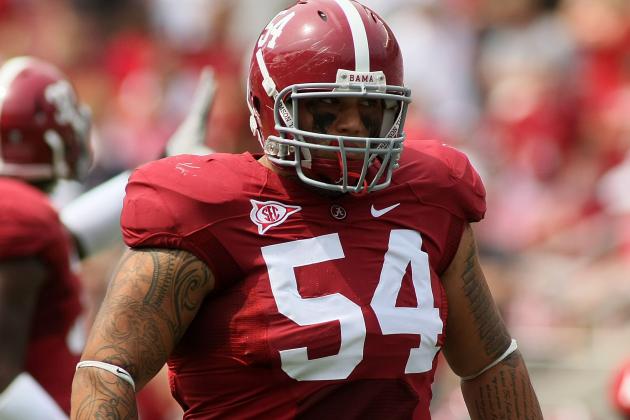 Greg McWilliams/Getty Images
The most recognizable photo of Jesse Williams.
I have to give credit to Steele here.
First, I must acknowledge that it can be very difficult to predict All-American defensive linemen that play in a 3-4 defensive scheme who don't rack up stats. Piling up stats isn't their job.
Rather than take a stab in the dark based on pure potential (and Alabama's defensive line has a lot of potential) he took the safe and realistic route.
He listed the Tide's brand new nose tackle, Jesse Williams, as a second team All-American. It's a very fair prediction.
Williams is still a raw talent who both accepts his job and does it well. He asks for nothing in return. He's a quiet, dedicated contributor.
At Alabama, the defensive line's job is to create opportunities for the linebackers, and the line has done its job well under Nick Saban.
For a nose tackle in a 3-4 system, Steele recognizes it takes a man-beast to command the double teams, impose will upon the opposition and make plays.
Williams has proven to be that immovable object, and Steele gave due credit.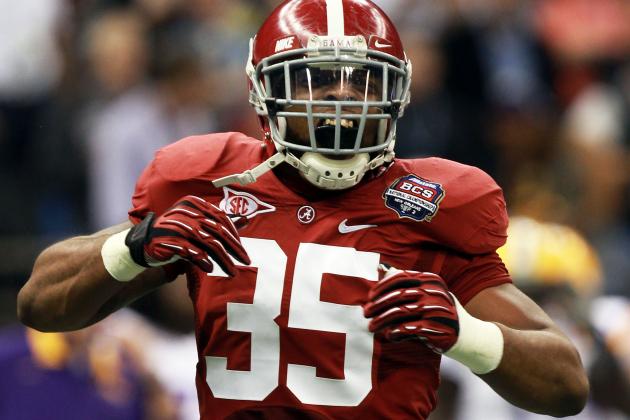 Ronald Martinez/Getty Images
Nico Johnson.
Again, Steele made realistic predictions. He did not go overboard but he did not shy away from giving credit.
With Courtney Upshaw and Dont'a Hightower making all the plays for the past two years, it became easy for many non-Alabama fans to forget about (or ignore or discredit) the Tide's one-two punch at middle linebacker.
Nico Johnson and C.J. Mosley are that combination. Together, these two were just as important to the team's unbelievable defense in 2011 as Dont'a Hightower was.
Johnson is predicted to be on the third-team All-American defense roster. Mosley is predicted to be on the second-team list.
Johnson defended the run with terrifying efficiency, and Mosley provided the elite pass coverage skills for the Tide's linebacking corps. They swapped at appropriate times.
With Hightower gone, both of these two will have to step up a great deal.
Johnson, a heavy contributor for the past three seasons (including the 2009 championship season) is the most experienced linebacker on the team.
Honestly, I think he may be the most experienced linebacker that Nick Saban has had during his time at the Capstone, though certainly not the most talented.
As for Mosley, he is exactly what you want in a linebacker who can defend the run and the pass, but he's a much better pass defender.
He is a playmaker with a nose for the ball when it's on the ground, but he's a total ball-hawk when it's in the air.
Despite the potential and raw talent of Alabama's linebackers, no one else on the roster deserved preseason All-America recognition just yet.
They'll have to work for it.
After they work for it, they may get real All-America honors after the 2012 season.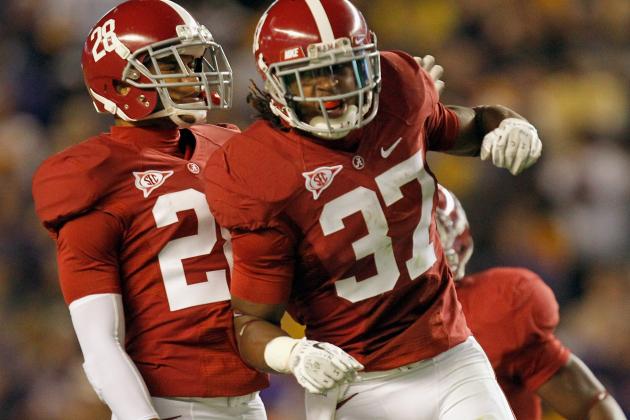 Streeter Lecka/Getty Images
Robert Lester and DeMarcus Milliner.
Not to sound like a broken record but yes, Steele did this one right as well.
The Tide's secondary lost three out of four of their primary contributing corner backs, as well as safety Mark Barron.
With NFL draft choices like Dre Kirkpatrick (first round), Mark Barron (first round), and DeQuan Menzie (fifth round) on the field for the Tide in 2011, it became a little easier for the rest of the secondary to do its job.
DeMarcus Milliner is a prime example.
He struggled in 2010 as a starting true freshman, but looked powerful in 2011 when Alabama's defense scared the living daylights out of opposing quarterbacks.
He may prove to be worthy of All-America honors in the future, but he has to prove he can stand on his own two feet as a leader first.
Then, there is Robert Lester. As an Alabama fan I am inclined to say that he is one of the best—if not the best—safeties in the nation heading into the 2012 season.
While I do some role-playing as an Alabama critic, however, it seems like he was merely the beneficiary of having Mark Barron next to him on the field and calling all the shots.
Barron was a playmaker and a leader on the field who did his job perfectly and called split-second adjustments on the field.
Will Lester be able to fill that role and play to a high standard in order to lead his team to victory and All-America honors?
I think so, but to say it's a guarantee is too much of a stretch.