NHL Free Agency: Should the Washington Capitals Pursue Jaromir Jagr?
May 25, 2012

Greg Fiume/Getty Images
As the Washington Capitals enter yet another offseason with bitterness stemming from a disappointingly early playoff exit, George McPhee has to be wondering what he can possibly do to help the franchise advance beyond the second round for the first time since 1998.  
Currently, McPhee has a slew of pending unrestricted free agents that he must either attempt to re-sign or replace in the coming months, which may force the veteran general manager to get creative once free agency commences on July 1st.  
Though much of the club's focus will be on securing the services of restricted free agents Mike Green and John Carlson (in addition to unrestricted All-Star Dennis Wideman), McPhee will also be faced with the task of finding a suitable replacement for sniper Alexander Semin, who confirmed today that he's headed for free agency.
Originally, the Caps believed that Evgeny Kuznetsov, who is a goal-scoring dynamo not so different from Semin, would join the team in time for the 2012-13 season, and help supply some of the offense the team will lose once Semin departs. Unfortunately for the Capitals, Kuznetsov announced that he'll be staying in Russia for at least another season, which creates an even greater need for McPhee to acquire a gifted offensive forward this summer.  
According to CapGeek.com, the Capitals have roughly $19 million remaining in salary cap space entering the offseason, so considering the team's needs, they'll have a maximum of $2-4 million to spend on a top-six winger.  
The question is, where will the Caps spend that kind of money with such a bare cupboard in terms of free-agent forwards?  The candidates are slim, partially because the best wingers out there will all be signed to much richer deals, so only a handful of aging scorers like Ray Whitney, Shane Doan, Ryan Smyth and Jaromir Jagr appear to fit within the Caps' financial constraints.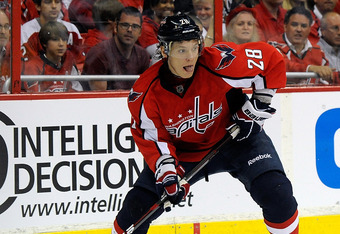 Patrick McDermott/Getty Images
Realistically, only Jagr and Whitney appear to be possibilities, as Smyth remains steadfast with his desire to retire as an Oiler, and Doan, at age 35, will likely command a higher salary than any of the other three. Even Whitney, coming off a 77-point season at age 40, may be out of the Caps' price range...which leaves us with Jagr.  
Yes, this is the same Jaromir Jagr who essentially went through the motions during his two-and-a-half seasons in Washington while being paid the highest salary in the game. Then again, it's also the same Jagr who played with fire and passion for much of the 2011-12 season with the Philadelphia Flyers, and put up a respectable 54 points in the regular season before tacking on another eight points in 11 postseason games.  
If Jagr doesn't re-sign in Philadelphia, is he worth pursuing if you're George McPhee? At first glance, the answer is a resounding no, but he may be worth a second look.  
Jagr, at age 40, would obviously realize that the Caps are Ovechkin's team, and if surrounded with good players, who's to say that he couldn't be a good complimentary scorer, even riding shotgun on a line with the "Great Eight?" 
He played exceptionally well during stretches of last season in Philadelphia, and certainly demonstrated he still has the skill, strength and desire to be among the most effective set-up men in the league when he wants to be. So why wouldn't he be worth taking a one-year flier on, especially if he came at a basement bargain price of under $3 million a season?  
Ideally, the Caps wouldn't be chasing a man who burned the franchise just eight years prior, but desperate times call for desperate measures in Washington. The Caps once again fell short in the postseason, primarily because they simply couldn't score when things mattered most.  
Though signing Jagr may feel like reuniting with an ex-girlfriend at first, none of that will matter if the former Hart Trophy winner ended up being the missing piece that completed the Capitals' Stanley Cup puzzle.  
For George McPhee, at the very least, it's an avenue worth considering.