Golf News: Lexi's Prom, Colonial's Wall, Girl Beats Boys in Top Ten
May 25, 2012

Kevin C. Cox/Getty Images
Kathy Bissell
10. Anthony Kim Out
Citing chronic tendinitis in his left arm, Anthony Kim will miss the rest of the 2012 season.  It did not help when he tried to hit a errant golf ball out of shrubbery at the recent Texas Open.
9. Lexi Makes Prom
How anybody as cool as Lexi Thompson would have to search for a Prom date is beyond most of us, but she posted a video seeking an upstanding candidate from the Armed Services.  Lance corporal Mark Scott, who is a U.S. Marine Active Reservist, was chosen from a field of entries. He earned a Purple Heart in Afghanistan. 
The Coral Glades High School Prom was held at Pier 66 in Fort Lauderdale.  Lexi picked date up at the Fort Lauderdale airport and gave him the grand tour of south Florida in her black Camaro.
8. Wall of Champions
Colonial CC has something that no other tournament has. Not the creaking of railroad tracks, not the Trinity River, not the claustrophobic 16th hole, which sits adjacent to Mockingbird Lane.  Not even the statue of Ben Hogan. Colonial has The Wall of Champions. 
If you win there, your name goes up on the wall along with Ben Hogan, who won the event five times, Jack Nicklaus, Arnold Palmer, Sam Snead, Billy Casper, Tommy Bolt, Julius Boros, Dave Stockton, Gene Littler, Tom Weiskopf, Lee Trevino, Ben Crenshaw, Fuzzy Zoeller, Corey Pavin, Lanny Wadkins, Ian Baker Finch, Nick Price, Tom Watson,  Phil Mickelson, Davis Toms and Zach Johnson, major championship winners all.
The Crowne Plaza Colonial is the longest running event still being held at the original course.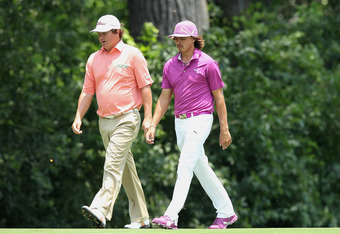 Scott Halleran/Getty Images
The event is also prestigious because it is an Invitational. Only the top 80 players on the previous year's money-list are guaranteed to be invited.  And the field is smaller than most events, maxing at 125.  Inside the clubhouse, there is a special room with Hogan's trophies.
7. Annie Park
It happened. The Nassau Boys' High School Championship in New York was won by a girl, 17-year-old Annie Park.   She was one of two girls playing in the tournament.  The other one was her younger sister, Alix.
There were 135 players in the tournament, and this won't surprise any women reading, but the school district where Park lives doesn't have a girls' golf team so she plays on the boys' team.  She already has a golf scholarship to USC.
http://www.golfdigest.com/golf-digest-woman/blogs/golf-digest-woman/2012/05/girl-wins-boys-high-school-cha.html#ixzz1vqS4sfhK
6.  First Woods, then McIlroy
Tiger Woods is not the only one to get so mad as his golf club that he threw it.  Rory McIlroy has caught the frustration virus. He threw his club to the ground in what was described as a "fit of anger" on the 12th hole at Wentworth after making too many bogeys during the round.
5. Bubba Baby Photos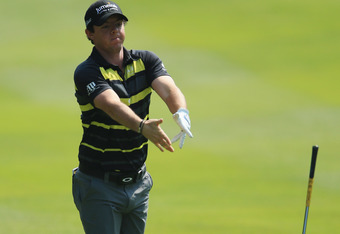 David Cannon/Getty Images
Don't you just love them?  Baby Bubba at the Pancake House. Baby Bubba at the Golf Course. Where will Baby Bubba go next?  It's great. He's a normal parent showing baby pix.
4. Donald Gets Life
Luke Donald was awarded a life membership on the European Tour because of his 2011 season in which he won events on both the European and PGA Tours and was leading money winner on both. 
3. Harris English 60 63
Harris English, a rookie on the PGA Tour shot 60-63 in British Open qualifying in Dallas. According to reports,  60 was the lowest 18-hole qualifying score since the R&A began holding qualifying in the United States in 2004.  The Open Championship will be player July 19-22 at Royal Lytham & St. Anne's in England.
2. Morgan Pressel
Assessed a penalty for slow play with only four golfers on the golf course. Really, slow play is a problem, but what were they thinking? It's not like she was holding up the field.
1.  Jason Dufner
Two wins in three weeks with a week off for a wedding in between.  Wow, what a month.  What's next? A major?