Indy 500 2012: Hottest IndyCar Racers Heading into Indianapolis
May 25, 2012

Nick Laham/Getty Images
Will Power is the hottest racer on the IndyCar Series, and he heads into the 2012 Indy 500 as the heavy favorite to win in Indianapolis.
He's not the only one who's riding a hot streak, though. There are a couple of other racers who enter this weekend's festivities with a great chance to pull off a victory at one of the sport's most hallowed events.
It takes an army to pull off this feat. Not only do you have to have an excellent driver and car to win this race, but your crew must perform flawlessly. These upcoming racers have all the necessary tools to win, and they are the hottest IndyCar racers heading into the Indy 500.
Will Power
Power has won the last three events after finishing the first race of the season in seventh place. He is clearly going to have the mental edge over the rest of the field, knowing he and his crew have been performing at the highest level in the sport.
That being said, he's not satisfied with his early success this season. He's never won at Indianapolis, nor has he ever won a championship. Power talked to reporters, via the Washington Times: "I'd just love to win something, just one time win something of significance," he said Thursday. "I'm so sick of it."
His recent hot streak puts a target on his back, and it'll be fun to see how he handles the pressure.
Hélio Castroneves
After Power, Castroneves is the hottest driver on the IndyCar tour. 
He won the 2012 Honda Grand Prix of St. Petersburg—the first race of the year, and since that time he's finished in the top five twice. 
One more thing Castroneves has going in his favor is that he's already won at Indianapolis three times. He will be a dangerous competitor when the race begins, and I'll be keeping my eye out for him the entire time.
Ryan Hunter-Reay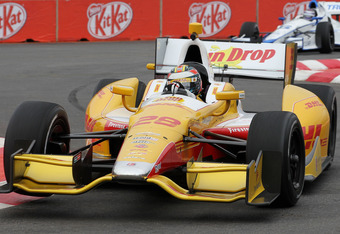 Nick Laham/Getty Images
Hunter-Reay came oh so close to winning the 2012 Sao Paulo Indy 300, but Power would not be overcome. 
The 31-year-old enters this upcoming Indy 500 having finished in the top five twice already this year, while finishing in the top 10 once more. 
He enters this race with a front-row start, but he isn't taking anything for granted after a late entry forced him to start dead-last in the 2011 race.
He talked to reporters, via the Boston Herald, "It's been a great week. We had a legitimate shot for the pole at Indy. That's fun. It's been a complete turnaround. I can't thank my team enough for giving me such a fast car."