Washington Redskins: 10 Players Who Need to Prove Themselves This Offseason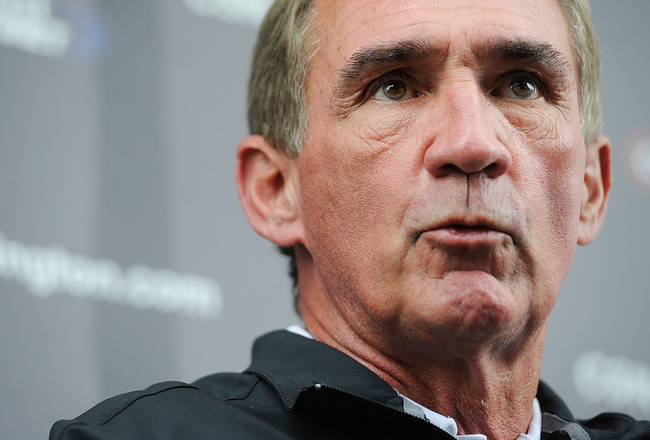 Patrick McDermott/Getty Images
It's hard to imagine that this time last year, there wasn't a whole lot going on in the NFL. The lockout was postponing any team workouts and it gave some people, frankly, too much free time.
Ahem, "...all the free time," right Fred Davis?
But thankfully, this offseason will be different. With a host of new players on the roster, this is the time of year when the foundation for the upcoming season is laid.
There are plenty of story lines for the 'Skins before the calendar even changes to June. One thing is for certain, nothing should be taken for granted this offseason.
Competition for spots on the roster is in an abundance at Redskins Park. The outline for the 2012 depth chart is starting to come together, but a lot can change before the opening game against the New Orleans Saints.
Each summer there are countless NFL players who have to prove themselves to their team in order to play in the upcoming season. There are very few NFL players who could skip through OTAs and workouts while still maintaining a starting spot with their organization and significantly contributing.
For the Redskins, there are 10 players who need to step up this offseason and prove themselves going into training camp. Absent from this list will be the likes of Pierre Garcon, Robert Griffin III and others whose playing time and spot on the depth chart will not be determined this offseason. At this point in his career, what does London Fletcher really have to prove in June?
I'm going to take a closer look at those whose spot on the depth chart is directly impacted by their performance during this time of year.
Brandon Meriweather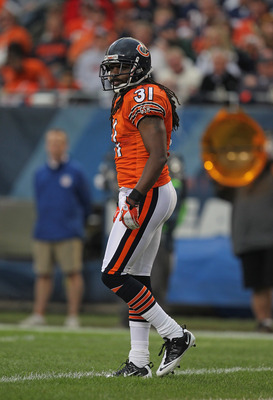 Jonathan Daniel/Getty Images
This first Redskins player on this list is the off-the-field exception to this article. Meriweather officially became a Redskin on March 15th and just over a month later was arrested for a DUI. So far all he's proven in DC is that he can get himself into trouble.
Meriweather is a great talent on the field and will surely strengthen the 'Skins back-end. But now with his third team in his career, Meriweather needs to prove he's got his head squarely on his shoulders.
Heading into training camp this fall, the two safety positions will be among the most highly competitive roster battles for Washington. Meriweather doesn't have a batch of rookies behind him looking to learn from him in hopes of one day getting a chance at starting in the NFL. Every safety on the roster—Reed Doughty, DeJon Gomes, Tanard Jackson, Madieu Williams—all have starting experience in the league.
Meriweather has the biggest contract of any the safety acquisitions this offseason. But he shouldn't rest on that fact alone to guarantee himself a starting spot. He needs to clean up his act, fly right and work hard for the rest of the offseason.
Tim Hightower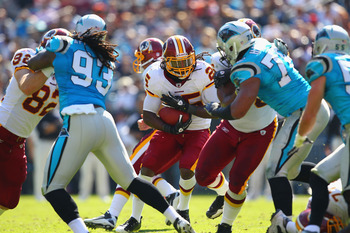 Dilip Vishwanat/Getty Images
As I discussed in an earlier article, I don't believe the Redskins are going to have a true No. 1 back in the 2012 season. However, it is up to Tim Hightower whether or not that is because the team has two viable options at starter or three.
Hightower is coming off of a torn ACL suffered last October and should be almost 100 percent at the start of training camp this summer. If in Hightower's mind he's the starter, then he needs to go out and prove it. Roy Helu Jr. and Evan Royster are not going to sit idly by and let Hightower take all of the first team snaps.
The former Richmond Spider certainly has a different skill set from Helu Jr. and Royster along with three more years of experience. But if he cannot prove that he's healthy enough to take starting reps, he could easily start the season as the designated third down RB.
If Hightower performs well enough this offseason, he could make a strong argument to Mike Shanahan that he is the clear No. 1 running back and that no committee is needed. By the same token, if this were to happen, I'd anticipate Helu Jr. and Royster to put up a great fight in training camp.
Jammal Brown and Chris Chester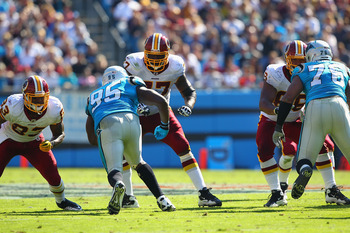 Dilip Vishwanat/Getty Images
Both Jammal Brown and Chris Chester look to be starting on the right side of the offensive line come Week 1. However, each player faces a unique battle to ensure their starting spot.
For Jammal Brown the same question remains that has followed him since joining the Redskins, can he stay healthy?
Mike Shanahan has spoken highly of Brown and his recovery this offseason but we won't really know until the first preseason game what kind of shape he's in. The grueling schedule and heat that makes training camps notorious across the NFL forces its players to become keenly aware of their conditioning.
If Brown goes down for any amount of time this offseason and cannot take his first team snaps, there are four other tackles on the roster that would be eager to fight for the starting right tackle spot. Another major injury for Jammal Brown this offseason could make this his last year in Washington.
With Chris Chester, the challenge this summer will be learning the offense as well as he should have last summer. The lockout hindered Chester's growth and development in the Shanahan offense. Throughout 2011, Chester looked uncomfortable at right guard and unsure of himself.
The zone blocking scheme isn't something any NFL lineman can pickup right away. After signing his free-agency contract with the 'Skins last year, Chester could have spent all offseason ingraining himself in the scheme. However, he faced a training camp crash course that plagued his performance in the regular season.
The organization has some young talent behind Chester in Josh LeRibeus, Maurice Hurt and Adam Gettis. Chester needs to prove he is the best right guard on the roster for the Shanahan offense.
Perry Riley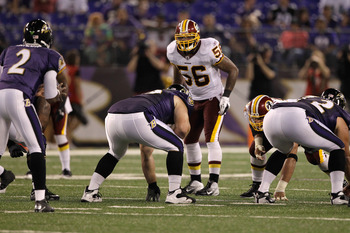 Rob Carr/Getty Images
Riley made a midseason ascension into the starting ILB spot opposite London Fletcher late last year after Rocky McIntosh fell out of favor with the coaching staff. Riley took the opportunity head-on and showed tremendous strides in his development. He showed great range in his sophomore year in the NFL and proved that he could contribute as a starter.
However, with the offseason acquisitions the team has made to strengthen its linebacking corps, Riley is not guaranteed a starting spot. At this point in the year, he has a leg up on the competition, but Jonathan Goff and Keenan Robinson will undoubtedly push Riley for that starting spot.
The former LSU Tiger cannot afford to take a step back in his development into a starting ILB. Goff has already proven that he can start and contribute effectively at the NFL level. Robinson is a tremendous athlete whose biggest downside right now is having to transition to a new position. Riley's experience in the 3-4 and knowledge of his assignments within the system should keep him starting opposite London Fletcher.
But if Riley takes a step back either physically or mentally, the team may be willing to give Goff some starting reps. Perry Riley is poised to have a breakout year if he proves himself this offseason.
Kevin Barnes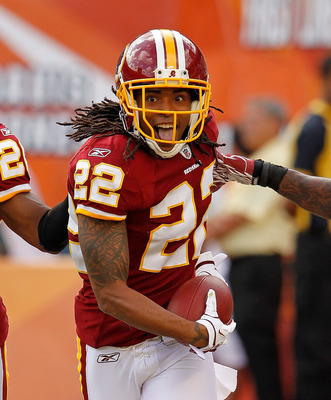 Mike Ehrmann/Getty Images
Is the writing on the wall yet for Kevin Barnes? The fourth year pro out of the University of Maryland was one of the top defensive back prospects coming out of the 2009 draft. But to this point in his career, he has yet to move up past the nickel spot on the depth chart.
Barnes has showed some versatility by playing safety when the team has been desperately short on bodies. However, this offseason will prove to be a critical one for his career.
Mike Shanahan and Jim Haslett were clearly not happy with the play of the 'Skins defensive backfield in 2011 and have spent this offseason trying to upgrade the roster accordingly. The team has brought in five new players to compete at the corner back position that should leave Barnes with a significant level of uncertainty heading into training camp.
Cedric Griffin, Chase Minnifield, Richard Crawford, Jordan Bernstine and Leigh Torrence could all potentially be competing to take Barnes' spot. Bernstine is being projected by many to compete for a spot at safety but with the already crowded field of veterans competing there, I'd anticipate him having a better shot at potentially making one of the last two CB spots.
Either way you look at it, Barnes has heavy competition this offseason, and if he doesn't prove himself, he could be looking for a new team by Week 1.
Any Receiver Not Named Garcon, Moss, Hankerson or Morgan
Scott Halleran/Getty Images
Including the UDFAs, there are currently 12 wide receivers competing at OTAs this offseason for one of the available positions on the 'Skins offensive depth chart.
The troubling part is that potentially eight players are battling for one to two, possibly three but that's stretching, spots. Garcon, Moss, Hankerson and Morgan are all making the team and more likely than not filling out the depth chart in that order one through four.
Depending on how many WRs the team wants to carry, they could be looking to go into Week 1 with five, six or seven wide outs. This means that returning players Anthony Armstrong, Brandon Banks, Terrance Austin and Aldrick Robinson have their work cut out for them.
My best guess at this point in the year, the team goes with one of the four returning WRs and keeps one of the UDFAs. Brandon Banks has an uphill battle proving that he can be counted on as a solid receiving option on offense and not just a kick returner. Anthony Armstrong needs to get out of the dog house and have the coaching staff fall back in love with him. 2011 was a disaster for Armstrong.
Terrance Austin may get to see a significant increase in playing time during camp and the preseason to see what sort of strides he has made in his third season in the league. Aldrick Robinson has probably the biggest hill to climb. A poor 2011 preseason held Robinson back from seeing any significant playing time in the regular season, and if it carries over into this preseason, he will not make the team.
Feel free to include who you think has the most to prove this offseason for the Washington Redskins below in the comments.
For more by Scott and his cohorts, check out The Recap.
Keep Reading

Washington Redskins: Like this team?