MLB Trade Speculation: 10 Players Destined to Be Dealt at 2012 Trade Deadline
Jim McIsaac/Getty Images

Even though we have yet to reach June, trade speculation has already begun to run rampant in the baseball world, as the buyers and sellers become more and more clear with each passing day and contenders' needs also become more obvious.
We are still a couple months from trade season and the July 31 trade deadline, and a lot can change between now and then, but there are a handful of players who look destined to be changing uniforms come August.
Whether they are in a contract year, have some decent value for a rebuilding team, or have been replaced by a younger player, these 10 players are as close to locks as anyone to be moved this summer.
Begin Slideshow

»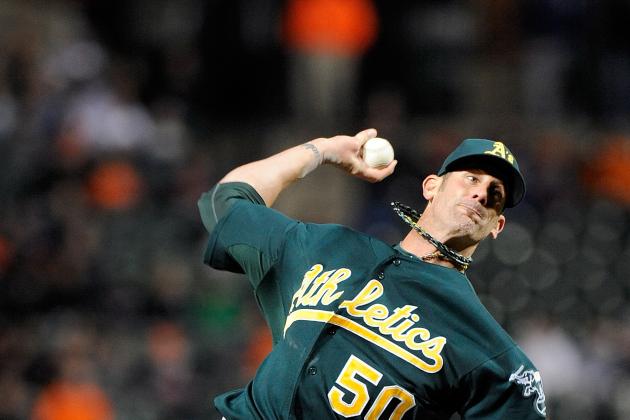 Greg Fiume/Getty Images

Grant Balfour is in the second season of a two-year, $8.1 million deal he signed upon leaving the Rays following the 2010 season.
He opened the year as the A's closer but he has since returned to a setup role after converting 7-of-9 save chances in the early going.
Despite a 4.09 ERA so far in 2012, he has a track record as one of the better setup men in the game and the added bonus of plenty postseason experience.
Over 15 postseason innings, he has a 3.60 ERA. And while he may not fetch Oakland much in return, there will undoubtedly be several teams happy to add a proven veteran to their 'pen for the stretch.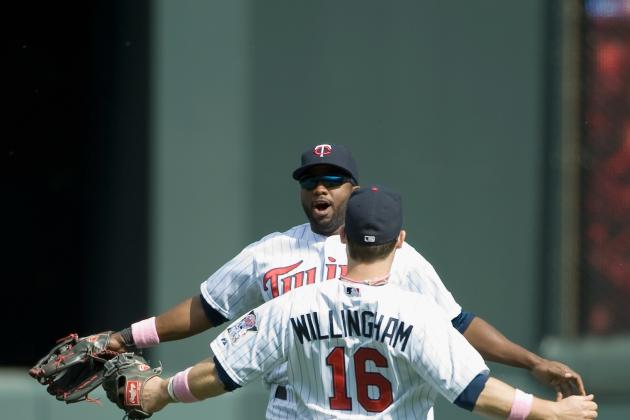 Hannah Foslien/Getty Images

Signed to a team-friendly five-year, $16.5 million deal that runs through 2014, the Twins by no means need to trade Span. But the Twins may be wise to do so, as they are among the worst teams in all of baseball and have a number of needs across the roster.
He missed significant time last season, but in the previous two years he proved capable of hitting for a high average atop the lineup, with 20-plus steal speed on the basepaths.
Span represents one of the few players on the team who could net something worthwhile in a deal, and at 28 years old, he will be past his prime by the time the Twins are ready to contend again.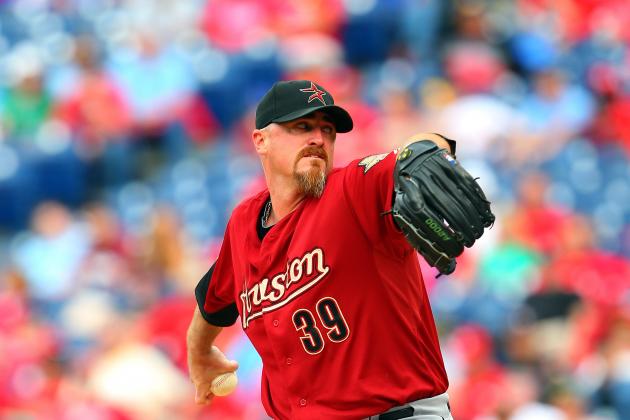 Rich Schultz/Getty Images

After an up-and-down career in Philadelphia, Brett Myers received little interest on the free-agent market prior to the 2010 season.
Eventually, the Astros took a chance on him with a one-year, $3.1 million contract and he rewarded their faith with a 14-8, 3.14 ERA season that saw him finish 10th in the NL Cy Young vote.
That earned him a two-year, $23 million extension, but after he struggled to a 4.46 ERA and 7-14 record in 2011, the team moved him to closer entering this year.
He's responded with terrific numbers, converting 11-of-12 save chances and posting a 1.69 ERA and 0.813 WHIP. If he can keep it up, he'll be among the most coveted arms on the market at the deadline, and the Astros won't think twice about moving him.
Christian Petersen/Getty Images

The Padres had a busy offseason, and one of their bigger moves was sending a pair of mid-level pitching prospects to the White Sox for slugging outfielder Carlos Quentin.
Since joining the White Sox in 2008, Quentin has launched 107 home runs but has had trouble staying on the field, appearing in over 130 games only twice.
Injuries have again reared their ugly heads this year, as he has yet to take the field for the Padres following knee surgery.
He has started his rehab, and if he comes back and produces right off the bat, the Padres could look to cut their losses and deal him quickly, as the market is expected to be somewhat short on impact bats, and there would likely be a few teams willing to take a chance on him.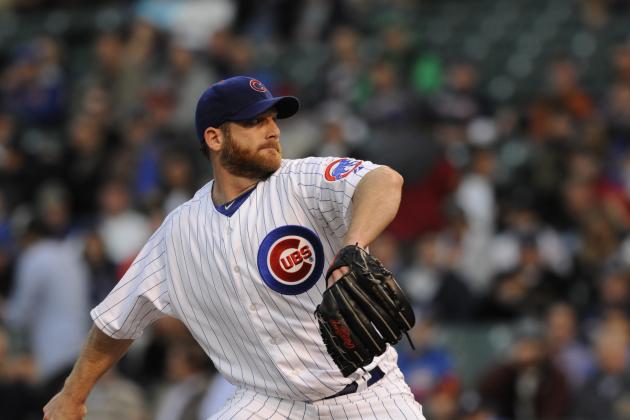 David Banks/Getty Images

Dempster has been a horse for the Cubs over the past four seasons, topping the 200-inning mark each year and posting a 53-41 record with a 3.81 ERA.
Despite an 0-2 record, he's off to a nice start this year with a 2.28 ERA through his first seven starts and the lowest BB/9 rate of his career at 2.7 BB/9.
More so than anyone else on this list, Dempster looks to be a sure thing to be dealt, as he is in the final year of his contract.
His $14 million salary isn't a deal-breaker, especially if he keeps pitching the way he has. And after getting some interest in him but failing to make a move last year, expect Chicago to pull the trigger and deal him this time around.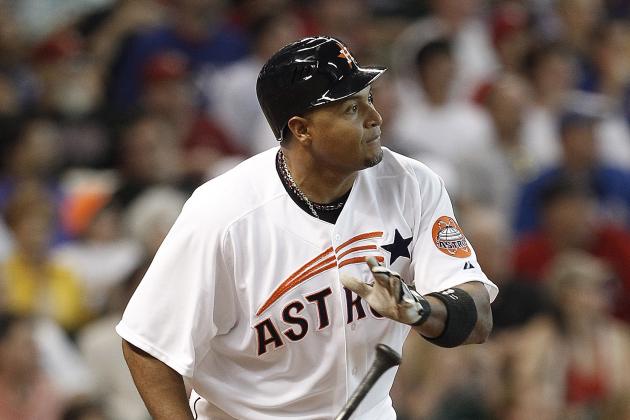 Bob Levey/Getty Images

In the final year of his six-year, $100 million deal, Lee has no doubt lost a step. But he is still a solid run-producer and is off to a nice start, batting .306 with four home runs and 21 RBI.
The Astros have been a nice story so far, but they are still below .500 and will likely be long out of things come July. And with few veteran pieces left to move, expect Lee to be gone.
He's due $18.5 million this season and can veto trades to 14 different teams, so there are some limitations for Houston.
However, the team was reportedly willing to eat half of his salary this winter, as they were entertaining offers for Lee. And as the deadline approaches, they may be even more willing to do whatever it takes to move him and save at least some money in the process.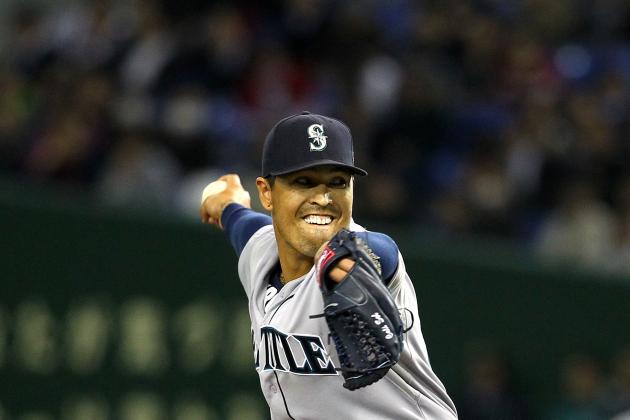 Koji Watanabe/Getty Images

Brandon League joined the Mariners prior to the 2010 season, coming over in a trade that sent Brandon Morrow to the Blue Jays. While Morrow has been terrific this season, League has not been too bad himself in Seattle.
An All-Star last year, League has converted 46-of-54 saves since taking over the closer's role, and every contender is looking for a quality reliever at the deadline.
He'll be a free agent at season's end, and seeing as the Mariners have more than a few glaring needs, it only makes sense that they would move one of their most tradeable pieces at the deadline before they lose him for nothing.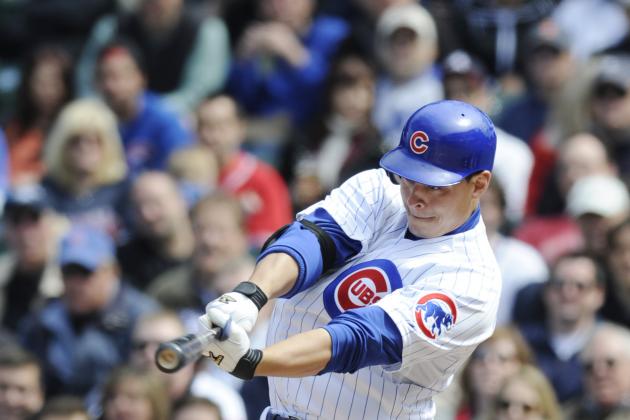 David Banks/Getty Images

A minor league journeyman, Bryan LaHair earned a shot at a big league job this season by hitting .331 with 38 home runs and 109 RBI last year at Triple-A.
Expected only to keep first base warm until top prospect Anthony Rizzo was ready to fill the position, LaHair has instead left the Cubs with a tough decision.
Through his first 129 at-bats, the 29-year-old has hit .310 with 10 home runs and 21 RBI to go along with a 1.020 OPS, as he has been among the best hitters in all of MLB.
That leaves the rebuilding Cubs with three options. They can play out the season with LaHair and leave Rizzo in the minors, they can move LaHair to the outfield upon Rizzo's arrival, or they can trade LaHair while his value is at its peak.
It won't be a popular move in Chicago, but expect the Cubs to choose the latter. LaHair has been a terrific story so far, but it is far more likely he will regress soon, as opposed to being the next late-blooming superstar a la Jose Bautista.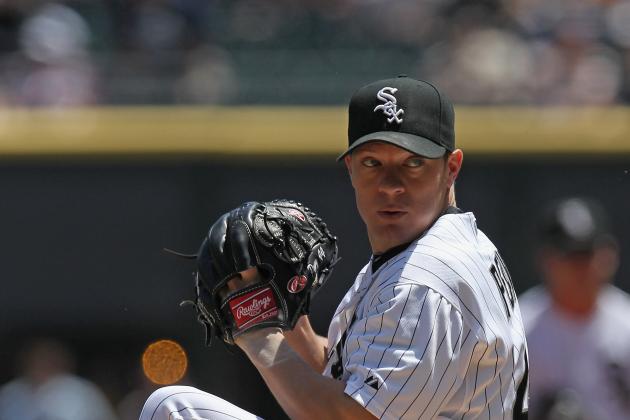 Jonathan Daniel/Getty Images

After injuries limited him to just 36 starts over the past two seasons and a disappointing 4.77 ERA when on the hill, Peavy has returned to his Cy Young form for the White Sox.
Through his first nine starts, the 31-year-old right-hander has gone 5-1 with a 2.39 ERA and a minuscule 0.906 WHIP. This is the best he's pitched since 2008, and his stock may never be higher.
The White Sox have enjoyed mild success this season in what was expected to be a rebuilding year, but come July they'll likely be out of the race and looking to move players.
Peavy makes $17 million this season and has a $4 million buyout on a $22 million option next season, but if he keeps pitching the way he has been, contenders won't hesitate to pay that price for a chance to add his arm to their rotation for the stretch run.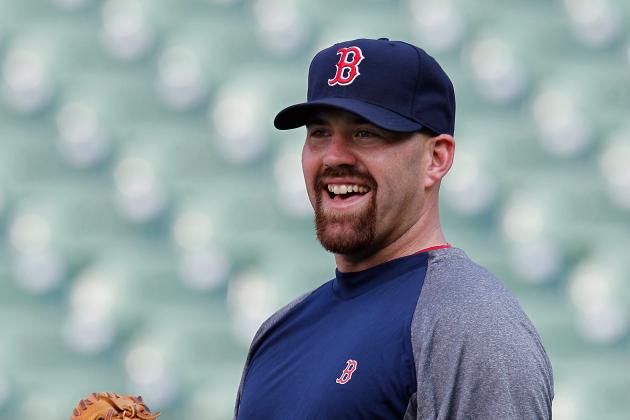 Rob Carr/Getty Images

Youkilis picked a bad time to hit the disabled list. Top third base prospect Will Middlebrooks was already knocking on the door with his impressive play, and Youkilis' injury gave him a chance to show what he could do.
So far in 20 games, the 23-year-old has hit .296 with five home runs and 17 RBI, and he looks to have third base locked up for the organization.
With Youkilis back, manager Bobby Valentine has gotten creative, moving Adrian Gonzalez to right field and putting Youkilis on first base to get as many bats as he can in the lineup.
However, once Carl Crawford returns, and with Daniel Nava and Scott Podsednik both hitting well as reserve outfielders, it looks more and more like Youkilis is the odd man out.
Third base is a thin position league-wide, and there would no doubt be a number of teams interested in the free agent to-be. In fact, the Phillies and Indians reportedly scouted him during his minor league rehab. At this point, it seems like when, not if, Youkilis will be moved.