Jim Brown Needs to Shut Up and Leave the Cleveland Browns Alone
May 25, 2012

Al Bello/Getty Images
If Jim Brown wants to be a part of the Cleveland Browns franchise, he needs to shut up and leave coaches, players and management alone. If the infamous loudmouth can't do that, the franchise needs to do everything it can to distance itself from this thorn in its flesh.
Recently, Brown complained to ESPN Cleveland about the direction of the team, especially the selection of Alabama running back Trent Richardson in the first round of the 2012 NFL draft.
"I think the kid is a good working back, and if you've got everything else around him he can play his role, but when it comes to outstanding, I don't see anything outstanding about him. It's not said in a cruel manner. He's very efficient, and that's what you want."
Quite frankly, that is nonsense, and even if it were true, Brown should not be running his mouth to Tony Grossi to make those feelings known.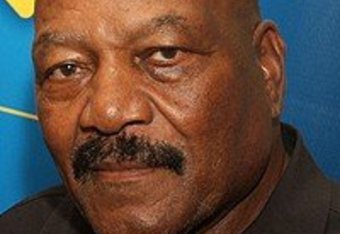 NFL Network draft analyst, Mike Mayock, called Richardson the best running back prospect since Adrian Peterson. NFL Films' Greg Cosell, said that Richardson was the best prospect of the entire 2012 draft class. National Football Post's Wes Bunting said: "He's the kind of back you can ride like a rented mule from day one and should become one of the NFL's top runners early on."
Those three men, without a doubt, know infinitely more about draft prospects and have watched far more Trent Richardson film than Brown could ever boast. They are experts about this matter, Brown (as great of a player as he was) is not. 
It's ridiculous that Brown doesn't get this. Jay Glazer does:
I respect the hell out of Jim Brown as a player but he & Joe Namath talk more shit about their teams than any explayer I've seen. Let it go!

— Jay Glazer (@JayGlazer) May 25, 2012
Brown belongs to a subset of elite players that have no idea what elite talent in their sport looks like. Michael Jordan, Isaiah Thomas and Kevin McHale have more NBA awards between them than we have room to list, but none of them could general manage a team out of a paper bag. Matt Millen was a two-time All Pro but oversaw some of the worst teams in NFL history. Wayne Gretzky was "The Great One" as a player, but couldn't make the playoffs as a coach.
Playing does not automatically make someone an expert. The things Brown did on a football field cannot be readily qualified by talent evaluators and can hardly be coached. That rarity made Brown elite and means he doesn't get to have carte blanche to say whatever he wants about the game he walked away from.
Isn't this just Jim Brown being Jim Brown? Well, of course it is, but the franchise doesn't have to take it. Disavow him as an organization, saying, "we love Jim Brown as a player, but we couldn't care less about his opinion as a talent evaluator." Make him persona non grata at team events and around the player facility. Make sure he knows that, even in retirement, his bluster has consequences.
Barry Sanders is often compared to Brown on the football field and fans will fight to the Internet-flame-war-induced death about who was better. Yet, years later, it is clear that Sanders was better in his post-career.
For years, Millen ran the Lions into the ground and Sanders kept his mouth shut. Since he couldn't say anything nice, he didn't say anything at all. Now that the team is having success they haven't since his retirement, he's back.
Would you love every player to support the team no matter what? Sure! But in absence of that, keeping your mouth shut is a great alternative to consistently being the stereotypical blowhard we all know you to be.
Michael Schottey is an NFL Associate Editor for Bleacher Report and an award-winning member of the Pro Football Writers of America. He has professionally covered both the Minnesota Vikings and the Detroit Lions, as well as NFL events like the scouting combine and the Senior Bowl.