MLB Trade Speculation: Why the Red Sox Are Better off Without Zack Greinke
May 24, 2012

Scott Boehm/Getty Images
Can you feel the winds of trade talks swirling? The weather is gradually heating up, therefore everyone begins to play general manager.
I do it. You do it. We all do it.
It's fun and it affords us all the opportunity to play general manager for a few fleeting moments and express our desires for particular players we covet, and ship off players who have lost favor in our eyes.
This article is about neither the former or the latter.
I want to take a different approach and look at a name that you will see thrown around in Red Sox Nation from now until, well, he signs somewhere. That name is Zack Greinke.
For what it's worth, the 28-year-old righty has an All-Star appearance and Cy Young award to his credit. That cannot be taken away from him.
There are obvious questions that I share with many other baseball experts when it comes to Greinke and his ability to handle pitching in a major market like Boston.
I am not a doctor or a psychiatrist so I won't even pretend to fully understand the question of his documented anxiety issues. What I can tell you, anxiety issues placed in a pressure cooker like Boston does not make for a very wise combination.
Looking back on the career of Greinke, all too often fans will hone in on his American League Cy Young award or the fact that he's won double-digit games four times in his nine year career. He owns a 81-74 career record.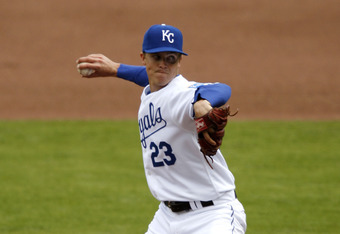 Dilip Vishwanat/Getty Images
Think about that for a second. Double digit wins just four times in his nine year career. That equates to a .523 winning percentage.
In contrast, other pitchers that you would consider an ace might include CC Sabathia who owns a career .649 winning percentage. That said, he's been even better in the AL East, posting a .719 percentage.
Oh, and the time he spent in Milwaukee, he posted an .846 winning percentage with an 11-2 record.
Sure, Greinke has hunkered down in the National League, but that is what troubles me. He went 60-67 in the AL for the Royals. Trust me, I get it, he pitched for them during some really down years.
However, an ace elevates his team and becomes a stopper during trying times. What's more, his numbers against AL East teams is historically poor.
In his career facing Baltimore, he posts a 2-2 record in nine games and seven starts. He's given up 47 hits for an ERA of 5.62 with a 1.250 WHIP, 10 of those hits left the ballpark.
When facing the New York Yankees, he is 2-4 in 11 games and eight starts with a 6.45 ERA and 1.657 WHIP. The Yankees always seem to break him down as that WHIP and ERA are the worst Greinke has posted against any team in his career. The Bombers racked up 51 hits and seven home runs against him.
Tampa Bay also has his number as Greinke is 2-4 against the Rays. He owns a career 3.32 ERA and 1.235 WHIP in 12 games and nine starts. Rays batters have 65 hits and six home runs off Greinke. 
Last, but not least, are the Toronto Blue Jays. Greinke is 3-4 with a 4.45 ERA and 1.176 WHIP up north. The Jay birds have 57 hits and five homers off of the righty in 11 games and nine starts.
So to recap, Greinke has faced American League opponents 43 times, 33 of which were starts. In which time he has averaged a 4.96 ERA and allowed 220 hits and 28 home runs. 
These are not flattering statistics.
What's more, facing some of the tougher teams in the NL, he doesn't own particularly impressive statistics either. For example, his ERA against Atlanta is 5.73, 5.06 against the Giants and 4.88 against the Rockies to name a few. True, the Giants and Rockies are both teams that are struggling this season, but over the past few years have been solid ball clubs that are tough on opponents.
Personally, I'm not sold on Greinke at all.
Sure, he's a fine pitcher, however, he's a fine National League pitcher. The AL had him, chewed him up and spit him out. Perhaps that's a bit harsh, but the sub .500 winning percentage in the American League is not flattering.
The AL East is a monster, especially this season. If fans get aggravated with the John Lackey's and Josh Beckett's of the world, imagine how they'd react to someone like Greinke, who presumably would crack under the pressure.
Thank you, but no.