NBA Rumors: New York Knicks Won't Suffer Without Steve Nash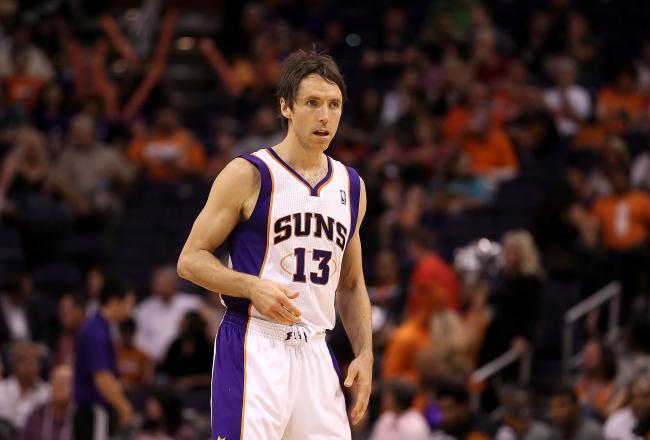 Christian Petersen/Getty Images
New York Knicks fans can give up on the idea that Steve Nash will be signing with the team this offseason. ESPN's Jared Zwerling reports:
@MokeHamilton @hoopscritic Hearing that Nash won't want to come to NY. We can likely kiss that notion goodbye.

— Jared Zwerling (@JaredZwerling) May 24, 2012
So what does this mean for the Knicks? Absolutely nothing.
We've heard this rumor for a while now, but it's not surprising that it never came to fruition. Nash isn't a selfish guy, but there comes a time in every player's career when he begins to feel this sense of urgency to win a championship because he is running out of time. Nash to the Knicks doesn't make much sense for Nash, as he could find another club who is in better shape to win a championship.
That's not to say that the Knicks aren't in position to contend for a title in the near future, but they aren't as good as Nash can get. Not only that, but Mike Woodson's offense doesn't put nearly as much emphasis on the point guard as Mike D'Antoni's scheme did. Nash is only effective when he is the guy in the offense, and we all know who is the guy in the New York offense (looking at you Carmelo Anthony).
The Knicks don't need Nash and they won't suffer without his services. Not because he isn't a star-caliber player, but because the team already has their point guard in a highly talented 24-year-old breakout star named Jeremy Shu-How Lin. However, the possibility of re-signing Lin heavily relies on the Knicks winning the "Bird Rights" case that is to be held in June.
"Bird Rights" are exceptions to the CBA that give teams the ability to go over the salary cap to re-sign their own players who have become free agents. The issue in the case of Lin is that he was picked up through waivers. The NBPA believes that waived players should retain their "Bird Rights," but the league is arguing that the player's clock should be "reset" once he's acquired through waivers.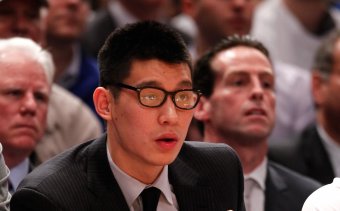 Jeff Zelevansky/Getty Images
I find it hard to believe that the league will win this case.
Lin electrified Madison Square Garden when he began to get starter's minutes under Mike D'Antoni, then broke New York's heart when he was shut down for the remainder of the season on March 24. But I believe that he'll be back and better than he was before his injury, and will make Knicks fans forget all about Nash's spurning of the organization.
If I told you that the Knicks weren't able to sign a 38-year-old point guard who's never made it to the NBA Finals, would you be worrying about the 2013 season? No, you wouldn't be. You wouldn't give it a second thought. But because it's Nash, people are putting more stock into the matter.
Nash is a great player, there's no doubt about that, but he's only going to be able to play at a high level for another year or two, and after that he'll fade from memory. And while he could have been a great mentor to Lin, the Knicks don't need both players. In fact, they simply couldn't have both. It wouldn't work out.
Lin drew many comparisons to Nash when he put together his improbable run of dominance during the regular season, and there's no reason to believe that he won't turn out to be that type of player. He has the speed, the intelligence and the willingness to put his body on the line for the sake of the team. He's not a pass-first guard like Nash is, but over time he will be able to adjust his game and better his ability to find his open teammates.
We've already seen that he is capable of running the pick-and-roll with Tyson Chandler. His pick-and-roll issues with Amar'e Stoudemire are not his fault, as STAT found many ways to mess up on the receiving end of Lin's passes. Remember that Lin had essentially no time to work with Stoudemire during the regular season, and their chemistry suffered because of it.
Once the team goes through an entire offseason, one that isn't ruined by a lockout, they'll have a much easier time of running the pick-and-roll in 2013.
The Knicks should be able to re-sign Lin, as they have to ability to match the highest bidder because he is an restricted free agent. He could wind up going the same thing for the Knicks that Nash has done for the Phoenix Suns.
So Knicks fans, I say to you, do not fret that Nash will not be playing in Madison Square Garden next season. Instead, look to Lin, the missing piece to this Knicks team who, upon his return, will turn this team from a contender to a force in the Eastern Conference for years to come.
This article is
What is the duplicate article?
Why is this article offensive?
Where is this article plagiarized from?
Why is this article poorly edited?

New York Knicks: Like this team?