Oakland Athletics Need Yoenis Cespedes Back ASAP
May 25, 2012

Thearon W. Henderson/Getty Images
The lack of offense in Wednesday afternoon's tilt between the Oakland Athletics and the Los Angeles Angels made the game one part boring and one part pathetic, turning some A's fans into apathetic spectators. One day removed from being one-hit by C.J. Wilson and the Angels, the Athletics mustered up a whopping three base hits on Wednesday's matinee, scoring one run along the way. During the three-game series, the A's scored three total runs and collected 10 hits.
How excitizzzzzzz…
The Athletics' offensive woes are not a brand-new storyline. Oakland currently ranks last in the American League in runs scored, hits, extra-base hits, batting average, on-base percentage, slugging percentage,… Looking at the team's statistics, there are many players seemingly batting their weights—so many of them are staring up at the Mendoza line. Nine players with at least 13 at-bats—seven players with at least 30 at-bats—are sporting batting averages below .200, led by second-year second baseman Jemile Weeks' .199 clip. We knew the A's were going to be a bad offensive team, but this bad?
Worse is how Oakland has performed with center fielder Yoenis Cespedes out of the lineup. Since the rookie injured his hand in batting practice in early May, the A's have found it difficult to produce consistently at the plate. In the 16 games he has missed since May 6th, the Athletics are batting .203 and scored 56 runs. During that span, they have been one-hit twice, two-hit once and three-hit once; they have been shut out three times and scored one run three other times.
Horrible.
Is there a direct correlation between the A's offensive struggles and the absence of their rookie outfielder? Or is it just a Cespedes coincidence?
No.
Though Cespedes wasn't exactly swinging a bat of fire before he went down (.245 batting average), he was a productive force in the cleanup spot, driving in 21 runs in only 106 at-bats—one RBI every five at-bats. (By contrast, New York's Mark Teixeira has 21 RBI in 155 at-bats.) Despite being a rookie, Cespedes had proved to be one of Oakland's better hitters. Five weeks into his MLB career, he had five home runs, four stolen bases and was batting noticeably higher with runners on base (.267 vs. .228). Moreover, Cespedes brought excitement and kinetic energy to an otherwise inert lineup.
Yes, other A's players have seen time on the disabled list as well, notably Coco Crisp and Brandon Inge. However, Cespedes was the engine of the Athletics' not-so-high-powered offense, driving in runs and getting things going with his power and speed. Now, in Cespedes' stead, A's manager Bob Melvin has had to throw out a number of fill-in hitters in the fourth spot, including outfielder Seth Smith and his soft .367 slugging percentage. It has been a dreadful display to see the Athletics try to conjure up enough hits in a row to put up a crooked number in any inning.
It becomes grotesque watching a bunch of hitters with .175 batting averages fight so hard to get on base. One bright spot has been right fielder Josh Reddick, who now leads the A's with 11 home runs and 24 runs batted in. But think of how much better he'd have been the past couple of weeks with Cespedes batting behind him? With legitimate protection, Reddick's numbers improve and Cespedes is reaping the rewards of Reddick getting on base ahead of him.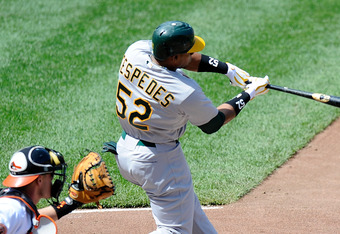 Greg Fiume/Getty Images
The A's need Cespedes back—as soon as possible. Like right now. Now. CSNBayArea.com notes that Cespedes is not quite ready to return to action—at least not mechanically. Casey Pratt reports that there is no timetable, but that Cespedes will likely be out another week.
This is not good news for the A's. In the next seven games, they'll probably be shut out a couple more times—they lead the league in number of shutouts thrown against them. And it's not good for the Athletics fan base, who were incredibly excited to have a dynamic player to root for.
For now, A's fans will anxiously await Cespedes' to return, with "Get Well Soon" balloons in tow. Meanwhile, they'll have to decide if they even want to watch a team of "hitters" who can't hit. It's like following a soccer match. Except less exciting and with less offense.
So sad. So boring.
Follow me on Twitter: @nathanieljue