Cleveland Browns: What Can Team Expect from Mohamed Massaquoi in 2012?
May 25, 2012

Jason Miller/Getty Images
The Cleveland Browns presumably have a No. 1 receiver in Greg Little heading into the 2012 NFL season, but one has to wonder if Mohamed Massaquoi can be an effective second option in the passing game.
Massaquoi was selected with the No. 50 overall pick by the Browns in the 2009 NFL draft. In three seasons, he has compiled 1,491 receiving yards and only three touchdowns in a total of 45 games.
For a second-round selection, Massaquoi has been a disappointment thus far for Cleveland. Massaquoi has solid size for an NFL receiver standing at 6'2" and 210 lbs but has struggled with injuries throughout his career to this point.
Massaquoi is now entering the final year of his rookie contract and will be an unrestricted free agent after the 2012 season. If he can't have a breakthrough season this year, he'll have a hard time finding any work on the open market.
Browns' President Mike Holmgren reportedly singled out Massaquoi as a key player heading into next season.
This makes sense because Cleveland failed to add a high-impact receiver via either free agency or the draft this offseason. The team did add Travis Benjamin in the fourth round, but he appears to be a depth option at this point.
Much of Massaquoi's production this upcoming season could hinge on the current quarterback battle between Colt McCoy and rookie Brandon Weeden.
McCoy threw the majority of the passes to Massaquoi last year, and he had his worst statistical season to date with only 31 catches for 384 yards and two touchdowns. It's possible that a change at the quarterback position could greatly benefit Massaquoi.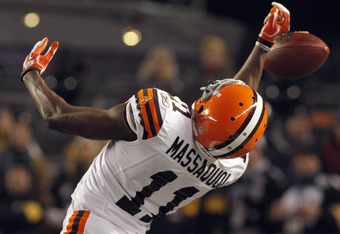 Justin K. Aller/Getty Images
It helps Massaquoi that Little seems to have been identified as the No. 1 receiver. As the No. 2, Massaquoi should see less coverage thrown his way, allowing him to break open more often.
The addition of the No. 3 overall pick in the 2012 NFL draft, running back Trent Richardson, could also allow Massaquoi to have a breakout season. Last year, the Browns were absolutely no threat at all on the ground, averaging only 95 yards per game rushing.
This lack of production from the running game allowed opposing defenses to cheat in coverages or send extra pressure at the quarterback. Richardson is an elite running back prospect that defenses will actually have to account for this season.
As of now, Massaquoi appears to be in contention with Benjamin and Josh Cribbs for the No. 2 receiver spot on the depth chart. Massaquoi has the most experience in the receiving corps outside of Cribbs, so he has a real shot to be the second receiver on the depth chart behind Little.
If Massaquoi can stay healthy, he could have a breakout season for the Browns as a result of the offseason acquisitions Cleveland has made. If he fails to produce, it will be his last season in a Browns uniform.