NHL Playoffs 2012: 5 Things the New York Rangers Must Change to Win Game 6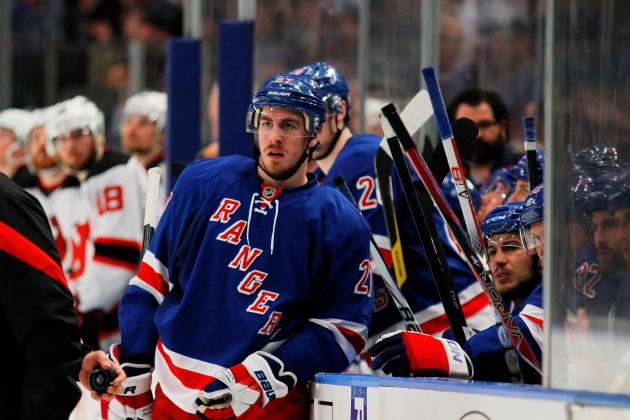 Bruce Bennett/Getty Images

The hockey world was shocked Wednesday night as the New York Rangers lost 5-3 to the New Jersey Devils to fall within one game of elimination.
The top-seeded Rangers, who have twice survived seven-game series to reach this point, now find themselves teetering on the edge of the cliff yet again.
Veteran goalie Henrik Lundqvist has allowed has seven goals in his last two games, star scorers Brad Richards and Marian Gaborik have scored just one goal in the series and the Devils have simply outworked the Blueshirts to flip a 2-1 deficit into a 3-2 lead.
It's not looking good in the Big Apple.
But the Rangers have dealt with this before.
The surprising eighth-seeded Ottawa Senators had the Rangers on the ropes on the ropes in Round One, only to watch New York rally back to win Games 6 and 7. The scrappy Washington Capitals tied their second-round series three times, too, before Lundqvist & Co. at last shook them off their tails.
The Blueshirts have a frighteningly uphill battle ahead of them in Friday night's Game 6. However, they have the guns to turn the tide of this series. Here are five critical things New York must change to stay alive into the all-decisive weekend.
Begin Slideshow

»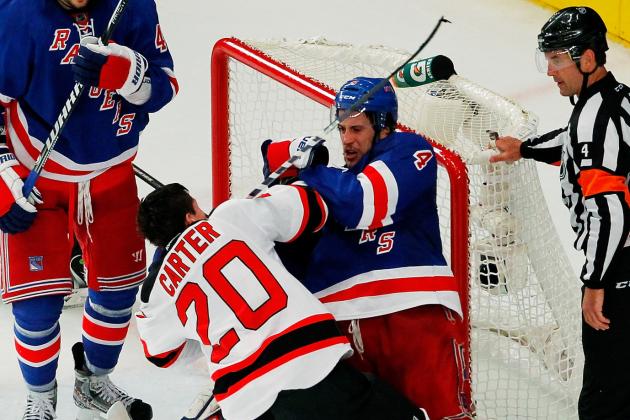 Paul Bereswill/Getty Images

The Devils' five-goal explosion in Game 5 can largely be blamed on 21-year-old Michael Del Zotto, who was thoroughly embarrassed throughout his 20 minutes and 13 seconds of ice time.
The staple blueliner was a minus-three in the game, including several costly turnovers and blown coverages, before losing his cool and picking up an unsportsmanlike conduct penalty in the game's final seconds. His Wednesday performance outdid even his miserable Game 2 outing, which included a minus-two rating in 21:37 of ice time.
Young scorers Derek Stepan, 21, and Carl Hagelin, 23, have each suffered through their fair share of troubles in this series, too. The two have combined for six minor penalties, a minus-five rating and just one point in the series so far, a drastic drop-off from their combined 89 points and plus-35 rating during the regular season.
Re-energizing the spirits of these three crumbling-under-the-pressure youngsters will be crucial in Game 6 for the struggling Rangers' offense.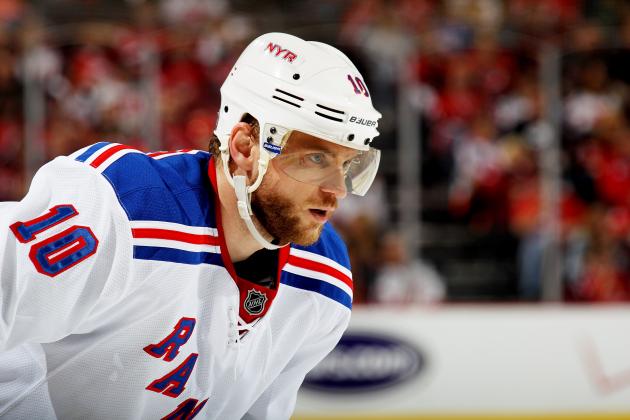 Bruce Bennett/Getty Images

Rangers' long-time offensive leader Marian Gaborik finally broke his box score shutout with a rather lucky goal in Wednesday's third period, but has still been far more of a liability than an asset for the Blueshirts in this series.
Through the first four games of the conference finals, Gaborik had tallied zero goals, zero assists, a minus-two rating and a 0-for-14 shooting ratio. The 30-year-old star winger watched his ice time slip from the 20's (a mark he passed in five of seven games in the second round) down to postseason lows of 15:21 in Game 2 and then 15:24 in Game 5.
Hopefully, though, lighting the lamp Wednesday will get Gaborik's engine turning again and, moving forward, give the Blueshirts the colossal boost that No. 10 can provide.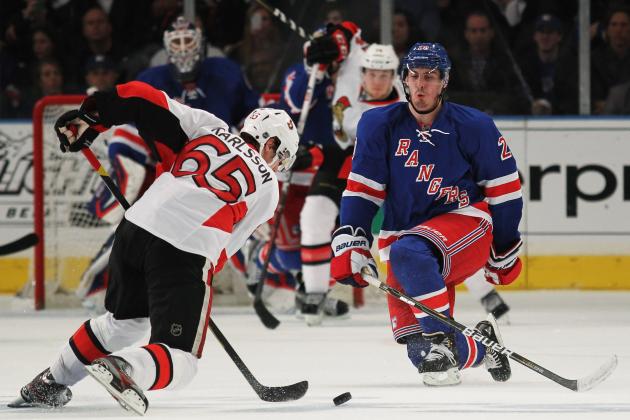 Bruce Bennett/Getty Images
The Rangers' shot-blocking provided impenetrable at times in the first and second rounds.
The Rangers' shot-blocking in the first two rounds was of a caliber equal to some of the best defenses in NHL history.
At times in their 14 games against Ottawa and Washington, the Rangers' defensive zone became an utterly impenetrable wall of flesh. Defensemen Ryan McDonagh, Dan Girardi and Marc Staal broke records on a nightly basis in the blocked shots category, and even forwards Ryan Callahan and Ruslan Fedotenko got in on the body sacrificing.
In the Eastern Conference Finals, conversely, shot-blocking has changed from the Rangers' patented staple to a hotly-contested statistic between the two foes.
In their three losses, the Blueshirts haven't blocked more than 17 shots; in their two victories, they've recorded 26 and 19 blocks. Moreover, after racking up an impressive 61-28 advantage over the Devils in the series' first three games, New York has exchanged blocks equally, 29-29, in their two most recent meetings with New Jersey.
Finding their way into the shooting lanes will be vital for the Rangers' Game 6 chances, as their recent decline in that department has led to a costly simultaneous goal-scoring increase on the part of the Devils.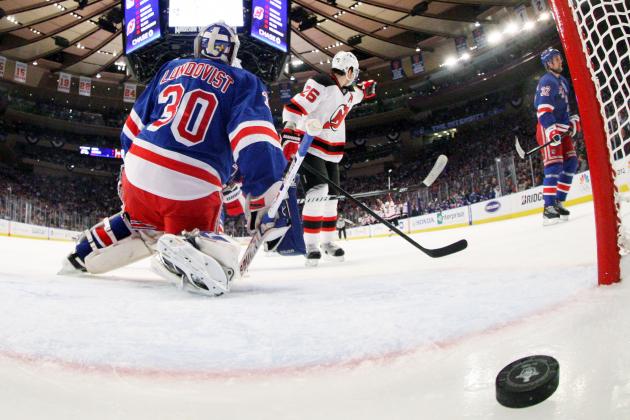 Bruce Bennett/Getty Images

The Rangers' hometown Vezina Trophy finalist and emotional leader has entered a rough stretch.
Henrik Lundqvist, after finishing in the NHL's top four in wins, save percentage, GAA and shutouts during the regular season, has allowed seven goals on just 45 shots in the past two games—a save percentage of just 84.4 percent. Game 2 was especially poor, as Lundqvist allowed two weak goals in the game's first six minutes and finished the game with a miserable .750 save percentage.
The 30-year-old netminder has been the heart and soul of the Rangers all season long; before Wednesday, he hadn't allowed more than three goals in a single game since April 7th, in a meaningless regular season match with the Capitals. Revitalizing his performance at this critical moment is absolutely vital for the Blueshirts' hopes in tonight's contest.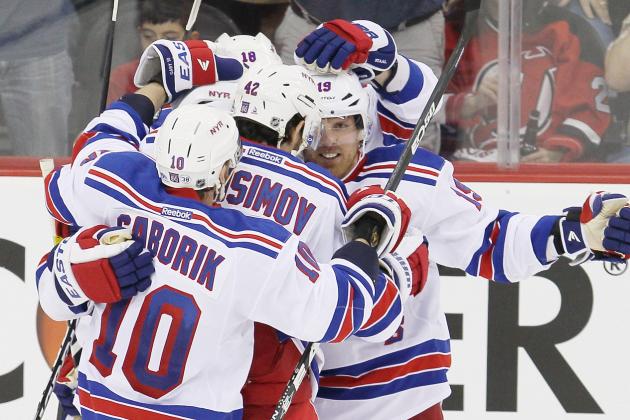 Jim McIsaac/Getty Images

The Rangers and Devils have each scored exactly 12 goals in the five games of the series so far, despite New Jersey's 3-2 lead where it really matters.
Perhaps the most decisive reasons why that second number is the way it is, however, are New York's horrid first-period performances.
The Devils have outscored the Blueshirts by a whopping 6-1 margin in the five opening frames, including a 2-0 edge after 20 minutes in Game 4 and a 3-1 advantage at the first intermission in Game 5. Both times, those leads proved insurmountable, and New Jersey eventually walked away with two victories.
For New York, breaking that early-game curse could go a long way in their efforts to win Game 6 in the Prudential Center.
Because if they don't win tonight's battle at The Rock, all that will be left is a dismayed charter flight back to the Big Apple.