Russell Westbrook vs. Tony Parker Matchup Will Decide Western Conference Finals
May 24, 2012

Exploiting matchups is often one of the vital developments over the course of an NBA playoff series—something the San Antonio Spurs and Oklahoma Thunder can do now.
With limited face time during the regular season, especially this lockout-shortened version, teams finally get a chance to experiment a little and see if there are opportunities that were previously unrealized. 
One key development will be whether or not the San Antonio Spurs have anyone to stop the NBA's three-time scoring champ, Kevin Durant.
Kid Clutch will likely see a slew of different defenders—Danny Green, Stephen Jackson and Kawhi Leonard, to name a few—in an attempt to find the right recipe for containment.
An issue for the Thunder, on the other hand, will be how to effectively guard Tim Duncan. The defensive duo of Kendrick Perkins and Serge Ibaka is quite potent, but Duncan's legendary ability both inside the paint and away from the basket could exploit weaknesses in either.
The Manu Ginobili/James Harden battle will be one for the ages, no doubt.
Both players possess the ability to completely take over a game coming off the bench. Not to mention the fact that Harden is now being referred to as "Manu 2" because of their similar styles of play. Get your popcorn ready for this one.
Both teams have more-than-capable benches, having been known as two of the best units in the league all season.
Since it's largely a wash at this point, the key to the series lies at point guard.
The matchup between Russell Westbrook and Tony Parker—both recently named to the All-NBA 2nd Team—will determine who moves on to take on the Eastern Conference champion in the NBA Finals.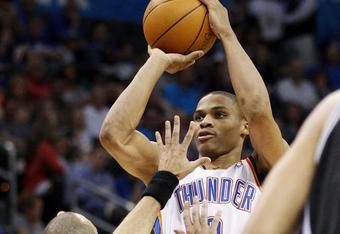 So, who the heck has the advantage?
Westbrook's four-year career has been one of steady growth.
He began as a raw, undeveloped winger-turned-point guard who suffered major growing pains early on as he lead the NBA in turnovers in two of his first three seasons. His athleticism gave him major upside, but many wondered if he could be tamed.
After signing his maximum long-term contract midway through the season, Westbrook has been on an unbelievable tear, playing the best basketball of his life.
Despite Durant's late-game heroics, it is Westbrook who has been the playoffs MVP for the Thunder so far, averaging 24.1 points, 4.7 rebounds, 4.4 assists and 3.2 get-out-of-your-seat plays per game in the playoffs. 
His mid-range jumper is now falling at an alarming rate, making him a near-impossible guard.
The increase in jump shots (as opposed to drives) and improved control have dropped his turnovers tremendously— to the tune of only four turnovers during the entire Lakers series.
Tony Parker is coming off one the best seasons of his 10-year career, a bit of an anomaly considering his post-peak age of 29. The momentum has continued into the playoffs, where he is averaging 19.1 points and 7.1 assists per game through two consecutive sweeps.
Westbrook may have better stats, but Parker has been the leader of a team that has won 32 of their last 35 games, including an 18-game streak they are currently riding. Something can be said for stats, but it is hard to argue against that kind of form.
The real key to this head-to-head will be defense.
Parker is a step slower (as is everyone in the league not named Rose), but is a very intelligent, crafty defender who has guarded his fair share of athletic point men.
For Westbrook, it is all mental.
He can be a premier perimeter defender when he wants to, but can get frustrated quickly and lose focus. His propensity to over-commit for steals pays off at times, but also can leave his teammates in a difficult four-on-five situation.
Westbrook will need to play more sound, consistent defense against Parker in order to keep him from slicing up the Thunder defense.
With the previously mentioned matchups likely contributing to a zero sum, I believe Westbrook will reign himself in just enough to keep Parker from taking over the series and will lead the Thunder to the NBA Finals, upsetting the Spurs in seven games.